Dear

,


This year has been so busy and we are noticing, that like us, you are more mobile than ever. We're trying to meet your changing needs with technology when possible and would like to highlight a few of these important developments.

Recently, it became easier for everyone to sign their ad reservation online without needing a printer and fax machine causing a huge jump in earlybird reservations. This newsletter has become more mobile friendly and event dates can now be added to your calendar with just a few clicks.

We've also started making the RSVPs for events available online and will continue to do so

. Lastly, at the sponsor breakfast, many people asked if we would have a phone app soon and Claudette is now working on it.

Beyond these developments, our next hospital CEU event for Case Managers is coming up and will be at Legacy Emanuel Medical Center. While all spaces are filled for this event, we are working on the next round of events so, stay posted for more information.

   Alzheimer's Association: Memories In The Making
MAY 13
Alzheimer's Association: Memories in the Making
5:30 PM
The Sentinel Hotel
614 SW 11th Ave, Portland


Join us for an evening of art, food, fun, and a silent auction highlighting the Alzheimer's Association Memories in the Making program.
200+ attendance expected for cocktails, seated dinner, art, and silent auction.
Proceeds go to support the Alzheimer's Association Memories in the Making (MIM) Program which works to pair trained art facilitators with those suffering from Alzheimer's in an effort to help them find comfort, achievement, and accomplishment while living with memory loss. MIM gives people with dementia the ability to paint their thoughts, emotions, and memories so that art becomes their voice.
Buy your tickets now
- (space is limited and will sell out at 300)
   NETWORK MEETINGS - Portland
APR 6
Metropolitan Senior Network (MSN)
8 AM
Sunset Presbyterian Church
14986 NW Cornell Rd, Beaverton
Topic: Speed Networking
Speaker: Heidi Rowell, Retirement Connection


APR 12
East County Marketing Exchange
3 PM
Hollywood Senior Center
1820 NE 40th Ave, Portland
Topic: Has the recent growth in
the Portland area affected You?


| | |
| --- | --- |
| APR 19 | Westside Referral Network (WRN) |
| 3 PM | TBA |
APR 21
Clackamas County Senior Network
3 PM
Princeton Village
14370 SE Oregon Trail Dr, Clackamas


APR 25
Senior Provider Information Network (SPIN Portland)
3 PM
Holiday Park Plaza
1300 NE 16th Ave, Portland
Topic: Defining Hope, Living with ALS


MAY 26
Clackamas County Info & Referral
8 AM
Development Service Bldg, Rm 119
150 Beavercreek Rd, Oregon City


   NETWORK MEETINGS - Vancouver
APR 15
Senior Service Network (SSN-Clark)
9 AM
Peace Health Med. Ctr. Health Ed. Ctr.
400 NE Mother Joseph Pl, Vancouver
Topic: 7 words to success-networking like a pro


MAY 17
Senior Provider Information Network
3 PM
American Medical Response
409 NE 76th St, Vancouver


   HOSPITAL CASE MANAGEMENT FAIR
   (Coordinated by Retirement Connection)
   MARKETING & DEVELOPMENT
APR 8
Gardens in Senior Living Seminar
All Day
Legacy Emanuel Campus
2801 N Gantenbein Ave, Portland


APR 19
OHCA In-Home Care Conference
All Day
OMEF Event Center
11740 SW 68th Pkwy, Tigard


   NUGGET OF KNOWLEDGE
The only thing certain is that there will be change. Every market, every meeting, every contact shifts a bit with each encounter. Just when I think I have a plan and a course set - things change. There is new competition, new team members, family plans, and conflicting schedules. It can be overwhelming to look at all that must get done in one week - so I start with what can I get done right now, and then next, and then next....

~ Amy Schmidt
IN THIS ISSUE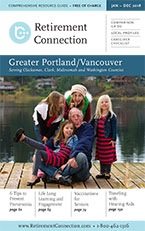 JOB POSTINGS
The following positions have been posted in the last month. (Some position are outside the PDX/Vancouver area)
- Senior Care Advisor
- Certified Nursing Assistants
- Health Services Director
- Live-In NAC
- Home Care NAC
- RN-Health & Wellness Director
- Referral Development Specialist
- Client Care Manager RN

Apply or submit new positions online through Retirement Connection's Job Board.
View or Post a Job
NEED MORE GUIDES?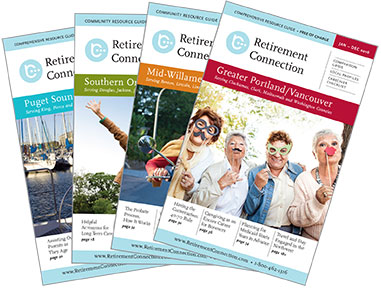 Additional copies of the Guide are available at no cost and are the perfect resource for health fairs, workshops and your marketing packets.
Guides are located at EVERY Senior Center, Hospital, Library and Meals-on-Wheels sites.
You can order as many as you need to serve the families in your community.
Add a label to the cover to highlight your business and use the guide as a giveaway.