Dear ,

This year has been so busy and we are noticing, that like us, you are more mobile than ever. We're trying to meet your changing needs with technology when possible and would like to highlight a few of these important developments.

Recently, it became easier for everyone to sign their ad reservation online without needing a printer and fax machine causing a huge jump in earlybird reservations. This newsletter has become more mobile friendly and event dates can now be added to your calendar with just a few clicks.

We've also started making the RSVPs for events available online and will continue to do so

. Lastly, at the sponsor breakfast, many people asked if we would have a phone app soon and Claudette is now working on it.

Beyond these developments, our next hospital CEU event for Case Managers is coming up and will be at Legacy Emanuel Medical Center. While all spaces are filled for this event, we are working on the next round of events so, stay posted for more information. We look forward to networking with you at our upcoming Senior Service Network Meeting on April 27th!

Amy Schmidt
Retirement Connection
503-505-5865


amy@retirementconnection.com
   Alzheimer's Association: Memories In The Making
MAY 13
Alzheimer's Association: Memories in the Making
5:30 PM
The Sentinel Hotel
614 SW 11th Ave, Portland


Join us for an evening of art, food, fun, and a silent auction highlighting the Alzheimer's Association Memories in the Making program.
200+ attendance expected for cocktails, seated dinner, art, and silent auction.
Proceeds go to support the Alzheimer's Association Memories in the Making (MIM) Program which works to pair trained art facilitators with those suffering from Alzheimer's in an effort to help them find comfort, achievement, and accomplishment while living with memory loss. MIM gives people with dementia the ability to paint their thoughts, emotions, and memories so that art becomes their voice.
Buy your tickets now
- (space is limited and will sell out at 300)
   NETWORK MEETINGS - Salem/Corvallis
APR 13
Salem Senior Lifestyles Network
9 AM
Salem Transitional Care
3445 Boone Rd SE, Salem


APR 14
Linn Benton Senior Resource Network
3 PM
Location: The Regent
Address: 440 NE Elks Dr, Corvallis
Topic: The PEARLS Program:
A Depression Management Option for Seniors


APR 27
Senior Service Network (SSN-Salem)
9 AM
Salem Hospital
890 Oak Street SE, Salem
Topic: "Happiness is Life"
Speaker: Les Ames, World War II Veteran-
97 years old – A man with a purpose


| | |
| --- | --- |
| MAY 18 | Senior Service Network (SSN-Salem) |
| 9:30 AM | TBA |
| | |
| --- | --- |
| MAY 19 | Yamhill County Network |
| 9 AM | TBA |
   MARKETING & DEVELOPMENT
APR 14
Dr.Cameron Camp:
6 PM
The Montessori Method of Dementia Care
Center 50+
2615 Portland Rd NE
Salem


MAY 1
Connections 50+ Expo
12 PM
Vancouver Hilton
301 W 6th St, Vancouver
Register Now


   NUGGET OF KNOWLEDGE
The only thing certain is that there will be change. Every market, every meeting, every contact shifts a bit with each encounter. Just when I think I have a plan and course set- things change. There is new competition, new team members, family plans, and conflicting schedules. It can be overwhelming to look at all that must get done in one week- so I start with what I cant get done right now, and then next, and then next...
~ Amy Schmidt
JOB POSTINGS
The following positions have been posted in the last month.
- Registered Nurse
- Admin Assistant
- Senior Care Advisor
- Certified Nursing Assistants
- Health Services Director
- Live-In NAC
- Home Care NAC
- RN-Health & Wellness
  Director
- Referral Development
  Specialist
- Client Care Manager RN

Apply or submit new positions online through Retirement Connection's Job Board.
View or Post a Job
NEED MORE GUIDES?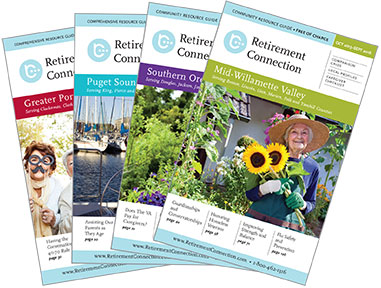 Additional copies of the Guide are available at no cost and are the perfect resource for health fairs, workshops and your marketing packets.
Guides are located at EVERY Senior Center, Hospital, Library and Meals-on-Wheels sites.
You can order as many as you need to serve the families in your community.
Add a label to the cover to highlight your business and use the guide as a giveaway.