Hi ,


This is a busy month with resource fairs and the Washington Health Care Association conference in Spokane. Hopefully we will run into you more over the next few weeks. 

We are already reserving ad space for the September edition and we are currently in the middle of our earlybird discount. The earlybird discount helps you save 10% if you reserve by May 15th.

(Ad copy and payments are not due until later this year.)



Please help us spread the word about the earlybird discount or call if we can answer any questions.

Let us know if you'd like to sit down and find out more about posting your events on our website for FREE or about the many other ways in which we can help you.



JUNE 21
11:30 AM
Valley Medical Center Resource Fair
Valley Medical Center
400 S 43rd St, Renton - 1st floor

MAY 3
8:30 AM
Senior Care Coalition (North King Meeting)
Quail Park of Lynwood
4015 164th St SW, Lynnwood

---
MAY 17
8:30 AM
Senior Care Coalition (Eastside Meeting)
TBD

---
MAY 18
7:45 AM
South End Coalition (SEC)
Merrill Gardens at Renton Centre
104 Burnett Ave S, Renton

---
MAY 18
11:30 AM
Coordinators of Patient Services (COPS)
Maggiano's Bellevue
10455 NE 8th St, Bellevue

---
MAY 27
9 AM
NW LGBT Senior Care Providers Network
Burien Health and Rehab
1031 SW 130th St, Burien

MAY 5
9 AM
Aging and LTC Providers
Lighthouse Senior Center
5016 E "A" St, Tacoma

---
MAY 12
7:30 AM
Health Care Providers Council of Pierce County (HCPC)
Narrows Glen Senior Living
8201 6th Ave, Tacoma

MAY 12
11:30 AM
ElderNet
Chateau Pacific
3333 148th St SW,Lynnwood

MAY 4
8:30 AM
SASH Coffee and Networking for Pierce County
La Quinta Inn Tacoma - Ports of Call
1425 E 27th St, Tacoma

---
MAY 19
9 AM
Aging Smart
Harbor Place
1016 29th St NW, Gig Harbor

---
MAY 25
9 AM
Coffee Time
Willow Gardens
4502 6th St SE, Puyallup

Creativity and innovation doesn't happen in a vacuum. It takes a lot of courage to step outside the box, feel the fear, and do it anyway. It takes the courage to be different, to be new, to be judged, and to be wrong. It is easy to recognize our successes, but we should also recognize the courage behind the vision (successful or not.)

~ Amy Schmidt
---
Job Postings
The following positions have been posted in the last month. (Some position are outside the Puget Sound area)
- Executive Director
- Health Services Director
- Recruitment, Engagement & Retention Manager
- Compliance Analyst
- Office Manager
- Scheduler
- Registered Nurse
- Executive Director
- RN/LPN
- Activities Assistant
- Community Relations Director
- Health Services Director
- Registered Nurse
- Admin Assistant
- Senior Care Advisor
- Client Care Manager
- Med Techs

Apply or submit new positions online through Retirement Connection's Job Board.
---
Need More Guides?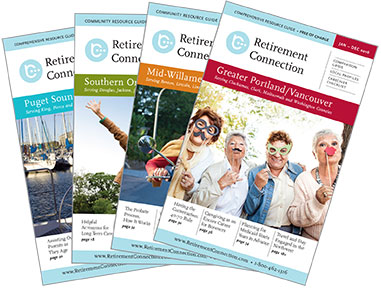 Additional copies of the Guide are available at no cost and are the perfect resource for health fairs, workshops and your marketing packets.
Guides are located at EVERY Senior Center, Hospital, Library and Meals-on-Wheels sites.
You can order as many as you need to serve the families in your community.
Add a label to the cover to highlight your business and use the guide as a giveaway.