The new edition is hot off the press and hopefully you have received copies already. Let me know if you would like more and how many. We are honored once again to be the official resource guide for the Alzheimer's Association, Asante Hospitals, Mercy Hospital, and Rogue Valley Council of Governments.

We hope you can join us at one of the events below and help celebrate Retirement Connection of Southern Oregon. The Release Party and Happy Hour are great ways to network, connect and meet new referral sources- don't miss out!

Thank you to all of our sponsors and to each of you that uses the guide and website.
MAY 19
3:30 PM
Release Party for Retirement Connection Guide of Southern Oregon (in place of SONAR this month)
Edenvale Winery
2310 Voorhies Rd, Medford
RSVP Online

---
MAY 26
3:30 PM
Retirement Connection Roseburg Networking Happy Hour (In place of Douglas County Senior Resource Coalition)
O'Tools Pub
328 SE Jackson St, Roseburg
RSVP Online

MAY 18
8:30 AM
The Evolution Of Digital Marketing
Rogue Regency
2300 Biddle Rd, Medford

Creativity and innovation doesn't happen in a vacuum. It takes a lot of courage to step outside the box, feel the fear, and do it anyway. It takes the courage to be different, to be new, to be judged, and to be wrong. It is easy to recognize our successes, but we should also recognize the courage behind the vision (successful or not.)

~ Amy Schmidt
---
Job Postings
The following positions have been posted in the last month. (Some position are outside the Southern Oregon area)
- Post Acute Care Manager
- Executive Director
- Health Services Director
- Recruitment, Engagement & Retention Manager
- Compliance Analyst
- Office Manager
- Scheduler
- Registered Nurse
- Executive Director
- RN/LPN
- Activities Assistant
- Community Relations Director
- Health Services Director
- Registered Nurse
- Admin Assistant
- Senior Care Advisor
- Client Care Manager
- Med Techs

Apply or submit new positions online through Retirement Connection's Job Board.
---
Need More Guides?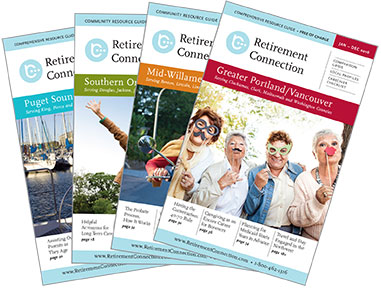 Additional copies of the Guide are available at no cost and are the perfect resource for health fairs, workshops and your marketing packets.
Guides are located at EVERY Senior Center, Hospital, Library and Meals-on-Wheels sites.
You can order as many as you need to serve the families in your community.
Add a label to the cover to highlight your business and use the guide as a giveaway.