HAPPY SUMMER! June was busy - in a very positive way!!! Our team retreat was very exciting with river rafting, team building and loads of great ideas on how we can be an even better resource for our community. (

Visit our Facebook page for great pictures

) Each of us at Retirement Connection will work towards being healthier and we hope you join us in doing something positive for yourself.

JUL 21
9 AM
Southern Oregon Networking And Resource (S.O.N.A.R.)
Weatherly Inn
2180 Poplar Dr, Medford
Topic: No One Cares About What You Do for a Living
Speaker: Patrick Lyons, Culture By Design

---
JUL 27
2 PM
Douglas County Senior Resource Coalition
Special Date and Time This Month Only!
Tender Home Care
2225 NW Stewart Pkwy, Suite 102, Roseburg
Topic: Difference Between Home Health and Home Care
Speaker: Tricia Radford

Jul 28
8:30 AM
Depression and Suicide Prevention in Older Adults CEU Event
Winston Community Center
440 SE Grape Ave, Winston

---
JUL 30
6 PM
8th Annual Heart of Summer Dinner and Auction
Taprock Event Center
940 SE 7th St, Grants Pass

The only thing certain is that there will be change. Every market, every meeting, every contact shifts a bit with each encounter. Just when I think I have a plan and a course set - things change. There is new competition, new team members, family plans, and conflicting schedules. It can be overwhelming to look at all that must get done in one week - so I start with what can I get done right now, and then next, and then next....

~ Amy Schmidt
---
Job Postings
The following positions have been posted in the last month.
(Some position are outside the Southern Oregon area)
- Intake and Communications Specialist
- Resident Care Manager
- Senior Living Sales Advisor
- Sales and Marketing Director
- Executive Director
- Lead Management
- Health Services Director
- Director of Nursing
- Health Services Director
- Marketing Director
- Regional Director
- Hospice Medical Director
- Community Relations Manager
- Marketing Coordinator
- Director of Fund Development
- Executive Director
- Health Services Director
- Client Care Manager
- Administrative Assistant

Apply or submit new positions online through Retirement Connection's Job Board.
---
Need More Guides?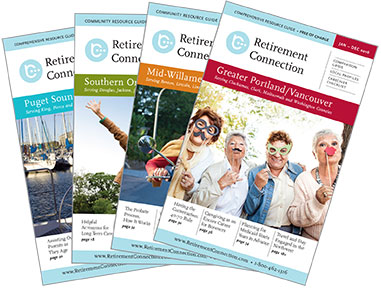 Additional copies of the Guide are available at no cost and are the perfect resource for health fairs, workshops and your marketing packets.
Guides are located at EVERY Senior Center, Hospital, Library and Meals-on-Wheels sites.
You can order as many as you need to serve the families in your community.
Add a label to the cover to highlight your business and use the guide as a giveaway.