Hi

,
I graduated from University of Tennessee almost 20 years ago - YIKES! It was during that time that I was honored to have met Pat Summitt and remained a life long fan and admirer of hers. She passed away earlier this month from younger-onset Alzheimer's Disease. For those that did not know who she was… she was the Lady Vols basketball coach and one of the winningest coaches of all-time (men or women.) She had many impressive stats, but one of the most impressive was that her students had a 100% graduation rate. Her attention to infinite detail has always impressed and I hope to give the same type of effort when publishing Retirement Connection Guide and serving our community.

Now that our newest edition is prepped for print, we will take a night to celebrate our most recent "win" and we hope you will join us on September 28th at the Retirement Connection Release Party.  Our last two release parties hosted almost 150 people for drinks and appetizers and we are expecting another great turnout for this event!
 

AUG 2
8:30AM
Senior Care Coalition- North King County
Sunset Hills Memorial Park
1215 145th Pl SE, Bellevue

---
AUG 11
9 AM
SASH Coffee and Networking- Eastside Bellevue
Crossroads Shopping Ctr ( Community Rm)
15600 NE 8th St Bellevue

---
AUG 17
7:45 AM
South End Coalition
Wesley Homes Lea Hill
32049 109th Pl SE, Auburn

---
AUG 26
9 AM
SASH Coffee and Networking – Federal Way
Marlene's Market & Deli
2565 S Gateway Center Plaza Federal Way

---
AUG 26
9 AM
NW LGBT Senior Care Providers Network Meeting
Merrill Gardens at First Hill Retirement Communit
1421 Minor Ave, Seattle

---
SEP 21
11:30 AM
Save The Date!
Coordinators of Patient Services (COPS)
Maggiano's Bellevue
10455 NE 8th St, Bellevue

AUG 3
8:30 AM
SASH Coffee and Networking – Tacoma
La Quinta Inn Tacoma - Ports of Call Restaurant
1425 E 27th St, Tacoma

---
AUG 4
9 AM
Aging and LTC Providers Network
Lighthouse Senior Center
5016 E. "A" Street, Tacoma

---
AUG 11
7:30 AM
Health Care Providers Council (HCPC)
Narrows Glen
8201 6th Ave, Tacoma

---
AUG 24
9 AM
SASH Coffee and Networking-Puyallup
Willow Gardens
4502 6th St SE, Puyallup

AUG 11
11:30 AM
ElderNet
Grandview
5800 64th St NE, Marysville

OCT 13

WMCMA Case Manager Conference
Lynwood, WA

---
OCT 19

HCPC Making the Link
Tacoma, WA

---
OCT 26

Providence Regional Medical Center
Everett, WA

AUG 10
10 AM
Cascade Coffee Time
Cascade Behavioral Health
12844 Military Rd S, Tukwila

---
AUG 17
4:30 PM
80's Cruise- Benefiting Puget Sound Honor Flight
My Girl Charter Yacht
650 Dock St Tacoma

---
AUG 18
7:30 AM
Pierce County Care Transitions Collaborative
Puyallup Life Care Center
511 10th Ave SE, Puyallup

---
AUG 18
9 AM
Aging Smart
Harbor Place-Dining Room
1016 29th St NW, Gig Harbor

---
AUG 28
3:30 PM
Retirement Connection Puget Sound Release Party
8236 SE 24th St, Mercer Island
RSVP Online

---
AUG 28
3:30 PM
Blooming With The Seniors Annual Conference
Lynwood Convention Center
3711 196th St SW, Lynnwood

"You can't always be the strongest or most talented or most gifted person in the room, but you can be the most competitive." - Pat Summit

(University of Tennessee Lady Vols Coach passed away at age 64 from younger-onset Alzheimer's Disease)

It was a challenge to find a favorite quote from Pat Summitt, since there are so many. She had very high expectations of herself and of those she coached, mentored, and met. The quote above is a favorite because it speaks to effort rather than skill or talent. Everyone has the potential to be the most competitive and give the full effort and she saw that potential in others.

~ Amy Schmidt, University of Tennessee class of '96 Go Vols!
(for those who don't know it: "Vol" is short for Volunteers)
---
Job Postings
The following positions have been posted in the last month. (Some position are outside the Puget Sound area)
- Move in Coordinator
- Sales Director
- RN Case Manager
- Senior Living Sales Advisor
- Regional Director
- Sales Professional
- Administrator
- Community Relations Director
- Senior Living Sales
- Sales and Marketing Director
- Resident Care Manager
- Staff Accountant
- Intake & Communications Specialist
- Health Services Director
- Executive Director
- Marketing Director
- Regional Director
- Hospice Medical Director
- Community Relations Manager
- Marketing Coordinator
- Director of Fund Development
- Executive Director
- Health Services Director
- Marketing Director
- Client Care Manager

Apply or submit new positions online through Retirement Connection's Job Board.
---
Need More Guides?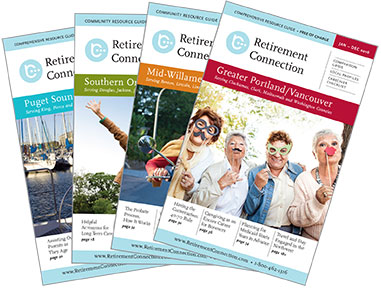 Additional copies of the Guide are available at no cost and are the perfect resource for health fairs, workshops and your marketing packets.
Guides are located at EVERY Senior Center, Hospital, Library and Meals-on-Wheels sites.
You can order as many as you need to serve the families in your community.
Add a label to the cover to highlight your business and use the guide as a giveaway.