Hi

,
The Retirement Connection guide is hot off the press and we are delivering the new Puget Sound edition to all hospitals, libraries, senior centers, area agencies on aging and many other locations around the Sound. Let us know if you would like additional copies; it is a great resource to share and be the trusted advisor for those you serve.

We hope to see you at the big Release Party on September 28th on Mercer Island and we expect more than 150+ to attend. Please RSVP to assist us with food and beverage counts. This edition marks the completion of our first year in the Greater Seattle-Tacoma area and we are so excited to have grown so much!!!
 

SEP 6
8:30AM
Senior Care Coalition- North King County
Culver House Broadview
12505 Greenwood Avenue N, Seattle

---
SEP 21
7:45 AM
South End Coalition
El Dorado
1010 SW 134th St, Burien

---
SEP 21
11:30 AM
Coordinators of Patient Services (COPS)
Maggiano's Bellevue
10455 NE 8th St, Bellevue

---
SEP 23
9 AM
NW LGBT Senior Care Providers Network Meeting
Aegis on Madison
2200 E Madison St, Seattle

SEP 8
7:30 AM
Health Care Providers Council (HCPC)
Narrows Glen
8201 6th Ave, Tacoma

SEP 8
11:30 AM
ElderNet
Brookdale
11333 3rd Pl W, Everett

OCT 13

WMCMA Case Manager Conference
Lynwood, WA

---
OCT 19

HCPC Making the Link
Tacoma, WA

---
OCT 26
Providence Regional Medical Center
Everett, WA

Registration is open for Retirement Connection Sponsors, open registration starts October 1st.

SEP 6
5:30 PM
Wine and Wisdom Networking
Total Wine & More
525 NE Northgate Way, Seattle

---
SEP 7
8:30 AM
SASH Coffee and Networking – Tacoma
La Quinta Inn Tacoma - Ports of Call Restaurant
1425 E 27th St, Tacoma

---
SEP 8
9 AM
SASH Coffee and Networking- Eastside Bellevue
Crossroads Shopping Ctr ( Community Rm)
15600 NE 8th St, Bellevue

---
SEP 11
11 AM
2016 Walk to End Alzheimer's – South Sound
University of Puget Sound
500 N Warner St, Tacoma

---
SEPT 13-14

Blooming With The Boomers Annual Conference
Lynwood Convention Center
3711 196th St SW, Lynnwood

Please join us at the Tenth Annual Washington Home Care Association's statewide conference, Blooming with the Boomers!
---
SEP 15
9 AM
Aging Smart
Location: Harbor Place – Dining Room
1016 29th St NW, Gig Harbor

---
SEP 20
ALL DAY
Navigating Cultural Differences – Palliative Medicine Provider Education
Town Hall Seattle
1119 8th Ave, Seattle

---
SEP 23
9 AM
SASH Coffee and Networking – Federal Way
Marlene's Market & Deli
2565 S Gateway Center Plaza, Federal Way

---
SEP 28
9 AM
SASH Coffee and Networking-Puyallup
Willow Gardens
4502 6th St SE, Puyallup

---
SEPT 28
3:30 PM
Retirement Connection Puget Sound Release Party
8236 SE 24th St, Mercer Island
RSVP Online

"I never lose. I either win, or learn." - Nelson Mandela

When we first started Retirement Connection in 2008 in Portland, things were tougher than we expected- living in a new city with a struggling economy. We did not hit all our goals and it definitely was not as smooth as we planned. However, I learned to try harder, budget time and money better, dig deeper, and see the support from my family that I may have overlooked in the past. I would not exchange those tough start up years for anything because they have shaped me for the better. What I value the most is not our growth, but the trust and support I feel from those close to me.

~ Amy Schmidt

---
Job Postings
The following positions have been posted in the last month.
(Some position are outside the Puget Sound area)
-RN Positions
-Home Health Case Manager
-Sales Manager
-Operations Specialist
-Resident Care Coordinator
-Community Relations Director
-Executive Director

Apply or submit new positions online through Retirement Connection's Job Board.
---
Need More Guides?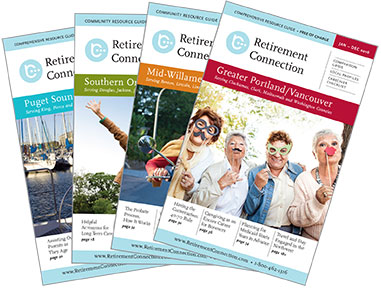 Additional copies of the Guide are available at no cost and are the perfect resource for health fairs, workshops and your marketing packets.
Guides are located at EVERY Senior Center, Hospital, Library and Meals-on-Wheels sites.
You can order as many as you need to serve the families in your community.
Add a label to the cover to highlight your business and use the guide as a giveaway.