We're excited for the energy and camaraderie that September brings and want to share with you a couple important upcoming events this month. This Sunday, September 11th we have
The Walk to End Alzheimer's and hope to see many of you out there having fun at the car show, kid zone, bus rally, and vendor area. I am excited to be speaking at the OHCA Annual Convention & Trade Show on September 19th-20th! This is always a great time for continued education and to connect with those we haven't seen in a few months.

For our sponsors: September 21st is our quarterly sponsor breakfast at Portland Providence Medical Center. We will discuss recent updates and share all the upcoming case managers events we have scheduled. Please RSVP to assist us with food and beverage counts. If you are not already a sponsor, please


let us know

if you want to connect and learn more about Retirement Connection- the guide, website and the network.

SEP 7
8 AM
Metropolitan Senior Network (MSN)
YWCA
3609 Main St, Vancouver
Topic: Uncompressing Marketing, Sales & Customer Service

---
SEP 13
3 PM
East County Marketing Exchange (ECME)
Emerson House
3577 SE Division, Portland

---
SEP 15
3 PM
Clackamas County Senior Network (CCSN)
TBA

---
SEP 20
3 PM
Westside Referral Network (WRN)
The Springs at Tanasbourne
1950 NW 192nd Ave, Hillsboro
Topic: Networking Groups

---
SEPT 22
8 AM
Clackamas County I & R Networking
Development Service Bldg #115
150 Beavercreek Rd, Oregon City

---
SEP 26
3 PM
SPIN Portland
Pacific University
711 SE Baseline, Hillsboro

SEP 7
8 AM
Metropolitan Senior Network (MSN)
YWCA
3609 Main St, Vancouver
Topic:Uncompressing Marketing, Saels & Customer Service

---
SEP 16
9 AM
SSN - Clark County
Peace Health Medical Center
Health Education Center
400 Northeast Mother Joseph Place, Vancouver
Topic: Alzheimer's Association Programs & Services

---
SEP 22
3:30 PM
SSN - Clark Happy Hour
Elite Care at Sylvan Park
2400 NE 112th Ave, Vancouver
Topic: Contact Management and Appropriate Follow Up

SEP 9
10 AM
King City Expo
King City Clubhouse
15245 SW 116th Ave, King City

---
SEP 11
10 AM
2016 Walk to End Alzheimer's
Portland International Raceway
1740 N Victory Blvd, Portland

---
SEP 13
10 AM
Creating Home as You Age – Workshop for professionals
Capitol Hill branch of Multnomah County Library
10723 SW Capitol Hwy, Portland

---
SEP 15
10 AM
Welcome Reception
Royalton Place
5555 SE King Rd, Milwaukie

---
SEP 19-20
ALL DAY
OHCA Annual Convention and Trade Show
Oregon Convention Center
777 NE Martin Luther King Jr Blvd, Portland

---
SEPT 21
8:30 AM
Retirement Connection Sponsor Breakfast
Portland Providence Medical Center
4805 NE Glisan St, Portland
RSVP Online

---
SEP 27
8 AM
Game-Changing Approaches to Dementia Care
Embassy Suites - Washington Square
9000 SW Washington Square Rd, Tigard

---
SEP 30
8 AM
Annual Scott Armstrong Geriatric Mental Health Conference
Tuality Healthcare Education Center
334 SE 8th Ave, Hillsboro

---
SEP 30
ALL DAY
Oregon Gerontological Association 2016 Annual Conference
OMEF / OMA Conference Center
11740 SW 68th Ave #100, Portland

Registration is open for Retirement Connection Sponsors, open registration starts October 1st.
OCT 6
Peace Heath Medical Center
Vancouver, WA

---
OCT 21
Providence St Vincent Medical Center
Portland, OR

"I never lose. I either win, or learn." - Nelson Mandela

When we first started Retirement Connection in 2008 in Portland, things were tougher than we expected- living in a new city with a struggling economy. We did not hit all our goals and it definitely was not as smooth as we planned. However, I learned to try harder, budget time and money better, dig deeper, and see the support from my family that I may have overlooked in the past. I would not exchange those tough start up years for anything because they have shaped me for the better. What I value the most is not our growth, but the trust and support I feel from those close to me.

~ Amy Schmidt

---
Job Postings
The following positions have been posted in the last month.
(Some position are outside the Puget Sound area)
-RN Positions
-Home Health Case Manager
-Sales Manager
-Operations Specialist
-Resident Care Coordinator
-Community Relations Director
-Executive Director

Apply or submit new positions online through Retirement Connection's Job Board.
---
Need More Guides?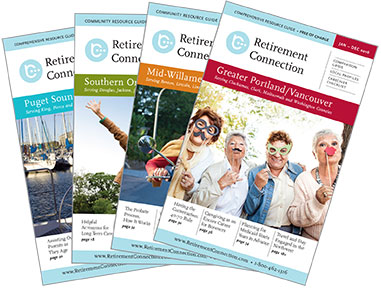 Additional copies of the Guide are available at no cost and are the perfect resource for health fairs, workshops and your marketing packets.
Guides are located at EVERY Senior Center, Hospital, Library and Meals-on-Wheels sites.
You can order as many as you need to serve the families in your community.
Add a label to the cover to highlight your business and use the guide as a giveaway.