The Retirement Connection guide is prepped for print and will hit the streets starting October 1st.  We will deliver to all hospitals, libraries, senior centers, area agencies on aging and many other locations in Mid Willamette Valley. Let us know if you would like additional copies; it is a great resource to share and use as the trusted advisor for those you serve.

If you have not done so already make sure to register for the Center 50+ expo held on October 10th.

Last, but not least, we hope to see you at the big Release Party on October 27th at Willamette Heritage Center! We are expecting more than 150+ attendees. Please RSVP to assist us with food and beverage counts.
 
SEP 14
9 AM
Salem Senior Lifestyles Network
Sapphire at Applewood
309 Lancaster Dr NE, Salem

---
SEP 15
9 AM
Yamhill County Network
Location: Marjorie House
Address: 2855 NE Cumulus Ave, McMinnville

---
SEP 21
9 AM
Senior Network
Location: Jason Lee Manor
Address: 1625 Center Street NE, Salem

---
SEP 28
9 AM
Senior Service Network Salem (SSN-Salem)
Salem Hospital
890 Oak Street SE, Salem, OR 97301- Bldg. D
Creekside Dining Overflow - First floor
Topic: Hands-only CPR and AED use/training availability. There will also be a live demonstration by the fire department on cardiac arrest
Speaker: Fire Chief, Michael Niblock – Salem Fire Department/Salem Fire Foundation.
Sponsor: Douglas, Conroyd, Gibb & Pacheco

SEP 21
8:30 AM
Retirement Connection Sponsor Breakfast
Portland Providence Medical Center
4805 NE Glisan St, Portland, 97213
RSVP
---
SEP 27
8 AM
Game-Changing Approaches to Dementia Care for Helping Professionals – Virtual Workshop AM
The Village at Keizer Ridge
1165 Mcgee Ct NE, Keizer

---
Oct 10
1:30 PM
Save the Date!
Center 50+ Resource Fair
Portland Providence Medical Center
4805 NE Glisan St, Portland, 97213
RSVP
---
OCT 27
3:30 PM
Save the Date!
Retirement Connection Release Party
Willamette Heritage Center
1313 Mill St SE, Salem, 97301
RSVP
"I never lose. I either win, or learn." - Nelson Mandela

When we first started Retirement Connection in 2008 in Portland, things were tougher than we expected- living in a new city with a struggling economy. We did not hit all our goals and it definitely was not as smooth as we planned. However, I learned to try harder, budget time and money better, dig deeper, and see the support from my family that I may have overlooked in the past. I would not exchange those tough start up years for anything because they have shaped me for the better. What I value the most is not our growth, but the trust and support I feel from those close to me.

~ Amy Schmidt

---
Job Postings
The following positions have been posted in the last month.
(Some position are outside the Mid-Willamette Valley Area)
-RN Positions
-Home Health Case Manager
-Sales Manager
-Operations Specialist
-Resident Care Coordinator
-Community Relations Director
-Executive Director

Apply or submit new positions online through Retirement Connection's Job Board.
---
Need More Guides?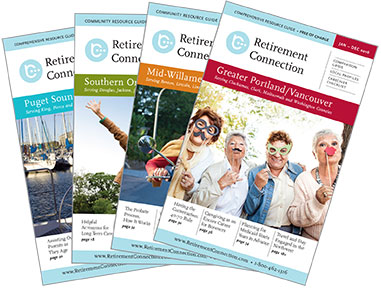 Additional copies of the Guide are available at no cost and are the perfect resource for health fairs, workshops and your marketing packets.
Guides are located at EVERY Senior Center, Hospital, Library and Meals-on-Wheels sites.
You can order as many as you need to serve the families in your community.
Add a label to the cover to highlight your business and use the guide as a giveaway.