This time of year always makes me feel grateful, and not just because of the Thanksgiving Holiday. I love the change of seasons, big meals with family and friends, dressing up in crazy costumes with my kids, and watching football while doing laundry each weekend (
thankful for football, not laundry
). As we wrap up the next Portland/Vancouver edition, I am thankful that you have made our guide possible and allowed us to be a resource to you and our community. I hope you can find more of what makes you grateful this season.
NOV 2
8 AM
Metropolitan Senior Network (MSN)
Russellville Park
20 SE 103rd Ave, Portland
Topic: Facebook Marketing

---
NOV 8
3 PM
East County Marketing Exchange (ECME)
Royalton Place
5555 SE King Rd. Milwaukie

---
NOV 14
3 PM
SPIN Portland
The Ackerly at Timberland
11795 NW Cedar Falls Dr, Portland
Topic: Depression & Suicide in the Elderly
---
NOV 15
3 PM
Westside Referral Network (WRN)
The Springs at Tanasbourne
1950 NW 192nd Ave, Hillsboro
Topic: Magic Moments

---
NOV 17
3 PM
Clackamas County Senior Networking (CCSN)
The Springs at Clackamas Woods
14404 SE Webster Rd, Milwaukie
Topic: How to be the coach with lots of strong players in your professional and personal life
Speaker: Amy Schmidt, Retirement Connection

NOV 3
3:30 PM
SSN - Clark Happy Hour
Vancouver Pointe Senior Village
4555 NE 66th Ave, Vancouver
Topic: Holiday Outreach

---
NOV 18
9 AM
SSN - Clark County
Peace Health Medical Center
Health Education Center
400 Northeast Mother Joseph Place, Vancouver
Speaker: Allison Clarke

NOV 2
11 AM
The Clackamas County Open Enrollment Fair
The Development Services Building
150 Beavercreek Rd, Oregon City

---
NOV 3
6:30 PM
Oregon Gerontological Association Aging Policy Forum
Holy Names Heritage Center
17425 Holy Names Dr, Lake Oswego

---
NOV 6
1 PM
Celebration of Health 2016: "Together in Healing"
Red Lion Hotel on the River
909 N Hayden Island Dr, Portland

---
NOV 6-7
1 PM
OMCMG 15th Annual Fall Conference and Expo
Sheraton Portland Airport Hotel
8235 NE Airport Way, Portland

---
NOV 8
9 AM
Exempt vs. Non-Exempt – Presentation on New Employee Salary Rule
OMEF Event Center
11740 SW 68th Pkwy, Tigard

---
NOV 10
8 AM
18th Annual McGinty Conference on Alzheimer's
Oregon Convention Center
777 NE Martin Luther King Jr Blvd, Portland

---
NOV 11
3 PM
Wine, Cheese, and Jazz
St Andrew's Memory Care
7617 SE Main St, Portland

"It is not happy people who are thankful; it's thankful people who are happy!"

Don't wait until the 4th Thursday in November to be Thankful. The more gratitude you express, the more you will see. I am thankful for the support and love of my family, the energy from the team I work with, the humor and insight of my friends, and even the criticisms from others that make me stronger. And none of these cost money! These are the things that make me rich.

~ Amy Schmidt
Retirement Connection
503-505-5865
amy@retirementconnection.com

---
Job Postings
The following positions have been posted in the last month.
(Some position are outside the Portland/Vancouver area)
-RN Positions
-Med Tech
-Health Services Director -Administrative Professional
-Environmental Services Director
-Executive Director
-Community Outreach Director
-Sales Specialist
-Marketing Director
-Sales Associate
-Memory Care Coordinator
-Director of Health Services
-Community Relations Assistant

Apply or submit new positions online through Retirement Connection's Job Board.
---
Need More Guides?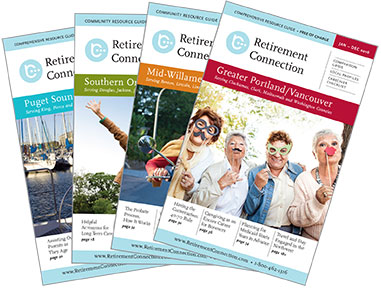 Additional copies of the Guide are available at no cost and are the perfect resource for health fairs, workshops and your marketing packets.
Guides are located at EVERY Senior Center, Hospital, Library and Meals-on-Wheels sites.
You can order as many as you need to serve the families in your community.
Add a label to the cover to highlight your business and use the guide as a giveaway.