Happy holidays from our team to yours! Thank you so much for being a great resource in our community, sharing the Retirement Connection Guide, visiting our website for networking information, forwarding the newsletter when helpful to others, and all the little things you have done to support us this past year. We hope you and your referral sources can celebrate with us at the Senior Service Network meeting for a Holiday Gathering on December 21st (please note this is a week earlier than normal). We also hosted our first Sponsor Breakfast in Salem- thank you so much to all that joined us! We are looking forward to growing this event and will be hosting another MId-Willamette Valley sponsor breakfast in 2017. 
DEC 14
9 AM
Salem Senior Lifestyles Network
Madrona Hills- The Ridge Clubhouse
660 Ratcliff Dr SE, Salem, 97302

---
DEC 21
9 AM
Senior Service Network Salem (SSN-Salem)
Salem Hospital
890 Oak Street SE, Salem, OR 97301- Bldg. D
Creekside Dining Overflow - First floor
Topic: White Elephant Gift Exchange
Sponsor: Avamere

---
JAN 12
3 PM
Linn Benton Senior Resource Network (LBSRN)
Prestige Senior Living- West Hills
5595 SW West Hills Rd, Corvallis, 97333
---
JAN 18
9:30 AM
Save the Date!
Senior Network

---
JAN 19
9 AM
Save the Date!
Yamhill County Network

DEC 16
3:30 PM
Allan Griffith Retirement Open House
Parker & Griffith, P.C.
707 13th St SE #200, Salem

---
JAN 12
6 PM
MACRA: What to Know; What to Do
Salem Convention Center
200 Commercial St SE, Salem

"As we express our gratitude, we must never forget that the highest appreciation is not to utter words, but to live by them." - John F. Kennedy


Sometimes I fall short in expressing gratitude to those I appreciate. I think I show it, but I know that I do not say the words often enough. Recently, I was reminded that actions are great, but so are words of gratitude. Doing something thoughtful is great, but it can be so much more powerful, if I took a few extra moments to say "why" and "how" someone has made an impact.

~ Amy Schmidt
---
Job Postings
The following positions have been posted in the last month. (Some position are outside the Mid-Willamette Valley area)
CNA
Geriatric Case Manager
Health Services Director - LPN/RN
Homecare Support Specialist
Executive Director
PT Registered Nurse - RN/LPN
Sales Manager
Community Relations
Client Care Manager RN
Apply or submit new positions online through Retirement Connection's Job Board.
---
Need More Guides?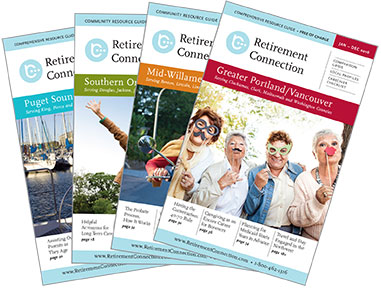 Additional copies of the Guide are available at no cost and are the perfect resource for health fairs, workshops and your marketing packets.
Guides are located at EVERY Senior Center, Hospital, Library and Meals-on-Wheels sites.
You can order as many as you need to serve the families in your community.
Add a label to the cover to highlight your business and use the guide as a giveaway.