We hope you had a safe and happy holiday season. Thank you to everyone that took advantage of the early bird 10% discount. We are excited to continue working with so many of you and also welcome new services into the guide this fall.
Next Month, on February 22nd we will host the Case Management Resource Fair at Salem Health. Space is very limited and priority will be given to sponsors who are presenting a CEU poster. Please let me know if we can help you with content or other support.
Register Now
Thank you again for all you do to support our guide, website, and network so that we may continue offering a comprehensive resource in our community.
JAN 11
9 AM
Salem Senior Lifestyles Network
Farmington Square
960 Boone Rd S, Salem

---
JAN 12
3 PM
Linn Benton Senior Resource Network (LBSRN)
Prestige Senior Living- West Hills
5595 SW West Hills Rd, Corvallis
---
JAN 18
9:30 AM
Senior Network
NorthWest Senior and Disability Services
3410 Cherry Avenue, Salem

---
JAN 19
9 AM
Yamhill County Network
Pacifica Senior Living McMinnville
320 SW Hill Rd S, McMinnville

---
JAN 25
9 AM
Senior Service Network Salem (SSN-Salem)
Salem Hospital
890 Oak Street SE, Salem, OR 97301- Bldg. D
Creekside Dining Overflow - First floor
Topic: Trends in the Senior Industry

JAN 12
5 PM
Professional Mix and Mingle at Stoneybrook Lodge
Stoneybrook Lodge Independent Living
4700 SW Hollyhock Cir, Corvallis

---
JAN 12
6 PM
MACRA: What to Know; What to Do
Salem Convention Center
200 Commercial St SE, Salem

---
JAN 18
ALL DAY
OHCA Post-Acute Care Provider Conference
OMEF Event Center
11740 SW 68th Pkwy, Tigard

---
JAN 19
4:30 PM
Grand Opening Launch in McMinnville
The Barberry
645 NE 3rd St, McMinnville

---
JAN 31
ALL DAY
OHCA Quality Summit: Advancing Quality Dementia Care Programming
Salem Convention Center
200 Commercial St SE, Salem

"The harder you work for something, the greater you'll feel when you achieve it."

I found that my feeling of reward is very closely tied to my effort. Sometimes I don't always appreciate a "big" win that was easier than expected. I see the same in my children. Hard works makes the reward more meaningful and valuable.

~ Amy Schmidt
Retirement Connection
503-505-5865
amy@retirementconnection.com

---
Job Postings
The following positions have been posted in the last month.
(Some position are outside the Mid-Willamette Valley area)
-Marketing Sales Associate
-RN Positions
-Patient Intake Coordinator
-Administrative Professional
-Multiple Home Health Positions
-Executive Director
-Health Services Director
-Patient Intake Coordinator
-Memory Care Program Lead
-Sales Associate
-Assisted Health Services Director
-Community Relations Director
-Executive Director

Apply or submit new positions online through Retirement Connection's Job Board.
---
Need More Guides?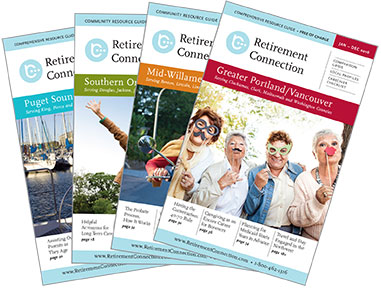 Additional copies of the Guide are available at no cost and are the perfect resource for health fairs, workshops and your marketing packets.
Guides are located at EVERY Senior Center, Hospital, Library and Meals-on-Wheels sites.
You can order as many as you need to serve the families in your community.
Add a label to the cover to highlight your business and use the guide as a giveaway.