Retirement Connection has only had a guide in Puget Sound for a year and half, but it has been an amazing time. Thank you to all who helped us celebrate this latest release of the guide at our Puget Sound Release Party and the HCPC After Hours/Tacoma "After Party"! (View Pictures on Facebook PS Release Party / HCPC After Hours )

Currently, the Puget Sound edition of Retirement Connection prints twice a year in September and again in March - that is about to change. Normally, we reserve ad space for a full year, but not this time.

WHY… Once our guide reaches a certain point and we feel we have captured all the correct information for the community, we typically change the printing and become an annual publication. With our Oregon guides this took several years, but our Retirement Connection Guide of Puget Sound has grown tremendously over the past year, is already full of content, and a strong comprehensive resource. This means that September will be the last semi-annual edition and, in April, we will move to an annual publication. Thank you for making us an integral part of your community resources.
APR 4
8:30 AM
Senior Care Coalition- North King County Meeting
Aegis at Rogers Park
2900 3rd Ave W, Seattle, 98119

---
APR 18
8:30 AM
Senior Care Coalition- East King County Meeting
Gardens at Town Square
933 111th Ave NE, Bellevue, 98004

---
APR 19
8:15 AM
South End Coalition
Merrill Gardens of Auburn
181st St SE, Auburn, 98092

---
APR 28
9 AM
NW LGBT Senior Care Providers Network Meeting
Quail Park of Lynnwood
4015 164th St SW, Lynnwood, 98087

---
May 17
11:30 AM
Coordinators of Patient Services (COPS)
Maggiano's Bellevue
10455 NE 8th St, Bellevue, 98004

APR 6
8 AM
Aging and LTC Providers Network
Mid-County Community Center
10205 44th Ave E, Tacoma, 98446

---
APR 13
7:30 AM
Health Care Providers Council (HCPC)
Narrows Glen
8201 6th Ave, Tacoma, 98046

APR 13
11:30 AM
ElderNet
Marysville Care Center
1821 Grove St, Marysville, 98270

APR 5
8:30 AM
SASH Coffee and Networking - Tacoma
La Quinta Inn Tacoma - Ports of Call Restaurant
1425 E 27th St, Tacoma, 98421

---
APR 7
9 AM
SASH Coffee and Networking– Snohomish
Bob's Burgers and Brew
1611 SE Everett Mall Wy, Everett, 98208

---
APR 13
9 AM
SASH Coffee and Networking - Eastside Bellevue
Crossroads Shopping Ctr ( Community Rm)
15600 NE 8th St, Bellevue, 98007

---
APR 13
11 AM
Introduction to Industrial Hygiene and Workplace Health and Safety
Lynnwood Convention Center
3711 196th St SW, Lynnwood, 98036

---
APR 14
9 AM
SASH Coffee and Networking – Kent
Kent Senior Center
600 E Smith St, Kent, 98030

---
APR 21
9 AM
SASH Coffee and Networking - North King
Shoreline City Hall - 3rd Fl Conference Rm
17500 Midvale Ave N, Shoreline, 98133

---
APR 26
9 AM
SASH Coffee and Networking-Puyallup
Willow Gardens
4502 6th St SE, Puyallup, 98374

---
APR 28
9 AM
SASH Coffee and Networking- Federal Way
Marlene's Market & Deli
2565 S Gateway Center Plaza, Federal Way

---
APR 29
7:45 AM
WMCMA / OMCMG Joint Conference and Expo 2017
Hotel RL Olympia
2300 Evergreen Park Dr SW, Olympia, 98502

Fate whispers to the warrior, "You cannot withstand the storm" and the warrior whispers back "I am the storm." ~Unknown

We all know someone fighting a "storm". I admire those that fight with such perseverance, optimism, and strength that their strength and resilience becomes all you see. You no longer see the thunder and lightning or someone drenched from head to toe by the rain, you see only the sun shining out from their person. While the rest of us reach for cover, they become the storm.

~ Amy Schmidt
Retirement Connection
503-505-5865
amy@retirementconnection.com

---
Job Postings
The following positions have been posted in the last month.
(Some position are outside the Puget Sound area)
-Marketing Coordinator
-Health Services Director
-Dining Services Director
-Executive Director
-Community Education Coordinator
-RN/ LPN Positions
-Sales and Marketing Coordinator

Apply or submit new positions online through Retirement Connection's Job Board.
---
Need More Guides?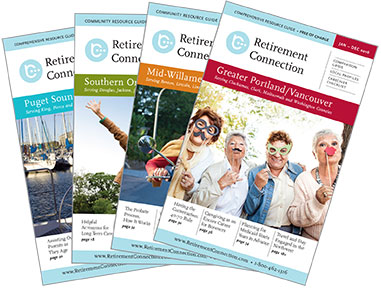 Additional copies of the Guide are available at no cost and are the perfect resource for health fairs, workshops and your marketing packets.
Guides are located at EVERY Senior Center, Hospital, Library and Meals-on-Wheels sites.
You can order as many as you need to serve the families in your community.
Add a label to the cover to highlight your business and use the guide as a giveaway.