This month I have been filled with reflection. Only in recent conversation did I realize that my family and I have lived in Portland for 10 years - 10 whole years. Yikes! Where did the time go?

In this 10 years, we have built a business - YES, but much more… a life of friends, perspective, and a difference, and sometimes loss. I have met people in our industry that have changed me forever - Jim Miller, Luann Arnott, Dean Wiest, and Ken Cross to name only a few. These people made a mark, not just on me, but on our work with seniors and the families we serve. I really don't want this conversation to be heavy, but more insightful and in hopes that we can all realize the impact we ALL can have on those around us.

Since moving to Oregon 10 years ago these are the things I learned…

- Little contributions can make a large impact, first on the immediate issue, then on the conversation, then on culture, then (you decide)...
- Small business is not insignificant and can be more agile.


- Keeping your word and being present is most of the battle.


- You never know who may be listening, which means I should be more careful about what I say!

10 years later, I still don't think I can change the world - but I do, more than ever, I feel that I offer a local voice. Thank you all for giving me, and those around us, that voice. I hope you use your voice for GOOD!
APR 5
8 AM
Metropolitan Senior Network (MSN)
Zeller Chapel of the Roses
2107 NE Broadway St, Portland, 97232
Topic: Making your Marketing more LGBTQ Friendly
---
APR 11
3 PM
East County Marketing Exchange (ECME)
Miramont Pointe
11520 SE Sunnyside Rd, Clackamas, OR 97015

---
APR 18
3 PM
Westside Referral Network
Courtyard Village at Raleigh Hills
4875 SW 78th Ave, Portland, 97225
---
APR 24
3 PM
SPIN-Portland
Providence Willamette Community Center
519 15th St, Oregon City, OR 97045
APR 6
3:30 PM
SSN Clark Happy Hour
Touchmark Senior Living
2911 SE Village Loop Vancouver, WA 98683
Topic: What do to when things don't go according to plan
---
APR 21
9 AM
Senior Service Network (SSN-Clark)
Peace Health Medical Center – Health Education Center
400 NE Mother Joseph Pl, Vancouver WA
(92nd and Mill Plain Ave)
Topic: Turn the Can - 4 Secrets to Better Communication

APR 5
8:15 AM
41st Annual OSU Gerontology Conference – Aging: The Art of Living
CH2MHill Alumni Center, Oregon State University
725 SW 26th St, Corvallis, 97331

---
APR 6
11:30 AM
OMCMG Educational Event: Introduction to Mental Health First Aid
Kaiser Permanente North Interstate Dental Office (Cafeteria)
7201 N Interstate Ave, Portland, 97217

---
APR 18
5 PM
Paint Night for Parkinson's
Feral Public House - Heathen Brewing
1109 Washington St, Vancouver, 98660

---
APR 19
8:30 AM
Alzheimer's Advocacy Day at the Oregon Capitol
Oregon State Capitol (Salem)
900 Court St NE, Salem, 97301

---
APR 21
5 PM
Elders in Action 20th Anniversary Gala
The Elysian Ballroom
918 SW Yamhill St, Portland, 97205

Fate whispers to the warrior, "You cannot withstand the storm" and the warrior whispers back "I am the storm." ~Unknown

We all know someone fighting a "storm". I admire those that fight with such perseverance, optimism, and strength that their strength and resilience becomes all you see. You no longer see the thunder and lightning or someone drenched from head to toe by the rain, you see only the sun shining out from their person. While the rest of us reach for cover, they become the storm.

~ Amy Schmidt
Retirement Connection
503-505-5865
amy@retirementconnection.com

---
Job Postings
The following positions have been posted in the last month.
(Some position are outside the Portland/ Vancouver area)
-Marketing Coordinator
-Health Services Director
-Dining Services Director
-Executive Director
-Community Education Coordinator
-RN/ LPN Positions
-Sales and Marketing Coordinator

Apply or submit new positions online through Retirement Connection's Job Board.
---
Need More Guides?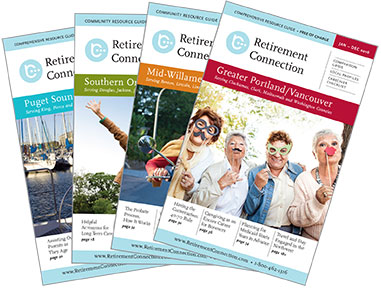 Additional copies of the Guide are available at no cost and are the perfect resource for health fairs, workshops and your marketing packets.
Guides are located at EVERY Senior Center, Hospital, Library and Meals-on-Wheels sites.
You can order as many as you need to serve the families in your community.
Add a label to the cover to highlight your business and use the guide as a giveaway.