The newest edition of Retirement Connection is prepping for print. We have called every housing and homecare company in the valley to update the grid information and have collected new ad copy for our sponsors. This will be our 5th year working in this community and we appreciate all who have attended our hospital events, release parties, and network meetings.  I remain humbled in the support by Asante, Mercy and Providence Hospitals that use the guide; as well as the Alzheimer's Association and Area Agencies on Aging like RVCOG that help us reach families when they are searching for resources.

I wanted to take a moment to thank all of you who have reached out and supported our team as we continue to feel the great loss of Krista Davis Tonn. She would be so touched to know how cherished she was in our community and how many lives she impacted. With that being said, we wanted to announce a special reminder for those unable to make it to her Celebration of Life on May 12th in the Portland area...


Immediately after SONAR on April 19th at 10:30 am, please join us to share photos, memories, and stories to celebrate her life together at...


The Springs at Anna Maria


822 Golf View Dr, Medford, OR 97504



April 19
9 AM
Southern Oregon Networking Association Resource (S.O.N.A.R.)
The Springs at Anna Maria
822 Golf View Dr, Medford, OR 97504
Topic: Palliative Care, and Home Health
---
APR 26
9:30 AM
Douglas County Senior Resource Coalition
Sidney's Senior Services at the Roseburg Senior Center
1614 SE Stephens Rd, Roseburg, 97470
APR 18
ALL DAY
Open House at Brookdale Eagle Point!
Brookdale Eagle Point
261 Loto St, Eagle Point, 97524br/>
---
MAY 17
3:30 PM
Save the date!
Release Party for Retirement Connection Guide of Southern Oregon
Edenvale Winery
2310 Voorhies Rd, Medford,97501

Do you know someone that has recently changed positions? Send us an update to share in the monthly newsletter, helping everyone stay connected and informed about community changes.
"Sometimes when you're in a dark place you think you've been buried, but you've actually been planted."
– Christine Caine

It can be hard to see the silver lining when it is very, very cloudy. You don't see the strength you can provide others because you don't even know you have enough for yourself. But when we stop thinking, planning, and fighting, and just take a minute to "be present", maybe a new normal can be found.

~ Amy Schmidt
Retirement Connection
503-505-5865
amy@retirementconnection.com

---
Job Postings
The following positions have been posted in the last month. (Some position are outside the Southern Oregon area)
Sign and Print Design
Alzehimer's Respite Program Coordinator
Memory Care Health Services Director
Regional Marketing Manager
Senior Move Assistant

Apply or submit new positions online through Retirement Connection's Job Board.
---
Need More Guides?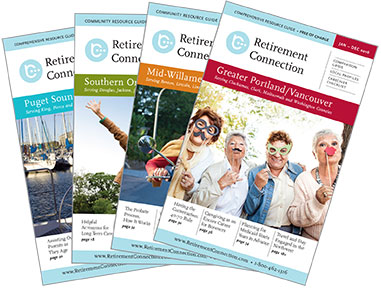 Additional copies of the Guide are available at no cost and are the perfect resource for health fairs, workshops and your marketing packets.
Guides are located at EVERY Senior Center, Hospital, Library and Meals-on-Wheels sites.
You can order as many as you need to serve the families in your community.
Add a label to the cover to highlight your business and use the guide as a giveaway.