This week I am feeling very nostalgic. We are having a big celebration Friday to celebrate 10 years in business. WOW- a decade!!! So many of our sponsors and community partners have been part of our "story". Thank you to everyone who has shared a guide with a family, provided a testimonial about of services, and to all our sponsors that make it possible for us to provide a comprehensive resource in the local community.
October was crazy busy. We just celebrated our Mid-Willamette Valley Release party in October, and in
looking at the pictures
  I felt a wave of gratitude as I saw so many faces that are still sponsors today.  Erin and I delivered 105 bags for Case Management week to all the case managers at Salem Health and Samaritan Medical Centers; the bags were filled with lots of goodies from local providers and were a big hit.
Our new big news- we are now reporting Senior Housing Availability on our website. This is just now going live and we expect a few disruptions, but please work through these with me. Our goal is for every community to be able to report their availability at no cost. Sponsors will be able to add pictures and more details, but EVERYONE is able to report their availability at no cost. Visit
RetirementConnection.com/availability
now to claim your listing and start reporting. We would love to have tons of examples to show at the "Transitions of Care" meeting in Albany tomorrow.
NOV 5
9 AM
Senior Service Network (SSN-Linn/Benton)
Samaritan Albany General Hospital
Reimer Conference Room
1046 6th Ave SW, Albany, 97321
Topic: An Action Plan is Tool, Not a Weapon
---
NOV 5
10:45 AM
Transitions of Care Monthly Meeting
Samaritan Albany General Hospital
Reimer Conference Room
1046 6th Ave SW, Albany, 97321

---
NOV 13
9 AM
Salem Senior Lifestyles Network
Willson House Residential Care
1625 Center St NE, Salem, 97301

---
NOV 20
9:30 AM
NWSDS Senior Network
Location: TBA
---
NOV 21
9 AM
Yamhill Network Meeting
Life Care Center of McMinnville
1309 NE 27th St, McMinnville, 97128

---
NOV 27
9 AM
Senior Service Network (SSN-Salem)
Salem Hospital-Creekside Dining Overflow- first floor
890 Oak Street SE, Salem, 97301
Topic: Defining Comfort Care, Palliative Care and Hospice Care

NOV 8
6 PM
Speakeasy Party- Retirement Connection's Sponsor Appreciation & 10 Year Anniversary Celebration
This is a special event for sponsors only and our key community partners

The Keep PDX
615 SE Alder St #B, Portland, 97214
RSVP

*FYI - For those traveling some distance, or looking for a little Staycation, I have secured a Room Block at a nearby hotel at a discounted rate...
Location: Embassy Suites by Hilton Portland Downtown
Address: 319 SW Pine Street, Portland, OR 97204
Make Your Reservation
- The Discount Code for your Reservation is: "RTC"
---
NOV 12
8:30 AM
21st Annual McGinty Conference on Alzheimer's
Oregon Convention Center
777 NE Martin Luther King Jr Blvd, Portland, 97232

---
NOV 14
ALL DAY
OSRAA Conference
Portland Yacht Club
1241 NE Marine Dr, Portland, 97211

Do you know someone that has recently changed positions? Send us an update to share in the monthly newsletter, helping everyone stay connected and informed about community changes.
"When something bad happens, you have three choices: You can either let it define you, let it destroy you or let it strengthen you. " – Dr. Seuss

As I write this newsletter, we are awaiting results from my husband, Lyman's scans last week following six months of chemo; hoping that his cancer has not spread. No matter the result- this will not define or destroy anyone in my circle- including him. And more than anything it has showed us what he is made of, what I am made of, and what my team is made of... for that I remain grateful.

~ Amy Schmidt
Retirement Connection
503-505-5865
amy@retirementconnection.com

=
---
Job Postings
The following positions have been posted in the last month. (Some position are outside the Mid-Willamette Valley area)
Health Services Manager
Food Service Director
HR Generalist
Manager, Walk to End Alzheimer's Regional
Apply or submit new positions online through Retirement Connection's Job Board.
---
Need More Guides?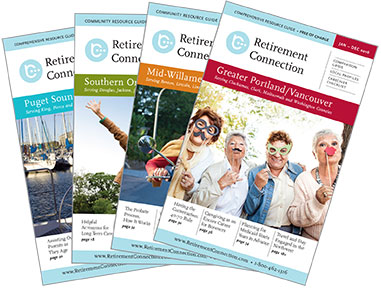 Additional copies of the Guide are available at no cost and are the perfect resource for health fairs, workshops and your marketing packets.
Guides are located at EVERY Senior Center, Hospital, Library and Meals-on-Wheels sites.
You can order as many as you need to serve the families in your community.
Add a label to the cover to highlight your business and use the guide as a giveaway.