We are at the halfway mark for Lyman's chemo treatment (6 down, 6 to go). In case you missed a past newsletter- Lyman is my husband and he also works at Retirement Connection. He has not missed a single day of work, although sometimes we think he should. He is definitely a warrior, but there is something awesome about coming to work with people you know care for you like family.   
This month we took 2 days for our team retreat. Some of us have worked together for 10 years and some only a few months. More important than setting goals, it was rewarding to learn how we can complement and compensate for each other's skills.  Additionally, our team spent time working on our "Creed". With our Creed, we wanted to outline our priorities and how we can best incorporate our values and vision into our daily work.
We have 2 weeks remaining to take advantage of the early bird 10% discount. If you know someone that may be interested in promoting their business more- please help us make that connection and help them save 10%
JUL 18
9 AM
Southern Oregon Networking And Resource (S.O.N.A.R.)
Pear Valley Senior Living
800 North Haskell Street, Central Point, 97502

---
JUL 25
9:30 AM
Douglas County Senior Resource Coalition
Callahan Village
1801 NW Garden Valley Blvd, Roseburg, 97471

Registration is now open for Southern Oregon Sponsors to reserve their CEU space. Space is limited and the event registration will close automatically once filled. At this time the registration is only open to Retirement Connection sponsors, and priority will be given to those presenting CEU poster content. Please register today.



SEPT 17
11:30 AM
Providence Medford Medical Center Resource Fair
Providence Medford - Mary Norbert Hall
1111 Crater Lake Ave, Medford, 97504

---
OCT 15
11:30 AM
Providence Medford Medical Center Resource Fair
Providence Medford - Mary Norbert Hall
1111 Crater Lake Ave, Medford, 97504

---
NOV 19
12 PM
Asante Three Rivers Resource Fair
Asante Center for Outpatient Health (ACOH)
Rooms 5 & 6
537 Union Ave, Grants Pass, 97527

JUL 19
4 PM
Old Fashion Fair at Pioneer Village
Pioneer Village
805 N 5th St, Jacksonville, 97530

---
JUL 24
5 PM
Palliative Care & Hospice Care – Do you know the difference?
Pioneer Village
805 N 5th St, Jacksonville, 97530

Do you know someone that has recently changed positions? Send us an update to share in the monthly newsletter, helping everyone stay connected and informed about community changes.


"Our country is not the only thing to which we owe our allegiance. It is also owed to justice and to humanity. Patriotism consists not in waving the flag, but in striving that our country shall be righteous as well as strong." – James Bryce

I wish you all a Happy 4th of July. Let us embrace the power we have in the land of the free to let our actions and influence better our country, communities, and lives. So many of us across our industry demonstrate the daily importance of representing and fulfilling the values we cherish and the standards we set. Excellence is not an appearance, it's a passionate lifestyle that guides us towards providing the best services possible for our communities.

~ Amy Schmidt
Retirement Connection
503-505-5865
amy@retirementconnection.com

---
Job Postings
The following positions have been posted in the last month. (Some position are outside the Southern Oregon area)
Community Relations Director
Maintenance Supervisor
Travel Navigator (Customer Service Representative)
Weekend Admissions Coordinator
Executive Director

Apply or submit new positions online through Retirement Connection's Job Board.
---
Need More Guides?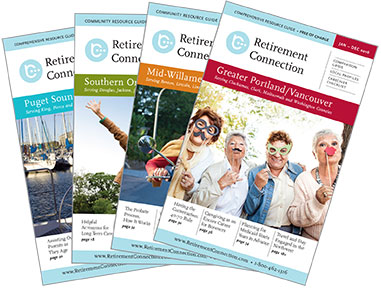 Additional copies of the Guide are available at no cost and are the perfect resource for health fairs, workshops and your marketing packets.
Guides are located at EVERY Senior Center, Hospital, Library and Meals-on-Wheels sites.
You can order as many as you need to serve the families in your community.
Add a label to the cover to highlight your business and use the guide as a giveaway.