The newest edition is hot of the press and we have started
distribution to more than 250 locations including the hospitals and veteran offices. Former Governor of Oregon, Barbara Roberts appeared on the cover for this edition, and she is a great example of looking for the possible. My favorite quote from her… "If you want to be in the parade, build your own float and ride on it!"

I just finished reading "Mindset" by Carol Dweck, which offered  a fresh outlook as I start 2021. I want to foster a mindset that sees opportunities for growth, rather than the fear of failure. We can all chose to see what is possible rather than the fixed limits. My team and I often comment that we can find a way just as easily as we find an excuse. Why do we give ourselves an excuse? I challenge you this year to just find a way, and do that thing you have been thinking about.
For 2021 we will be investing more time and revenue into our website ranking and social media ads for both
CareAvailability.com
and
RetirementConnection.com
. We already have a pretty robust website and have made alot of improvements the past few months, but there is more work to be done to bring it to the next level. Now is the time! We will also expand the case manager Transition meetings to additional hospitals and increase engagement between case managers and our sponsors with these calls. Together we can solve some of the basic barriers that prevent us all from providing the best care to our seniors and their families.

Please continue to check our website for meeting and event updates! We are updating our website multiple times a day trying to help notify our contacts of cancellations and rescheduled meetings.



 
---
---
JAN 19
10:30 AM
Transitions of Care Monthly Meetings
Online Meeting
Add this link to your calendar or share with others– https://us02web.zoom.us/j/86104417207

We are still finalizing a reoccurring time for the monthly meeting. Please continue to check our website for updates. We are expecting case managers from Legacy Medical Centers, Providence, and Peace Health. The goal of this meeting is to improve communication between case management and community providers, especially related to readmissions and start of care following a hospital visit.


---
---
JAN 6
12 PM
PeaceHealth Resource Lunch
Virtual - Microsoft Teams
FULL, Registration Closed
---
FEB 10
12 PM
Legacy Emanuel Resource Lunch
Virtual - Microsoft Teams
Register
---
FEB 17
12 PM
PeaceHealth Resource Lunch
Virtual - Microsoft Teams
Register
JAN 11
3 PM
Virtual Holiday Auction
Topic: Raising Money for The Parkinson's Association
Do you know someone that has recently changed positions? Send us an update to share in the monthly newsletter, helping everyone stay connected and informed about community changes.
"What would you attempt to do, if you knew you could not fail?" - Robert Schuller

Have you noticed the little dare devils children can be, seemingly "fearless"? The possibilities are so much more attractive than considering the fall. Watching my son on his skateboard is both terrifying, as well as inspiring as he repeatedly dusts himself off. Why can't we all recapture that feeling of possibility, what really is the worst that will happen? Take a new chance in 2021 and try something new. Feel the fear, but do it anyway. But only listen to the positive self talk this time!

~ Amy Schmidt
Retirement Connection
503-505-5865
amy@retirementconnection.com

---
Job Postings
The following positions have been posted in the last month. (Some position are outside the Portland/ Vancouver area)

Client Intake Coordinator
Health and Wellness Director
Sales Director

Apply or submit new positions online through Retirement Connection's Job Board.
---
Need More Guides?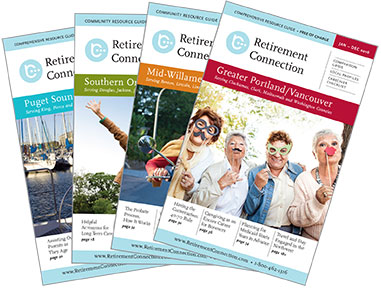 Additional copies of the Guide are available at no cost and are the perfect resource for health fairs, workshops and your marketing packets.
Guides are located at EVERY Senior Center, Hospital, Library and Meals-on-Wheels sites.
You can order as many as you need to serve the families in your community.
Add a label to the cover to highlight your business and use the guide as a giveaway.