YAY in-person meetings! As excited as I was to see everyone at network meetings, I really need to better control myself and not hug those that did not ask for it. I invaded a lot of personal space recently. For the network meetings we run, we have adjusted and will now provide a label for attendees with 3 options to share their personal space preference:
1) Vaccinated & Hug ready
2) Fist/ Elbow Bumps welcome
3) Your smile is great.
The labels will be color-coded (green, yellow red) for easy identification. And for everyone I gave a hug without permission, I am sorry. My staff has purchased a leash for me!

I am coming through the other side of 2021 with new purpose and energy, and really wanting to build real connections with our community partners. I want to know more than what your business does. I want to know your "why" and how we can support your mission further. I want to work more with those that share our common purpose. Please tell me your ideas to connect our companies.



I want to give a big thank you to Lisa Doyle who shared great information on "Compassion Fatigue" at our SONAR meeting. It was eye opening and cathartic for me personally. I realizedl that for the past few years, Cancer and COVID have been the calendar markers I used- my friend's death, my husband's diagnosis, treatment stating, remission, recurrence, covid, treatment, then repeat. Now I have changed the lens I see through, and the view is much better. Thank you!



Please continue to check our website for meeting and event updates! We are updating our website multiple times a day trying to help notify our contacts of cancellations and rescheduled meetings.


AUG 17
11:30 AM
Southern Oregon Continuing Care Association (SOCCA)
IN-Person Meeting
Location: Riverside Park (Behind the baseball field)
Address: 304 E Park St, Grants Pass, 97527


---
AUG 19
9 AM
Southern Oregon Networking And Resource (S.O.N.A.R.)
In-Person Meeting
Location: TBD Please email us if you would like to host!
Topic: Compassion Fatigue
Speaker: Lisa Doye, CayCare Eldercare & Senior Living Services

Need on call staff? Participate in a pilot project and get staff when you need them
OHCA Grant For Caregivers
---
AUG 26
9:30 AM
Douglas County Senior Resource Coalition
In-Person Meeting
Location: Umpqua Valley Ambulance
Address: 1290 NE Cedar St, Roseburg, 97470
Topic: CareAvailablility.com
Speaker: Erin Greeno, Retirement Connection & Care Availability

AUG 3
11 AM
Transitions of Care Monthly Meeting
Join Zoom Meeting
Add this link to your calendar or share with others– https://us02web.zoom.us/j/88391560194

Beginning in August, all regions will meet together on the 1st Tuesday of the month at 11am.
Do you know someone that has recently changed positions? Send us an update to share in the monthly newsletter, helping everyone stay connected and informed about community changes.


"Try to be a rainbow in someone's cloud. " - Maya Angelou

When I see someone upset, I want to fix it for them or give advice. I find people don't want my solutions, they prefer my empathy. Sometimes the best support is simply our time and a listening ear. Try to "feel it rather than fix it"

Amy Schmidt
Retirement Connection
503-505-5865
amy@retirementconnection.com Amy Schmidt
Retirement Connection
503-505-5865
amy@retirementconnection.com
---
Job Postings
The following positions have been posted in the last month. (Some position are outside the Southern Oregon Area)
Admissions Director
Executive Assistant
Sales Counselor
Hospital Liaison

Apply or submit new positions online through Retirement Connection's Job Board.
---
Need More Guides?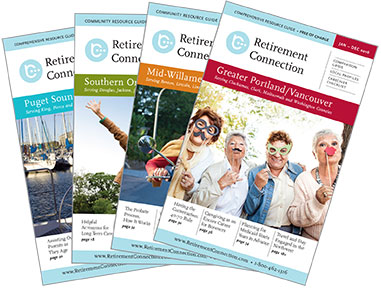 Additional copies of the Guide are available at no cost and are the perfect resource for health fairs, workshops and your marketing packets.
Guides are located at EVERY Senior Center, Hospital, Library and Meals-on-Wheels sites.
You can order as many as you need to serve the families in your community.
Add a label to the cover to highlight your business and use the guide as a giveaway.