We are in the final wrap up before printing the Portland/Vancouver edition of Retirement Connection Guide. We are confirming all ad placement, comparison grid information calls, and calling each listing for accuracy. If you know of any additional information or changes please let us know as soon as possible for inclusion. The guide will hit the streets in January, but this is the last opportunity to reserve space or make changes for a full year. Save the date for the BIG release Party on January 25th.
This season always makes me feel grateful, and not just because of the Thanksgiving Holiday. I love soccer games and pumpkin patch visits with my kids, big meals with friends, and dressing up in crazy costumes
. As we wrap up the next Portland/Vancouver edition, I am thankful that you have made our guide possible and allowed us to be a resource to you and your community. I hope you can find more of what makes you grateful this season.
NOV 1
8 AM
Metropolitan Senior Network (MSN)
Sunset Presbyterian Church
14986 NW Cornell Rd, Portland, 97229
Topic: Goal Setting
---
NOV 13
3 PM
SPIN-Portland
The Springs At Tanasbourne
1950 NW 192nd Ave, Hillsboro, 97006

---
NOV 14
3 PM
East County Marketing Exchange (ECME)
Marquis Piedmont
319 NE Russet St, Portland, 97211
Topic: What rings your bell?  What makes you laugh?  What brings you Joy?
---
NOV 16
8 AM
Clackamas County I & R Networking
Clackamas County Development Services Building
150 Beavercreek Rd, Oregon City
Topic: Addictions and Behavioral Health

---
NOV 16
3 PM
Clackamas County Senior Networking (CCSN)
The Springs at Clackamas
14404 SE Webster Rd, Milwaukie, 97267

---
NOV 28
3 PM
Westside Referral Network
Care Partners
1600 NW Compton Dr, Beaverton, 97006

NOV 2
3:30 PM
SSN Clark Happy Hour
Cellar 55
1812 Washington St, Vancouver, WA 98660
Topic: What makes a good referral partner for you?

---
NOV 17
9 AM
Senior Service Network (SSN-Clark)
Peace Health Medical Center – Health Education Center
400 NE Mother Joseph Pl, Vancouver WA
(92nd and Mill Plain Ave)
Topic: Managing the Generations

NOV 1
1 PM
Intro to Accounting and Bookkeeping Class
Greater Vancouver Chamber of Commerce
1101 Broadway St #100 Vancouver, WA 98660

---
NOV 2
11: 30 AM
Teepa Snow | Certification Training
The Heathman Lodge
7801 NE Greenwood Dr Vancouver, 98662

---
NOV 2
2:30 PM
OSRAA 2017 Fall Conference
Rose Schnitzer Manor
6140 SW Boundary St Portland, 97221

---
NOV 14
9 AM
McGinty Conference on Alzheimer's
Oregon Convention Center
777 NE Martin Luther King Jr Blvd Portland, 97232

"You never know how strong you are, until being strong is your only choice." ~ Bob Marley

Life will present us with challenges, sometimes the challenge can be much more than we thought we were ready for. Take a moment to breathe, refocus, prioritize, and just put one foot in front of the other. Eventually you will be in the middle of the stream and have no choice but to continue. Once on the other side- you know you could do it again if needed. Feel the fear and do it anyway!

~ Amy Schmidt
Retirement Connection
503-505-5865
amy@retirementconnection.com

---
Job Postings
The following positions have been posted in the last month. (Some position are outside the Portland/ Vancouver area)
Recruiting and Retention Coordinator
Sales Manager
Outside Marketing Director
Care Coordinator
Health Services Director
Community Relations Director/ Sales

Apply or submit new positions online through Retirement Connection's Job Board.
---
Need More Guides?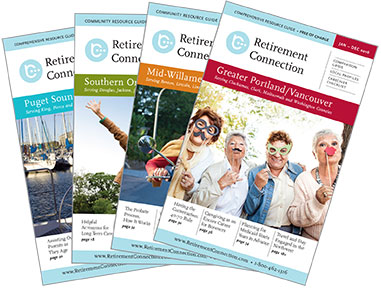 Additional copies of the Guide are available at no cost and are the perfect resource for health fairs, workshops and your marketing packets.
Guides are located at EVERY Senior Center, Hospital, Library and Meals-on-Wheels sites.
You can order as many as you need to serve the families in your community.
Add a label to the cover to highlight your business and use the guide as a giveaway.