Have you noticed when you put more meaning into what you do you find yourself more motivated? At Retirement Connection, we begin our weekly team meeting with a "magic moment". A magic moment is when we made a difference, felt a positive impact, improved a connection, or acted as a catalyst for something greater. Our staff believes that we are doing more than listing resources and selling ads. Sometimes we are the voice on the phone when a lonely senior is frustrated looking for answers, help when an overwhelmed family doesn't know where to start, or a resource when a provider simply dropped their phone in a toilet and lost their contact list and know we probably have that name and phone number needed. We all have the opportunity to create a magic moment every day, or at least weekly. It starts with gratitude.

Rather than empty New Year resolutions, instead, resolve to be grateful. Begin each day with what you are grateful for and then follow it with what you "intend" to do. End your day with a reflection of how you did. Don't make a resolution to lose 10 lbs and make more money. Instead, make the resolution to be healthier and do the most with what you have. You will actually have a better chance of accomplishing your goals. For those interested, these are my intentions for the upcoming year.



I am also grateful that the "housing availability" tab on our website is now up and running. More communities are taking advantage of this resource and reporting what units are available. Case managers at Samaritan Hospitals, Santiam Hospital, and Silverton Hospital are eager to use this resource, as are many skilled nursing communities. This feature is available on any device and no log-in is needed for families.



JAN 7
9 AM
Senior Service Network (SSN-Linn/Benton)
Samaritan Albany General Hospital
Reimer Conference Room
1046 6th Ave SW, Albany, 97321
Topic: 2020 Medicare Regulations
---
JAN 8
9 AM
Salem Senior Lifestyles Network
Brookdale River Road
592 Bever Dr NE, Keizer, 97303

---
JAN 15
9:30 AM
NWSDS Senior Network
NWSDS Salem Office
3410 Cherry Ave NE, Salem, 97303

---
JAN 16
9 AM
Yamhill Network Meeting
Location: TBA
---
JAN 22
9 AM
Senior Service Network (SSN-Salem)
Salem Hospital-Creekside Dining Overflow- first floor
890 Oak Street SE, Salem, 97301
Topic: Age Friendly Assessment Action Plan

Each provider will have 5 minutes to share more about their services. Right now the 10 spaces are only open to sponsors. Registration will open to those attending the transition meeting in January (space permitting)


FEB 24

Legacy Emanuel Medical Center Resource Fair
Corvallis Good Samaritan Case Manager Luncheon
3600 NW Samaritan Dr, Corvallis, 97330

---
APR 14
11 AM
Legacy Meridian Park Resource Fair
Legacy Meridian Park Medical Center
19300 SW 65th Ave, Tualatin, 97062
CHEC (Community Health Education Center)

Do you know someone that has recently changed positions? Send us an update to share in the monthly newsletter, helping everyone stay connected and informed about community changes.
"If you want to find happiness, find gratitude."
– Steve Maraboli

We will never ever be happy if we focus on what we want and do not have. We can always find something to be grateful for. This does not mean we are not hurt when someone goes on hospice or fights disease. However, we can choose to be grateful for the opportunity to tell them how much we love and appreciate them before it is too late. Not everyone gets that chance; and we can learn how much more we can manage beyond what we previously believed.

~ Amy Schmidt
Retirement Connection
503-505-5865
amy@retirementconnection.com

---
Job Postings
Check our website for current job postings in your area!
Apply or submit new positions online through Retirement Connection's Job Board.
---
Need More Guides?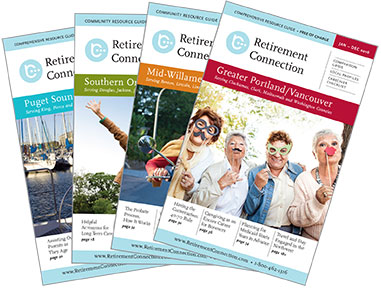 Additional copies of the Guide are available at no cost and are the perfect resource for health fairs, workshops and your marketing packets.
Guides are located at EVERY Senior Center, Hospital, Library and Meals-on-Wheels sites.
You can order as many as you need to serve the families in your community.
Add a label to the cover to highlight your business and use the guide as a giveaway.