In the past month we have welcomed Erin Greeno to our team, which we are extremely excited to have on board! However, it was hard to see Brittany leave our work family. I don't think anyone enjoys managing staffing changes, but it is always a great time to reflect, adapt, and refresh. Every time I sit with a new team member and see our systems through their eyes, I get to learn something new about myself and our company. Sometimes the truths I see, are not always weighted the same in their eyes. In contrast, they sometimes find excitement in daily encounters I can take for granted. The revisiting of systems during training has given us an opportunity to become better and for that I am thankful.
We are currently planning 2 fun events for our sponsors, a summer picnic in conjunction with Portland Parks Music in the Park in July, and a Holiday Party in November. If you know someone that would benefit from working with us, please help us with an introduction.
JUN 5
8 AM
Metropolitan Senior Network
YWCA
3609 Main Street, Vancouver, 98663
Topic: Alzheimer's Disease: Today, Tomorrow, & the Future
---
JUN 11
3 PM
East County Marketing Exchange
Laurelhurst Village
3060 SE Stark St, Portland, 97214
Topic: "But wait, there's more!" Infomercials. (3-5 minute elevator pitches to promote and WOW your brand!)
---
JUN 18
3 PM
Westside Referral Network (WRN)
Parkinson's Resources of Oregon
8880 Southwest Nimbus Ave #B, Beaverton, 97008

---
JUN 20
3 PM
Clackamas County Senior Networking (CCSN)
McLoughlin Place Senior Living
1153 Molalla Ave. Oregon City, 97045
---
JUN 24
3 PM
SPIN – Portland
Russellville Park
20 Southeast 103rd Ave, Portland, 97216

---
JUL 25
8 AM
Save the date!
Clackamas County I & R Networking

JUN 5
8 AM
Metropolitan Senior Network
YWCA
3609 Main Street, Vancouver, 98663
Topic: Alzheimer's Disease: Today, Tomorrow, & the Future
---
JUN 6
3:30 PM
SSN Clark Happy Hour
Keller Williams office
2211 E Mill Plain Blvd, Vancouver, 98661

---
JUN 21
9 AM
Senior Service Network (SSN-Clark)
Peace Health Medical Center – Health Education Center
400 NE Mother Joseph Pl – Vancouver WA (92nd & Mill Plain Ave)
Topic: Dementia Prevention Research & Techniques
Registration is now open for Retirement Connection Sponsors.


JUN 11
12:00 PM
Legacy Good Samaritan Resource Fair
Legacy Good Samaritan Medical Center
Located in the Wistar Morris Room
1015 NW 22nd Ave Portland,97210

---
SEPT 26
12:30 PM
Providence Portland Medical Center Resource Fair
Providence Portland Medical Center
Located in the Social Room
4805 NE Glisan St, Portland, 97213

JUN 13
9:30 AM
Governor's Commission on Senior Services
West Linn Adult Community Center
1180 Rosemont Rd, West Linn, 97068

---
JUN 21
5 PM
Sundown Squads We're ALZ In – Summertime Block Party – The Longest Day Fundraiser
Esther Short Park
301 N 8th St, Vancouver, 98660

---
JUN 22
ALL DAY
Street Food Fest!
Edgewood Downs
7799 SW Scholls Ferry Rd, Beaverton, 97008

---
JUN 26
7:30 AM
Health & Wellness Wednesday
AFC Urgent Care
8060 SW Pfaffle St #106, Tigard, 97223

---
JUN 29
11 AM
Carnival – A Fun Time for All!
Farmington Square Gresham
1655 NE 18th St, Gresham, 97030

Do you know someone that has recently changed positions? Send us an update to share in the monthly newsletter, helping everyone stay connected and informed about community changes.
"Happiness isn't about getting what you want all the time. It's about loving what you have and being grateful for it."

When I am most grateful for what I have, I don't have the same deep need for more. When a friend of mine was on hospice and I finally chose to be grateful for the time we had together, I was better able to stop mourning the loss of time I would not have. Sometimes I feel like I always want MORE. More time, more value, more purpose. Instead I need to appreciate what I have- in work and in personal life.

~ Amy Schmidt
Retirement Connection
503-505-5865
amy@retirementconnection.com

---
Job Postings
The following positions have been posted in the last month. (Some position are outside the Portland/ Vancouver area)
Activities Coordinator
Executive Director
Training Manager
Community Relations Representative
Service Planner

Apply or submit new positions online through Retirement Connection's Job Board.
---
Need More Guides?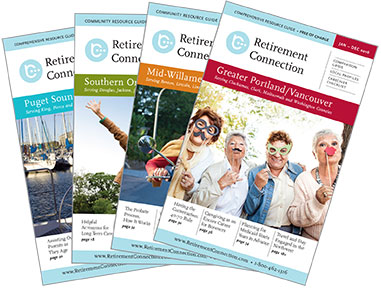 Additional copies of the Guide are available at no cost and are the perfect resource for health fairs, workshops and your marketing packets.
Guides are located at EVERY Senior Center, Hospital, Library and Meals-on-Wheels sites.
You can order as many as you need to serve the families in your community.
Add a label to the cover to highlight your business and use the guide as a giveaway.