The Retirement Connection Guide is prepped for print and will hit the streets starting October 2nd. We will deliver to all hospitals, libraries, senior centers, area agencies on aging and many other locations in Mid Willamette Valley. 
Let us know if you would like additional copies
; it is a great resource to share and use as the trusted advisor for those you serve. 
If you have not done so already make sure to

 

RSVP

 

 for the Retirement Connection Sponsor Breakfast in Portland this Wednesday, September 13th!

Last, but not least, we hope to see you at the big Release Party on October 25th at Willamette Heritage Center! We are expecting more than 150+ attendees. Please 
RSVP
 

to assist us with food and beverage counts. 

View Invite 
SEPT 13
9 AM
Salem Senior Lifestyles Network
Prestige Senior Living Orchard Heights
695 Orchard Heights Rd NW, Salem, 97304
---
SEPT 20
9:30 AM
Senior Network
The Springs at Sunnyview
1950 45th Ave NE, Salem, 97305

---
SEPT 21
9 AM
Yamhill County Network
Cherrywood Memory Care
2750 NE Doran Dr, McMinnville, 97128

---
SEPT 27
9 AM
Senior Service Network Salem (SSN-Salem)
Location: Salem Hospital
Address: 890 Oak Street SE, Salem, 97301- Bldg. D
Meeting Room: Creekside Dining Overflow- first floor
Topic: Productivity Apps

SEPT 13
8:30 AM
Retirement Connection Sponsor Breakfast
Providence St. Vincent Medical Center (Souther Classroom)
9205 SW Barnes Rd, Portland, 97225
RSVP

---
SEPT 17
ALL DAY
Walk to End Alzheimer's Linn-Benton
Timber-Linn Memorial Park
900 Price Rd SE, Albany, 97322

---
SEPT 29
ALL DAY
Oregon Gerontological Association 2017 Annual Conference
Keizer Civic Center
930 Chemawa Rd NE, Keizer, 97303

---
OCT 25
3:30 PM
Mid-Willamette Valley Retirement Connection Guide Release Party
Willamette Heritage Center
1313 Mill Street Southeast Salem, 97301
RSVP

"Life becomes easier when you learn to accept an apology you never got." ~Robert Brault

An apology or a lack thereof is a reflection of the other person's character, not your value. An apology does not erase hurt, but it does acknowledge a possible wrong and allow for healing to start. We do not need an apology to move on, and we don't need to a perpetrator to do anything for us to move on. So tell yourself you are already worth enough.

~ Amy Schmidt
Retirement Connection
503-505-5865
amy@retirementconnection.com

---
Job Postings
The following positions have been posted in the last month. (Some position are outside the Mid-Willamette Valley area)
Community Relations Director
Health Services Director
Full Time Activity Assistant
Home Care Liaison
Physical Therapy
Occupational Therapist
Dining Director

Apply or submit new positions online through Retirement Connection's Job Board.
---
Need More Guides?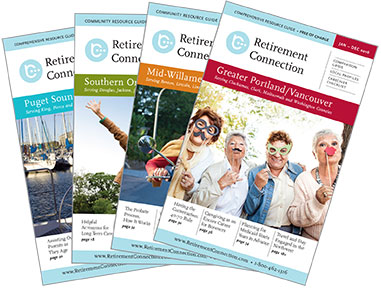 Additional copies of the Guide are available at no cost and are the perfect resource for health fairs, workshops and your marketing packets.
Guides are located at EVERY Senior Center, Hospital, Library and Meals-on-Wheels sites.
You can order as many as you need to serve the families in your community.
Add a label to the cover to highlight your business and use the guide as a giveaway.