The new edition is hot off the press and hopefully, you have already received your copies. Please let us know if you need

more guides

and how many you would like. We are honored once again to be the official resource guide for the Alzheimer's Association, Asante Hospitals, Mercy Hospital, and the Rogue Valley Council of Governments.

We hope you can join on May 16th at Edenvale Winery in Medford to celebrate the Retirement Connection Guide of Southern Oregon and May 22nd in Roseburg! NEW this year: A Community Service Excellence in Long-Term Care Award will be given at 4:30pm at Edenvale.

The Release Parties are a great way to network, connect, and meet new referral sources- don't miss out on the largest networking events of the year! Please

RSVP

and make sure to invite your referral sources and colleagues to join you.

Thank you to all of our sponsors and to each of you that use the guide and website.
Our services would not be possible without you!
MAY 16
3:30 PM
NO SONAR MEETING, THE RETIREMENT CONNECTION RELEASE PARTY IS 3:30-6:30PM
Edenvale Winery
2310 Voorhies Rd, Medford, 97501

---
May 23
9:30 AM
Douglas County Senior Resource Coalition
Umpqua Valley Nursing & Rehabilitation Center
525 W Umpqua St, Roseburg, 97471
Registration is now open for Southern Oregon Sponsors to reserve their CEU space. Space is limited and the event registration will close automatically once filled. At this time the registration is only open to Retirement Connection sponsors, and priority will be given to those presenting CEU poster content. Please register today.



SEPT 17
11:30 AM
Providence Medford Medical Center Resource Fair
Providence Medford - Mary Norbert Hall
1111 Crater Lake Ave, Medford, 97504

---
OCT 15
11:30 AM
Providence Medford Medical Center Resource Fair
Providence Medford - Mary Norbert Hall
1111 Crater Lake Ave, Medford, 97504

---
NOV 19
12 PM
Asante Three Rivers Resource Fair
Asante Center for Outpatient Health (ACOH)
Rooms 5 & 6
537 Union Ave, Grants Pass, 97527

MAY 16
3:30 PM
Southern Oregon Retirement Connection Guide Release Party
Edenvale Winery
2310 Voorhies Rd, Medford, 97501
RSVP

---
MAY 22
3:30 PM
Retirement Connection Roseburg Happy Hour
McMenamins Roseburg Station Pub & Brewery
700 SE Sheridan St, Roseburg, 97470
RSVP

---
MAY 23
4 PM
Prom Night
Pioneer Village
805 N 5th St, Jacksonville, 97530

Do you know someone that has recently changed positions? Send us an update to share in the monthly newsletter, helping everyone stay connected and informed about community changes.
"The difference between an opportunity and an obstacle is your attitude. Your faith has to be greater than your fear."

I honestly believe- "things happen, it is up to me to decide if they are good or bad." Sometimes through these challenges, we see new lessons: we see how strong we can be, we see support in people and places we never recognized, we see a new path and way of doing things, we learn new skills and habits, and we appreciate the small things more. It is up to us to see the opportunity.

~ Amy Schmidt
Retirement Connection
503-505-5865
amy@retirementconnection.com

---
Job Postings
The following positions have been posted in the last month. (Some position are outside the Southern Oregon area)
Home Care Agency Operations Manager
Business Office Manager
RN Care Manager
Sales-Community Relations Director
Activities Assistant

Apply or submit new positions online through Retirement Connection's Job Board.
---
Need More Guides?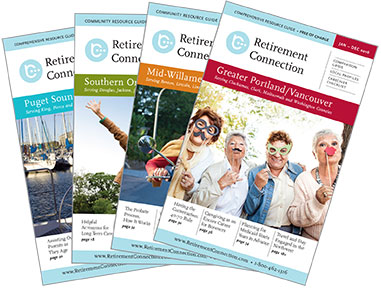 Additional copies of the Guide are available at no cost and are the perfect resource for health fairs, workshops and your marketing packets.
Guides are located at EVERY Senior Center, Hospital, Library and Meals-on-Wheels sites.
You can order as many as you need to serve the families in your community.
Add a label to the cover to highlight your business and use the guide as a giveaway.