I don't know about you, but I am so excited that things are starting to open up more and providing opportunities to connect in person. I was so excited last week I hugged a person at a network meeting thinking I knew them- I did NOT, but they thanked me for such an exciting welcome! Lucky for me this person was also open for hugs!! WHEW -(yes I am vaccinated).
"How do I find out about that?" On zoom network meetings, I often mention events or updates and get asked- how do I find information about "that". This newsletter is how I send out most updates all at once.  Please read and refer back to this monthly newsletter to help you get reengaged as things start opening up a bit. Don't forget to post your professional events and networking meetings on

RetirementConnection.com

, here is a link to help you spread the word (our sponsors can also post any events for your prospects). This is another great way to post and find events in your area.
Planning/Budget item- Case management week is still several months away (in October), but we have started the planning process. More details are below, but you may want to start thinking about your participation and your budget.

Save the date for our Southern Oregon Release Party at the Roxy Anne Winery on

June 17th

! We can't wait to celebrate with you!
Please continue to check our website for meeting and event updates! We are updating our website multiple times a day trying to help notify our contacts of cancellations and rescheduled meetings.


JUN 17
3:30 PM
Southern Oregon Networking And Resource (S.O.N.A.R.)
**June meeting is being replaced with the our Release Party!!**
RSVP View Invite
---
---
JUL 13
10 AM
No Meeting in June. Please join us again in July!
Transitions of Care Monthly Meeting Southern Oregon
Online Meeting
The goal of this meeting is to improve communication between case management and community providers, especially related to readmissions and start of care following a hospital visit.
Add this link to your calendar or share with others– https://us02web.zoom.us/j/82598888408  
JUN 17
3:30PM
Southern Oregon Retirement Connection Release Party
RoxyAnn Winery
3283 Hillcrest Rd, Medford, 97504
RSVP View Invite
June 16th, 2021, 11:30am-12:30pm
Medford– Asante Rogue Regional Virtual Resource Lunch
REGISTRATION CLOSED

June 16th, 2021, 12pm-1pm
Grants Pass– Asante Three Rivers Virtual Resource Lunch
Register
Do you know someone that has recently changed positions? Send us an update to share in the monthly newsletter, helping everyone stay connected and informed about community changes.

Joseph Lords is now
Community Relations Director,
Village at Valley View

Kathy McClellen is now
Community Relations Director,
The Landing

Mark McClellan is now
Assistant Administrator,
The Landing

Jennifer Roberts is now
Administrator,
The Landing

Courtney Mochizuki is now
Memory Care Coordinator,
The Landing
"Be who you are and say what you feel, because those who mind don't matter, and those who matter don't mind. "
- Dr. Seuss

In high school I remember a conversation with my grandfather when I was upset that someone didn't like me. He asked… "do you want to be liked or respected?" I asked him-can't I be both, and he replied- "NOT ALWAYS!" I learned that being authentic requires some self-awareness, mindfulness, and self-acceptance. Not everyone will agree with you, but you sure will have a better idea of who does and why.

Amy Schmidt
Retirement Connection
503-505-5865
amy@retirementconnection.com
---
Job Postings
The following positions have been posted in the last month. (Some position are outside the Southern Oregon area)
Move In Coordinator
Maintenance Assistant
Medical Sales Executive
Sales & Relationship Manager
Apply or submit new positions online through Retirement Connection's Job Board.
---
Need More Guides?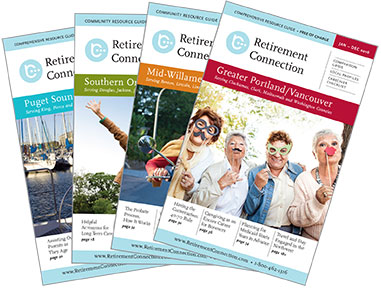 Additional copies of the Guide are available at no cost and are the perfect resource for health fairs, workshops and your marketing packets.
Guides are located at EVERY Senior Center, Hospital, Library and Meals-on-Wheels sites.
You can order as many as you need to serve the families in your community.
Add a label to the cover to highlight your business and use the guide as a giveaway.