The last year (especially the last few months) has brought quite a bit of change for me and Retirement Connection. I don't know about you, but I am SOOOOOO ready for summer! I am ready to plant my garden and watch it grow; ready for a bit more time with my kiddos while enjoying the longer days; ready to take a fresh breath and face a new normal in both work and personal life. Sometimes I find we are all busy hamsters on the wheel and we don't notice we are going in circles. So today- I will NOT eat lunch at my desk, I will instead go for a walk because it is beautiful outside.

Here is my challenge to you:
- take at least 15 minutes each day to be mindful
- set 1 appointment each week with someone you don't know
- make an introduction each week to help those you do know
- learn 1 new thing each month
- find 1 thing to be grateful for each day

Let me know if you accept the challenge. I know this is not my usual newsletter greeting, but I thought I would mix it up a bit.

JUN 6
8 AM
Metropolitan Senior Network (MSN)
 YWCA
3609 Main St, Vancouver, 98663
Topic: Effective Sales Strategies

---
JUN 12
3 PM
East County Marketing Exchange (ECME)
Marquis Piedmont
319 NE Russet St, Portland, 97211
Topic: OSRAA
---
JUN 19
3 PM
Westside Referral Network
Pegg, Paxson, and Springer
4675 SW Watson St, Beaverton, 97005
Topic: Sharing tips for hiring the right employee for your company
---
JUN 21
3 PM
Clackamas County Senior Networking (CCSN)
Milwaukie Center
5440 S.E. Kellogg Creek Dr, Milwaukie, 97222
Topic: Changes to Referral Agencies

---
JUN 25
3 PM
Senior Provider Information Network (SPIN-Portland)
Russellville Park
20 SE 103rd Ave Portland, 97216

---
JUL 26
3 PM
Clackamas County I & R Networking
Development Services Building
150 Beavercreek Rd, Room 119, Oregon City, 97045

JUN 6
8 AM
Metropolitan Senior Network (MSN)
YWCA
3609 Main St, Vancouver, 98663
Topic: Effective Sales Strategies

---
JUN 7
3:30 PM
SSN – Clark County Happy Hour Meetings)
Brookdale Vancouver Orchards
10011 NE 118th Ave Vancouver, 98682
Topic: Marketing with non-profit involvement

---
JUN 15
9 AM
Senior Service Network (SSN-Clark)
Peace Health Medical Center – Health Education Center
400 NE Mother Joseph Pl – Vancouver WA (92nd & Mill Plain Ave)
Topic: Dealing with Difficult Family Members

JUN 7
4 PM
Ribbon Cutting Open House for Home Care Assistance
Home Care Assistance
4847 Meadows Rd #149 Lake Oswego, 97035

---
JUN 27
4:30 PM
Let's Fla-Mingle!
Emerald Gardens
1890 Newberg Hwy Woodburn, 97071

Registration is now open for 2018 Portland/Vancouver Sponsors to reserve their CEU space.



SEPT 11
12:30 PM
Providence Portland Medical Center Resource Fair
Providence Portland Medical Center- Social Room
4805 NE Glisan St, Portland, OR 97213

---
OCT 4
12 PM
Providence St. Vincent Medical Center Resource and Education Vendor Fair
Providence St. Vincent Medical Center-Souther Classrooms
9135 SW Barnes Rd, Portland, 97225

---
OCT 30
12 PM
Legacy Good Samaritan Hospital Resource Fair
Legacy Good Samaritan Hospital- Wister Morris Room
1015 NW 22nd Ave Portland, OR 97210

Do you know someone that has recently changed positions? Send us an update to share in the monthly newsletter, helping everyone stay connected and informed about community changes.
"If I'm weird around you, it's because I'm comfortable"
-Anonymous

In the past 2 months, after the death of a friend and team member, I have struggled at times to "act the person that I am expected to be". Am I too stable, too soon? Am I sad, too long? Am I too focused on the wrong things? So now- I am working to just feel what I feel and be present and authentic. Sometimes it may not hit the nerves of others as I intended, but I am just as likely to hit a different nerve by not being true.

~ Amy Schmidt
Retirement Connection
503-505-5865
amy@retirementconnection.com

---
Job Postings
The following positions have been posted in the last month. (Some positions are outside the Portland/ Vancouver area)
Home Health Director
Inside Sales
Staffing Manager
Senior Care Manager
Resident Care Director
Sales Manager
Marketing Specialist

Apply or submit new positions online through Retirement Connection's Job Board.
---
Need More Guides?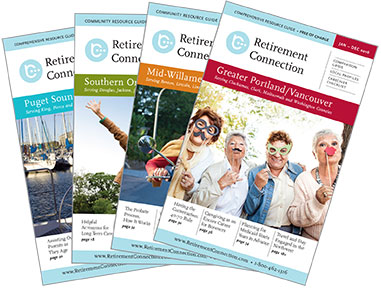 Additional copies of the Guide are available at no cost and are the perfect resource for health fairs, workshops and your marketing packets.
Guides are located at EVERY Senior Center, Hospital, Library and Meals-on-Wheels sites.
You can order as many as you need to serve the families in your community.
Add a label to the cover to highlight your business and use the guide as a giveaway.