I wanted to take a moment to thank all of you who have reached out and supported our team as we continue to feel the great loss of Krista Davis Tonn. She would have been so touched to know how cherished she was in our community and how many lives she impacted. With that being said, her Celebration of Life will be Saturday, May 12 at 2:00 PM and we have posted updates and supporting information on our
Facebook page
. The way to keep people present in your life is to remember them and all they did to make this a better place.
I know that our team was made better because of her.
MAY 2
8 AM
Metropolitan Senior Network (MSN)
Valley View Evangelical Church
11501 SE Sunnyside Rd, Clackamas, 97015
Topic: How to get the most of your referral/placement agency partnerships

---
MAY 8
3 PM
East County Marketing Exchange (ECME)
Pheasant Pointe
835 E Main St, Molalla, 97038
Topic: Open-ended questions to solve roadblocks
---
MAY 15
3 PM
Westside Referral Network
Parkinson's Resources of Oregon
8880 SW Nimbus Ave #B, Beaverton, 97008

---
MAY 17
3 PM
Clackamas County Senior Networking (CCSN)
Comfort Hospice & Palliative Care
6400 SE Lake Road #400, Portland, 97222
Topic: Palliative Care

---
MAY 21
3 PM
Senior Provider Information Network (SPIN-Portland)
Providence St Vincent Campus
9427 SW Barnes Rd, Portland, 97225

---
MAY 24
3 PM
Clackamas County I & R Networking
Development Services Building
150 Beavercreek Rd, Room 119, Oregon City, 97045
Topic: The New Elderly Rental Assistance Program and Get Trained to Help

MAY 3
3:30 PM
Senior Service Network Clark Happy Hour
Boomerang Therapy Works
210 W 4th St, Vancouver, 98660
Topic: Work Life Balance

---
MAY 18
9 AM
Senior Service Network (SSN-Clark)
Peace Health Medical Center – Health Education Center
400 NE Mother Joseph Pl – Vancouver WA (92nd & Mill Plain Ave)
Topic: Better Management through Neuroscience

May 3
5 PM
Elders in Action Gala
The Melody Ballroom
615 SE Alder St, Portland, 97214

---
MAY 3
6 PM
Music and the Aging Brain: A Discussion and Concert Event
Aladdin Theater
3017 SE Milwaukie Ave, Portland, 97202

---
MAY 4-5
ALL DAY
Delay the Disease: Continuing Education for Healthcare Professionals
Parkinson's Resources of Oregon Office
8880 SW Nimbus Ave #B, Beaverton, 97008

---
MAY 9
9 AM
Introduction to QBO (QuickBooks Online)
Portland English Language Academy
2007 Lloyd Center, Portland, 97232

---
MAY 10
ALL DAY
OSRAA 2018 Spring Conference
Providence Willamette Falls Community Center
519 15th St Oregon City, 97045

---
MAY 11
5:30 PM
Memories in the Making Art Auction and Gala
Sentinel Hotel
614 SW 11th Ave, Portland, 97205

---
MAY 16
11:30 AM
Awards Ceremony for People who Serve Seniors
Club Green Meadows
7703 NE 72nd Ave, Vancouver, 9866

---
MAY 17
12 PM
QuickBooks Online for Accountants and Bookkeepers
Portland English Language Academy
2007 Lloyd Center, Portland, 97232

---
MAY 17
3 PM
Wines & Cheeses of the World
Beaverton Hills Assisted Living
4525 SW 99th Ave, Beaverton, 97005

Registration is now open for 2018 Portland/Vancouver Sponsors to reserve their CEU space.



SEPT 11
12:30 PM
Providence Portland Medical Center Resource Fair
Providence Portland Medical Center- Social Room
4805 NE Glisan St, Portland, OR 97213

---
OCT 4
12 PM
Providence St. Vincent Medical Center Resource and Education Vendor Fair
Providence St. Vincent Medical Center-Souther Classrooms
9135 SW Barnes Rd, Portland, 97225

---
OCT 30
12 PM
Legacy Good Samaritan Hospital Resource Fair
Legacy Good Samaritan Hospital- Wister Morris Room
1015 NW 22nd Ave Portland, OR 97210

Do you know someone that has recently changed positions? Send us an update to share in the monthly newsletter, helping everyone stay connected and informed about community changes.
"Grief is the price we pay for love." – Queen Elizabeth II

Grief can come in waves, sometimes the things that you believe should affect you are more manageable than expected, and other times a simple happening can start a wave of emotions. I am learning that being sad and crying is not a sign of weakness, but it means that I care and it means that someone I cared for mattered greatly.

~ Amy Schmidt
Retirement Connection
503-505-5865
amy@retirementconnection.com

---
Job Postings
The following positions have been posted in the last month. (Some position are outside the Portland/Vancouver area)
Client Care Coordinator
Community Outreach Representative
Marketing Director
Program Director
Executive Director
Sales Manager
Senior Services Superintendent

Apply or submit new positions online through Retirement Connection's Job Board.
---
Need More Guides?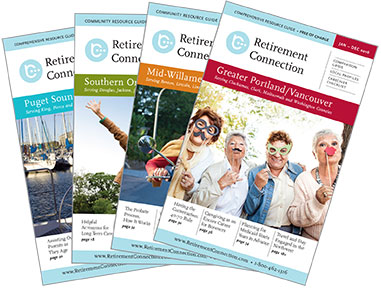 Additional copies of the Guide are available at no cost and are the perfect resource for health fairs, workshops and your marketing packets.
Guides are located at EVERY Senior Center, Hospital, Library and Meals-on-Wheels sites.
You can order as many as you need to serve the families in your community.
Add a label to the cover to highlight your business and use the guide as a giveaway.