The guide is all laid out and we are proofing now, but just in case you thought of a last minute addition or change- you can still tell us and we can make the change if you call or

email

me today. The new edition will hit the streets later this month. We have several new sponsors this year and we are excited that the guide continues to grow with each edition. Our web traffics is increasing, more communities are reporting their availability online, and we have 2 more hospital events on the schedule!

Life is good and now it is time to celebrate!!! Every year we host a Release Party and I hope you will join us for the networking event of the year. The party is open to everyone who works with seniors and we usually pull at least 150 people for the event. Join us for networking, cocktails, and light appetizers next month on

April 22

.
Please check our website for updates since many meetings are being cancelled to manage the spread of potential illness.



MAR 3
8:30 AM
MEETING CANCELLED
Senior Care Coalition Westside Meeting
Aljoya Thornton Place
450 NE 100th St, Seattle, 98125
---
MAR 17
8:30 AM
Senior Care Coalition Eastside Meeting
SHAG Crossroads Bellevue
1390 158th Pl NE, Bellevue, 98008
---
MAR 18
8 AM
South End Coalition
Merrill Gardens at Auburn
18 1st St SE, Auburn, 98002

---
MAR 18
11:30 AM
Coordinators of Patient Services (COPS)
Maggiano's Bellevue
10455 NE 8th St, Bellevue, 98004

MAR 5
8 AM
Aging and LTC Providers Network
Mid-County Community Center
10205 44th Ave E, Tacoma, 98446

---
MAR 12
7:30 AM
Health Care Providers Council (HCPC)
Mountain View Funeral Home
4100 Steilacoom Blvd SW, Lakewood, 98499

---
MAR 19
4 PM
Millennial Provider's Network (MPN)
The Forum
815 Pacific Ave, Tacoma, 98402

MAR 12
11:30 AM
ElderNet
GenCare at Lynnwood
6024 200th St SW, Lynnwood, 98036
MAR 31
12 PM
Virginia Mason Medical Center Resource Fair
Virginia Mason Medical Center
1100 9th Ave, Seattle, WA 98101
REGISTRATION CLOSED
---
APR 29
12 PM
Providence Regional Medical Center Everett Resource and Education Vendor Fair
Providence Regional Medical Center
1700 13th St, Everett, 98201

---
JUL 30
11:30 AM
Valley Medical Center Resource Fair
Valley Medical Center
400 South 43rd St, Renton, 98055

MAR 5
2 PM
Boomer Plus Meeting – Northgate
Aegis Ravenna
8511 15th Ave NE, Seattle, 98115

---
MAR 10
11 AM
Dine and Dash at Sunrise of Bellevue
Sunrise of Bellevuebr/> 15928 NE 8th St, Bellevue, 98008

---
MAR 12
2 PM
Networking Happy Hour
Sunrise of Northgate
11039 17th Ave NE, Seattle, 98125

---
MAR 13
9 AM
Sash – Coffee Time Kent
Arbor Village
24121 116th Ave SE, Kent, 98030

---
MAR 13
11 AM
Senior Health and Wellness Fair
Village Concepts of Marysville
Grandview Village
5800 64th St NE, Marysville, 98270

---
MAR 19
10:30 AM
Boomer Plus Meeting – Bellevue
Mission Health Care
2424 156th Ave NE, Bellevue, 98007

---
MAR 24
2 PM
Boomer Plus – West Seattle
Visiting Angels Tacoma
4700 SW Admiral Wy, Seattle, 98116

---
MAR 25
2 PM
Continuing Education: Bedbound, Hospice, & Post Mortem Care
Visiting Angles Lacey Office
4325 Lacey Blvd SE, Lacey, 98503

---
APR 22
3:30 PM
Save the Date!
Puget Sound Retirement Connection Release Party
Mercer Island Community and Event Center
8236 SE 24th St, Mercer Island, 98040
RSVP

Do you know someone that has recently changed positions? Send us an update to share in the monthly newsletter, helping everyone stay connected and informed about community changes.

Evelyn Rosado, is now
Community Sales Director
Fedelta Home Care
"Today I decide to forgive you. Not because you apologized or because you acknowledged the pain that you caused me, but because my soul deserves peace." – Najwa Zebian

Forgiveness helps us take control of our story. The change in outlook moves us beyond feeling like a victim, and prevents negative emotions and resentment from taking over. Not forgiving someone punishes you much more than the offender.

~ Amy Schmidt
Retirement Connection
503-505-5865
amy@retirementconnection.com

---
Job Postings
The following positions have been posted in the last month. (Some position are outside the Puget Sound area)

Business Development
Senior Move Manager

Apply or submit new positions online through Retirement Connection's Job Board.
---
Need More Guides?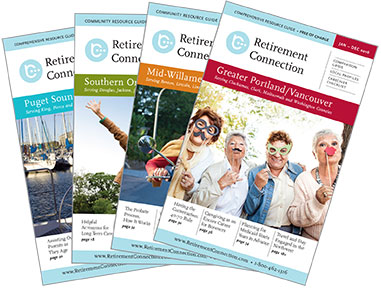 Additional copies of the Guide are available at no cost and are the perfect resource for health fairs, workshops and your marketing packets.
Guides are located at EVERY Senior Center, Hospital, Library and Meals-on-Wheels sites.
You can order as many as you need to serve the families in your community.
Add a label to the cover to highlight your business and use the guide as a giveaway.