We are currently wrapping up our 10%
earlybird
discount for ad space in the next edition and are so excited to see the volume of businesses that took advantage of the offer. Current sponsors will save even more than
the 10
%. Thank you for helping us provide the most comprehensive resource possible for our community. Please
email us
if you feel you missed out on this opportunity.
We have three upcoming Legacy CEU events scheduled in March, April, and May! Please see details below and register now to secure your space.
We are honored to be the Official Resource for these hospitals and clinics. If ever you have heard a case manager refer to the "Resource Guide"- that is us. On the 10,000 copies we printed for Legacy, the name on the cover is different. That is the ONLY change for their copies. The reason- because the case managers share the guide with all patients, and some are younger, the name change was a small ask to get the guide in the hands of thousands of more patients. So... Resource Connection Guide= Retirement Connection Guide.
Please remember we want to be more than another print guide. The 3 dots of our logo represent the Guide, Website, and Network. Let us find more ways to network and be a resource for you and your business. And sponsors- save the date for the next quarterly sponsor breakfast on

April 17th

.
MAR 6
8 AM
Metropolitan Senior Network
Sunset Presbyterian Church
14986 NW Cornell Rd, Portland, 97229
Topic: The Buyer-Seller Dance

---
MAR 12
3 PM
East County Marketing Exchange
Royalton Place
5555 SE King Road, Milwaukie, 97222
Topic: "Be Seen & Collect the Green!"
---
MAR 19
3 PM
Westside Referral Network (WRN)
Sunset Corridor
1800 NW 167th PL #100, Beaverton, 97006

---
MAR 21
3 PM
Clackamas County Senior Networking (CCSN)
Willamette Ale & Cider House 1720 Willamette Falls Dr, West Linn, 97068
---
MAR 25
3 PM
SPIN – Portland
Location: TBA
---
MAR 28
8 AM
Clackamas County I & R Networking
Red Soils Campus, Development Services Building
Room 119
150 Beavercreek Rd, Oregon City, 97045

MAR 7
3:30 PM
SSN Clark Happy Hour
Prestige Nursing & Rehab Camas
740 NE Dallas St, Camas, 98607
Topic: Who are you?
---
MAR 15
9 AM
Senior Service Network (SSN-Clark)
Peace Health Medical Center – Health Education Center
400 NE Mother Joseph Pl – Vancouver WA (92nd & Mill Plain Ave)
Topic: Emergency Preparedness Clark County – "Who Ya Gonna Call?"
Registration is now open for Retirement Connection Sponsors.


MAR 6
11:30 AM
Legacy Emanuel Medical Center Resource Fair
THIS EVENT IS FULL!
Legacy Emanuel Medical Center - Atrium
2801 N Gantenbein, Portland, 97227

---
APR 11
11 AM
Legacy Meridian Park Resource Fair
Legacy Meridian Park Medical Center-CHEC (Community Health Education Center)
19300 SW 65th Ave Tualatin, OR 97062

---
MAY 1
11 AM
Legacy Mount Hood Medical Center Resource Fair
Legacy Mount Hood Medical Center
Located in the Cafeteria
24800 SE Stark St, Gresham, 97030

MAR 6
4 PM
Seasons of Hope Ribbon Cutting Grand Opening
Seasons of Hope Grief Center
3102 NE 134th St, Vancouver, 98686

---
MAR 7
12 PM
Cellutions Free Educational Stem Cell Therapy Seminar
Westpark Community Room
610 Esther St #100, Vancouver, 98660

---
MAR 14
4 PM
Mt. Hood Senior Solutions Launch Party
Mt. Hood Adult Day Center
376 NE 219th Ave Gresham, 97030

---
MAR 20
4 PM
Mid-Week Martini Happy Hour
Brookdale Beaverton
16655 NW Walker Rd, Beaverton, 97006

---
MAR 21
2:30 PM
Cellutions Free Educational Stem Cell Therapy Seminar
The Hollywood Senior Center
1820 NE 40th Ave, Portland, 97212

---
MAR 21
6 PM
Legal Issues for Family Cargivers
Providence Portland Medical Center, Cancer Center Amphitheater
4805 NE Glisan St, Portland, 97213

---
MAR 26
6:30 PM
HOPE Educational Presentation: A Story of Music and Memory
PeaceHealth Southwest Education Center
400 NE Mother Joseph Pl, Vancouver, 98664

---
MAR 27
7:30 AM
Tualatin Chamber Health & Wellness Wednesday
Body in Balance Wellness Center
7360 SW Hunziker St #203, Portland, 97223

---
APR 17
8:30 AM
Portland/Vancouver Retirement Connection Sponsor Breakfast April 2019
Providence St Vincent Medical Center
Stanley Family Rooms 20-22
9205 SW Barnes Rd, Portland, 97225
RSVP

Do you know someone that has recently changed positions? Send us an update to share in the monthly newsletter, helping everyone stay connected and informed about community changes.

Cathy Fallon-Weeg Is now a Referral Specialist,
Mt Hood Senior Solutions
"Courage is not the lack of fear. It is acting in spite of it."
- Mark Twain

If you are fearful, it likely means you have something to lose. Ask yourself, if the possibility of what you may gain is more important. If so- feel the fear and do do it anyway!

~ Amy Schmidt
Retirement Connection
503-505-5865
amy@retirementconnection.com

---
Job Postings
The following positions have been posted in the last month. (Some position are outside the Portland/ Vancouver area)
Social Services Director
Volunteer Outreach Specialist
Health Services Director
Travel Navigator
Director of Nursing
Full Time Community Liaison
Accountant
Teacher-Early Head Start Applegate

Apply or submit new positions online through Retirement Connection's Job Board.
---
Need More Guides?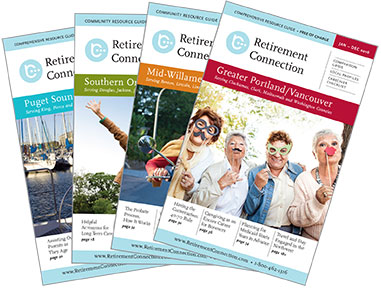 Additional copies of the Guide are available at no cost and are the perfect resource for health fairs, workshops and your marketing packets.
Guides are located at EVERY Senior Center, Hospital, Library and Meals-on-Wheels sites.
You can order as many as you need to serve the families in your community.
Add a label to the cover to highlight your business and use the guide as a giveaway.