I jinxed us last month with my enthusiasm to meet in person for network meetings.  
I sent a survey last Friday, asking for your feedback: should the SONAR meetings gather in person or zoom- here is the
LINK
in case you did not receive that email. I also
apologize if you found some of the other network meeting information was not accurate on our website, we update events as soon as we are updated- but sometimes the host forgets to tell us also (we are all human).
Case Management Week is October 10-16th. I am excited that the local hospitals will be participating,
Click here for more details
or sign up to donate items for goodie bags or to provide lunches.
I need to send a special
THANK YOU TO OUR SPONSORS. We know that the past year has been tough on everyone, and advertising may not have been on your mind or budget, but I need to take a moment and recognize that ALL we do at Retirement Connection (the printed guide, the 2 websites, the events, the network meetings, etc) is only possible because of our sponsors/advertisers. I hope you will choose to support those that support us. In case you wondered if it is worth it, we have a few
new testimonials
.
---
Do you want to meet in person or on ZOOM?
As we navigate shifting mandates and regulations regarding the Delta Variant and the rise in COVID cases, we would appreciate your feedback for networking meeting protocols. In order to be mindful of everyone's safety and comfort levels, please take a

1-minute survey

to share/ click ALL options you would be open to...
Please continue to check our website for meeting and event updates! We are updating our website multiple times a day trying to help notify our contacts of cancellations and rescheduled meetings.


SEPT 16
9 AM
Southern Oregon Networking And Resource (S.O.N.A.R.)
Speaker: Erin McCune, Easeenet
Topic: Saving your [online] life: Practical Digital Estate Planning Tips
We know this is a moving target, but we have asked attendees for the feedback rather to meet in person or on zoom- we will make the final decision this Thursday base on the survey. Here is a link for you to share your option) For now please save the date/time 9am…. (we will let you know Thursday if we are meeting in person or virtually.
---
SEPT 21
11:30 AM
Southern Oregon Continuing Care Association (SOCCA)
Meeting details TBA

---
Do you know someone that has recently changed positions? Send us an update to share in the monthly newsletter, helping everyone stay connected and informed about community changes.


"We are not all in the same boat. We are in the same storm. Some have yachts, some canoes, and some are drowning."
- Adapted quote by Damian Barr

As I managed my own stress and anxiety, sometimes I do not show enough grace to others, and I can compare my burden to others.  On my personal Facebook page, I recently posted an update following my husband's surgery and many commented that it was "inspiring".  As much as I appreciated that- I am fortunate to have a great support system in place- that helps my boat weather the storm.  You know what is really inspiring-offering help to others and admitting when we need help.

Amy Schmidt
Retirement Connection
503-505-5865
amy@retirementconnection.com
---
Job Postings
The following positions have been posted in the last month. (Some position are outside the Southern Oregon Area)
Certified Hospice Aide
Medical Social Worker
RN Case Manager
Clinical Nursing Manager
Administrative Assistant
Aging Life Care Manager

Apply or submit new positions online through Retirement Connection's Job Board.
---
Need More Guides?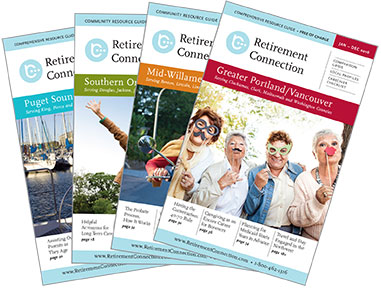 Additional copies of the Guide are available at no cost and are the perfect resource for health fairs, workshops and your marketing packets.
Guides are located at EVERY Senior Center, Hospital, Library and Meals-on-Wheels sites.
You can order as many as you need to serve the families in your community.
Add a label to the cover to highlight your business and use the guide as a giveaway.