2 weeks ago I had my second knee surgery in 4 months. This one was for my ACL. I am very appreciative that my husband, mom, kiddos, friends, and my staff have been so very very helpful. They have brought me ice packs and meals; become my taxi drivers; helped me get dressed (FYI, only family on the dressing assist). I do NOT like asking for help, and I do NOT like this feeling of dependence.

Right now, I am dependent on the schedules, availability, and willingness of others. I am thankful for them, but it has made me mindful of the seniors we serve. Remember to truly see the heart of those we serve and those we work with. See the vibrancy, independence, and resourcefulness in others. See their strengths and skills instead of their frailty and impairments. This will be all of us one day, should we be so lucky to have those golden years.



We are in the

final 2 weeks

to reserve ad space for the next edition of the guide. We pushed the deadline up a bit in order to provide the newest edition in time for a community event at the CHEC Center at Salem Hospital in September. Thank you to all those that support Retirement Connection and allow us to provide the print guide, online event postings, networking opportunities, and release party. Without our sponsors, we would not have any of this. More than advertising, we work to provide collaborative and comprehensive resources.
AUG 7
9 AM
Senior Service Network (SSN-Linn/Benton)
LOCATION MOVED FOR AUGUST MEETING ONLY
Brookdale Grand Prairie Independent Living
1929 Grand Prairie Road SE, Albany, 97322
Topic: Dealing with Difficult Family Members

---
AUG 8
9 AM
Salem Senior Lifestyles Network
Jason Lee Manor Independent Senior Living,
Willson House Residential Care
1625 Center St NE, Salem, 97301

---
AUG 22
9 AM
Senior Service Network (SSN-Salem)
Salem Hospital
Creekside Dining Overflow- first floor
890 Oak St SE, Salem, 97301
Topic: VA Aid & Attendance Benefits
---
SEP 19
9:30 AM
Save the date!
NWSDS Senior Network

---
SEPT 20
9 AM
Save the date!
Yamhill Networking Meeting

AUG 9
4:30 PM
You're a Piece of the Puzzle – Professional Networking Event
Sweetbriar Villa Assisted & Memory Care Living
6135 E St, Springfield, 97478

---
SEPT 7
8:30 AM
Portland/Vancouver Retirement Connection Sponsor Breakfast
Providence St. Vincent Medical Center (Souther Classroom)
9205 SW Barnes Rd, Portland, 97225
RSVP
Do you know someone that has recently changed positions? Send us an update to share in the monthly newsletter, helping everyone stay connected and informed about community changes.
"Just because people don't work traditional hours; Doesn't mean they don't work hard hours." — Amy Schmidt

Sometimes our work schedules are dictated to us by the type of work, coordination with co-workers, or customer needs. Today's workplace is different than 20 years ago before smartphones, when television went off the air at midnight, and most stores were closed by 8pm. We live in a 24/7 world. With 4 generations in the workplace today, be mindful of the changing times- If the job is getting done well and on deadline- then good job. Thank your team!

~ Amy Schmidt
Retirement Connection
503-505-5865
amy@retirementconnection.com

---
Job Postings
The following positions have been posted in the last month. (Some position are outside the Mid-Willamette Valley area)
Care Staff Coordinator
Home Health Occupational Therapist
Transportation Coordinator
Senior Housing & Care Coordinator
Client Care Coordinator
Travel Trainer
Care Manager
Nurse Case Manager

Apply or submit new positions online through Retirement Connection's Job Board.
---
Need More Guides?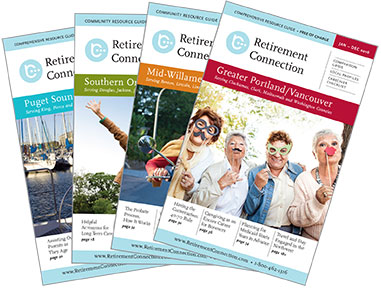 Additional copies of the Guide are available at no cost and are the perfect resource for health fairs, workshops and your marketing packets.
Guides are located at EVERY Senior Center, Hospital, Library and Meals-on-Wheels sites.
You can order as many as you need to serve the families in your community.
Add a label to the cover to highlight your business and use the guide as a giveaway.