Thank you to all who attended the Puget Sound release party last week! We had more than 150 attendees and loved the networking with everyone. You can view pictures on our

Facebook page

, and while there, be sure to "Like" our page, tag yourself /friends, and share. Save the date for the next big Release Parties- April 25th in Seattle and April 26th for Tacoma. We don't want you to miss this annual event!
For those that missed the opportunity to be included in the September edition -
it's
not too late to become a new sponsor. Many told us at the party they wished we had reached out and that they would like to be highlighted in the guide and have more exposure. Please

contact us

if you would like more information to share with others. We add new sponsors online each week and there is still time to be included in the annual April printing. (Those that reserve ad space before 10/30 will receive a 10%
earlybird
discount! Payment and
ad
copy will not be needed until 2018 and we offer flexible payment options. Please call to discuss.)

Our next edition, APRIL 2018, will become an annual guide. Should you miss the deadline, it will be a full year before we can add new sponsors into the print edition.



Remember to use our website to

Order more Guides

,

Post an event

,

Find a Network Meeting

,

Post a management job opening

,

Let us know if you are "on the move" with a new position to include in this newsletter

, or

Share a testimonial
OCT 3
8:30 AM
Senior Care Coalition (North End)
MBK Northgate
11030 5th Ave NE, Seattle, 98125

---
OCT 12
8:30 AM
Senior Care Coalition (East Side)
University House Issaquah
22975 SE Black Nugget Rd, Issaquah, 98029

---
OCT 18
8:15 AM
South End Coalition
Chateau At Valley Center
4450 Davis Ave S, Renton, 98055

---
OCT 27
9 AM
NW LGBT Senior Care Providers Network Meeting
Burien Nursing and Rehabilitation Center
1031 SW 130th Street, Burien, 98146

---
NOV 15
11:30 AM
Save the Date!
Coordinators of Patient Services (COPS)
Maggiano's Bellevue
10455 NE 8th St, Bellevue, 98004

OCT 5
9 AM
Aging and LTC Providers Network
Mid-County Community Center
10205 44th Ave E, Tacoma, 98446

---
OCT 12
7:30 AM
Health Care Providers Council (HCPC)
Narrows Glen
8201 6th Ave, Tacoma, 98046

Oct 12
11:30 AM
ElderNet Annual Auction and Luncheon
Garden Court Retirement Community
520 112th St SW, Everett, 98204

OCT 4
8:30 AM
SASH Coffee and Networking - Tacoma
La Quinta Inn Tacoma - Ports of Call Restaurant
1425 E 27th St, Tacoma, 98421

---
OCT 5
9 AM
Let's Keep Moving at Quail Park of Lynnwood
Quail Park of Lynnwood
4015 164th St SW, Lynnwood, 98087

---
OCT 6
9 AM
SASH – Snohomish County
Best Western Cascadia Inn
2800 Pacific Ave, Everett, 98201

---
OCT 11
ALL DAY
Navigating Cultural Differences
Cambia Grove
1800 9th Ave #250, Seattle, 98101

---
OCT 12
7:45 AM
WMCMA Annual Fall Conference & Expo 2017
Lynwood Convention Center
3711 196th St SW, Lynnwood, 98036

---
OCT 12
9 AM
SASH Coffee and Networking – Eastside Bellevue
Crossroads Shopping Ctr ( Community Rm)
15600 NE 8th St, Bellevue, 98007

---
OCT 13
9 AM
SASH Coffee and Networking – Kent
Kent Senior Center
600 E Smith St, Kent, 98030

---
OCT 18
11 AM
Making the Link
MetroParks STAR Center
3873 S 66th St, Tacoma, 98409

---
OCT 20
9 AM
SASH Coffee and Networking – North King
Shoreline City Hall - 3rd Fl Conference Rm
17500 Midvale Ave N, Shoreline, 98133

---
OCT 21
10 AM
Spring Ridge Holiday Bazaar
Spring Ridge Assisted Living & Memory Care
6856 Portland Ave E, Tacoma, 98404

---
OCT 25
9 AM
SASH Coffee and Networking – Puyallup
Willow Gardens
4502 6th St SE, Puyallup, 98374

---
OCT 27
9 AM
SASH Coffee and Networking – Federal Way
Marlene's Market & Deli
2565 S Gateway Center Plaza Federal Way, 98003

"Be thankful for what you have; you'll end up having more. If you concentrate on what you don't have, you will never, ever have enough" ~ Oprah Winfrey

This summer I took 30 days to focus on gratitude. I found that verbalizing at least one thing that I was thankful for each day made me realize how abundant my life really is. Even as my best friend went onto hospice, I have been grateful for every extra day we have together. These past few months have changed me forever- for the better. Be grateful for at least one thing every day!

~ Amy Schmidt
Retirement Connection
503-505-5865
amy@retirementconnection.com

---
Job Postings
The following positions have been posted in the last month. (Some position are outside the Puget Sound area)
Recruiting and Retention Coordinator
Sales Manager
Outside Marketing Director
Care Coordinator
Health Services Director
Community Relations Director/ Sales

Apply or submit new positions online through Retirement Connection's Job Board.
---
Need More Guides?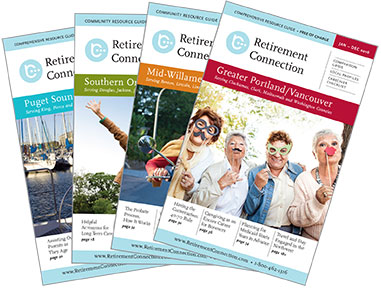 Additional copies of the Guide are available at no cost and are the perfect resource for health fairs, workshops and your marketing packets.
Guides are located at EVERY Senior Center, Hospital, Library and Meals-on-Wheels sites.
You can order as many as you need to serve the families in your community.
Add a label to the cover to highlight your business and use the guide as a giveaway.