I am starting my day with a box of Kleenex in anticipation for the moments when I realize Barret has moved to Los Angeles, and no longer part of our work family. We have put hiring a new person "on hold" for the immediate time being- as to ensure we don't continue an unfair comparison of personalities. BUT as I stare at this box, I remember how I felt when I was going through the interview process with him two years ago (and I was NOT excited then either). Honestly, I hate hiring, but I love the way our team engulfs new members and indoctrinates them into our culture… so I am going to remain optimistic. On that note, our team has been working for several months on our "Creed" and we are very proud of what we have created, so I wanted to share it with you. Our Creed is how we live out our values and mission. I feel the best way to make sure you live up to something is to put it in writing and share it with others. Our "Creed" is now posted near the bottom of our

About Us

page of the website. I welcome your feedback.
As long as I am oversharing, here is more… Tuesday was my husband's final chemo therapy treatment. YAY. He remains tough as nails through this. We both appreciate everyone's ongoing support and encouragement, as well as how "normal" you have let things remain for us.
Last but not least- please make sure Retirement Connection is part of your 2020 marketing budget and plans!
OCT 17
9 AM
Southern Oregon Networking And Resource (S.O.N.A.R.)
Bonaventure of Medford
2530 E McAndrews Rd, Medford, 97504
Sponsor: All Your Cares
---
OCT 24
9:30 AM
Douglas County Senior Resource Coalition
Oak Park
1400 NE Rocky Ridge Dr, Roseburg, 97470
Registration is now open for Southern Oregon Sponsors to reserve their CEU space. Space is limited and the event registration will close automatically once filled. At this time the registration is only open to Retirement Connection sponsors, and priority will be given to those presenting CEU poster content. Please register today.



OCT 15
11:30 AM
Providence Medford Medical Center Resource Fair
Providence Medford - Mary Norbert Hall
1111 Crater Lake Ave, Medford, 97504

---
NOV 19
12 PM
Asante Three Rivers Resource Fair
Asante Center for Outpatient Health (ACOH)
Rooms 5 & 6
537 Union Ave, Grants Pass, 97527

OCT 8
ALL DAY
Job Fair
Rogue Regency Inn & Suites
2300 Biddle Rd Medford, 97504

---
OCT 24
4 PM
Schneider Museum of Art Fall Exhibitions Opening Reception
Schneider Museum of Art
555 Indiana St, Ashland, 97520

Do you know someone that has recently changed positions? Send us an update to share in the monthly newsletter, helping everyone stay connected and informed about community changes.
"A player who makes a team great is more valuable than a great player. Losing yourself in the group, for the good of the group - that's teamwork. " – John Wooden

As our team make up changes with those that move on and new hires- this quote resonates with me. It is always more important (and often more challenging) to find a person that elevates the entire team more than an individual.

~ Amy Schmidt
Retirement Connection
503-505-5865
amy@retirementconnection.com

---
Job Postings
The following positions have been posted in the last month. (Some position are outside the Southern Oregon Valley area)
Chief Operating Officer
Human Resource Specialist

Apply or submit new positions online through Retirement Connection's Job Board.
---
Need More Guides?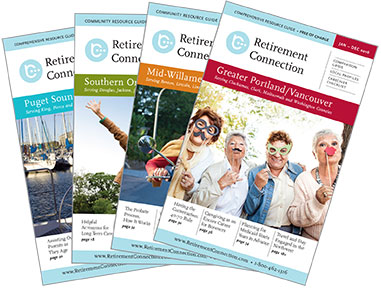 Additional copies of the Guide are available at no cost and are the perfect resource for health fairs, workshops and your marketing packets.
Guides are located at EVERY Senior Center, Hospital, Library and Meals-on-Wheels sites.
You can order as many as you need to serve the families in your community.
Add a label to the cover to highlight your business and use the guide as a giveaway.