Hallelujah, It almost feels like we are returning to a bit of normal. More networking meetings are happening IN PERSON, and every day more providers are sending in their events to post on our website. More senior centers and libraries are opening and that makes it much easier for families to pick up copies of the resource guide. I have never been so excited about "work". I have definitely struggled the past year to feel motivated and feel like we make a difference. I have learned that I do better with a tight schedule than with more flexibility. I apparently need to always know what is next" and the past year did not provide that at all.
There are a few ways that our team will work differently now:
1)
We are making a change to the Transitions of Care zoom meeting. Over the past 6 months, we have been hosting these meetings for providers and case managers from different hospitals and regions. We have decided to change to a bi-monthly ALL region meeting. Starting in August, the Transitions of Care meeting will be held every month and last ONLY 30 minutes but will include updates for hospitals covering both Oregon and Washington states.
2) Last week, Erin and I started hosting weekly "20 minute meet ups" with our sponsors. It has been a great way to reconnect, as well as make some new introductions. The feedback was very positive, so we decided to make this an ongoing plan.
For more information or to schedule with me directly, here is the link:

https://retirementconnection.com/meetup
3) Although I am sick of zoom meetings, I do feel it is a good tool for an intro conversation. Now that more people are familiar with the platform, we plan to use zoom in place of phone calls for a more personal connection when possible.

Please continue to check our website for meeting and event updates! We are updating our website multiple times a day trying to help notify our contacts of cancellations and rescheduled meetings.



 
---
JUL 13
3 PM
East County Marketing Exchange
IN PERSON MEETING
Topic: Christmas in July Food Drive
Avamere Berry Park
13669 Gaffney Ln, Oregon City, 97045
---
JUL 16
9 AM
Senior Service Network (SSN-Clark)
Online Meeting
Topic: Saving your [online] life: Practical Digital Estate Planning Tips Speaker: Erin McCune, Easeenet Save this link or share with others- https://us02web.zoom.us/j/85217005074
Do you know someone that has recently changed positions? Send us an update to share in the monthly newsletter, helping everyone stay connected and informed about community changes.
"Understand that you will be like those whom you surround yourself. Your environment is stronger than you are. " - Chinese Proverb

It is often easier to get pulled into the negative, rather than to walk away or seek a positive. We hear gossip and frustration several times a day. Do you choose to participate in the negative, walk away, or find the silver lining? I want to find the silver lining- but often still having to work at it.

Amy Schmidt
Retirement Connection
503-505-5865
amy@retirementconnection.com
---
Job Postings
The following positions have been posted in the last month. (Some position are outside the Portland/ Vancouver Area)
Sales Counselor
Hospital Liaison

Apply or submit new positions online through Retirement Connection's Job Board.
---
Need More Guides?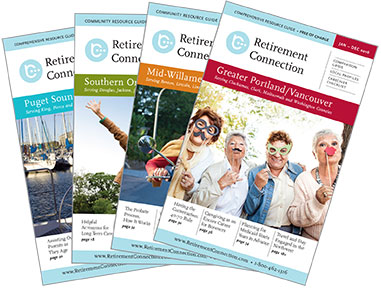 Additional copies of the Guide are available at no cost and are the perfect resource for health fairs, workshops and your marketing packets.
Guides are located at EVERY Senior Center, Hospital, Library and Meals-on-Wheels sites.
You can order as many as you need to serve the families in your community.
Add a label to the cover to highlight your business and use the guide as a giveaway.