We are excited to host the hospital case management resource fair at Good Samaritan in Corvallis this week. The registration for this event filled very quickly, and we have scheduled a second date for April 11, and registration is NOW open to sponsors to register. These hospital events are a win/win/win event- offering face time with discharge planners, continuing education for hospital staff, and raising funds for low-income patients. The requirements for CEU approval have changed slightly this year, so please reach out to Brittany on our team, so she can assist you with getting your poster approved on time.

If you would like to meet to discuss how Retirement Connection can better serve you and your company's needs please feel free to reach out at any time. We are always happy to talk to you! Don't forget, Retirement Connection is more than just a print guide and we encourage you to post your events online, include your email and website links with your online listings, and join us for monthly networking opportunities. We are here to be an extension of your marketing efforts with print, web, and networking.

FEB 5
9 AM
Senior Service Network (SSN-Linn/Benton)
Samaritan Albany General Hospital
1046 6th Avenue SW Albany, 97321
Topic: Transitioning to Memory Care Living
---
FEB 13
9 AM
Salem Senior Lifestyles Network
Applewood Retirement
309 Lancaster Dr NE, Salem, 97301

---
FEB 27
9 AM
Senior Service Network (SSN-Salem)
Salem Hospital-Bldg D
Creekside Dining Overflow-first floor
890 Oak St SE, Salem, 97301
Topic: Comfort Care
---
MAR 20
9:30 AM
Save the date!
NWSDS Senior Network

---
MAR 21
9 AM
Yamhill Networking Meeting
Parkland Village Retirement Community
Community Center
3121 NE Cumulus Ave, McMinnville, 97218

FEB 9
6 PM
Bridging the Gap Between Young & Old
Willamette Valley Country Club
900 Country Club Place, Canby, 97013

---
FEB 12
ALL DAY
We Love Our Referral Partners
Davenport Place
930 Oak St, Silverton, OR 97381

---
FEB 13
11:30 AM
Lunch & Learn with Advanced Hearing Services
Almost Home Restaurant
3310 Market Street NE, Salem, 97301

Registration is open for Retirement Connection sponsors.


FEB 7
12 PM
Good Samaritan Regional Medical Ctr Resource Fair (This Event is Full!)
Good Samaritan Regional Medical Center
Conference Room B
3600 NW Samaritan Dr, Corvallis, 97330
---
APR 11
12 PM
Good Samaritan Regional Medical Ctr Resource Fair
Good Samaritan Regional Medical Center
Conference Room A & B
3600 NW Samaritan Dr, Corvallis, 97330
Do you know someone that has recently changed positions? Send us an update to share in the monthly newsletter, helping everyone stay connected and informed about community changes.
"Challenges are what make life interesting and overcoming them is what makes life meaningful." - Joshua Marine

What if adversity isn't happening TO you, but instead it's happening FOR you? Every challenge can be a lesson you needed to learn, every rejection was actually protection, and you were given THIS mountain to show others that it can be moved? I don't believe everything happens for a reason, but I DO believe we can find meaning and purpose in everything that happens.

~ Amy Schmidt
Retirement Connection
503-505-5865
amy@retirementconnection.com

---
Job Postings
The following positions have been posted in the last month. (Some position are outside the Mid-Willamette Valley)
Travel Navigator
Client Services Coordinator
Medication Assistant
Marketing Director
Community Health Director
Activities Director
Senior Move Manager

Apply or submit new positions online through Retirement Connection's Job Board.
---
Need More Guides?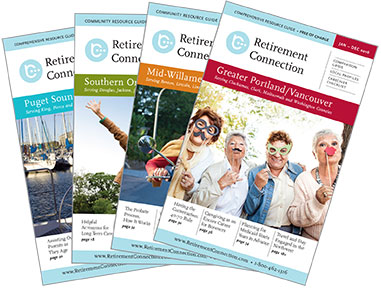 Additional copies of the Guide are available at no cost and are the perfect resource for health fairs, workshops and your marketing packets.
Guides are located at EVERY Senior Center, Hospital, Library and Meals-on-Wheels sites.
You can order as many as you need to serve the families in your community.
Add a label to the cover to highlight your business and use the guide as a giveaway.