Thank you to all who attended the Release Party last week for Greater Portland/Vancouver! We were excited to have a such a great turnout with over 400 people. If you were not able to join us - you were missed. You can also
view photos online
.
Thank you to so many that have supported our growth and has also been supportive of our team.
It is because of you using the guide with your patients and clients that we are able to bring value to every family looking for care and services.
Please let us know
if you need additional guides.

As we do every year- we offer a 10% early bird discount for those that know they plan to be in next year's guide. By reserving early you save 10% off your ad and receive better placement in the guide. The early bird discount will run through March 15th. Payments and ad copy are not due until late 2019.

Please NOTE that we will be having a rate increase for 2020- the first time in 10 years. The rate increase is due to increased paper cost and growth in our distribution since we started and we hope you understand. If you take advantage of the Earlybird discount, you will NOT see a rate increase. This means that you save 10% discount on the current rates and an average of $200 additional savings.



IMPORTANT - Many people did not realize that we welcome you to add your label to the cover with "Compliments of…" and to share the guide with others. We will give you as many copies as you will use. You do not have to be a sponsor to share the guide. We want all families to have access to resources and services as soon as a need arises.
FEB 6
8 AM
Metropolitan Senior Network
YWCA
3609 Main Street, Vancouver, 98663
Topic: Managing your stress so you can change the world

---
FEB 12
3 PM
East County Marketing Exchange
Gilman Park
2205 Gilman Dr, Oregon City, 97045
Topic: Events Spreadsheet review

---
FEB 19
3 PM
Westside Referral Network (WRN)
Creekside Village
5450 SW Erickson Ave, Beaverton, 97005
---
FEB 21
3 PM
Clackamas County Senior Networking (CCSN)
Location: TBA
---
FEB 25
3 PM
SPIN – Portland
Providence Willamette Falls Community Center
519 15th St, Oregon City, 97045

---
MAR 28
8 AM
Clackamas County I & R Networking
Red Soils Campus, Development Services Building
150 Beavercreek Rd, Oregon City, 97045

FEB 6
8 AM
Metropolitan Senior Network (MSN)
YWCA
3609 Main Street, Vancouver, 98663
Topic: Managing your stress so you can change the world
---
FEB 7
9 AM
SSN Clark Happy Hour
Koi Pond Cellars & Bistro
212 E Evergreen Blvd, Vancouver, 98660
Topic: Marketing Mad Libs
---
FEB 15
9 AM
Senior Service Network (SSN-Clark)
Peace Health Medical Center – Health Education Center
400 NE Mother Joseph Pl – Vancouver WA (92nd & Mill Plain Ave)
Topic: Grief
Registration is now open for Retirement Connection Sponsors.


FEB 13
12 PM
Legacy Salmon Creek Medical Center Resource Fair (This Event is Full!)
Legacy Salmon Creek Medical Center
2211 NE 139th St Main Lobby Vancouver, 98686

---
APR 11
11 AM
Legacy Meridian Park Resource Fair
Legacy Meridian Park Medical Center-CHEC (Community Health Education Center)
19300 SW 65th Ave Tualatin, OR 97062

FEB 5
ALL DAY
Long Term Care Ombudsman Training
AARP Building
9200 SE Sunnybrook Blvd #410 Clackamas, 97015

---
FEB 7
ALL DAY
OMCMG Lunch and Learn
Legacy Emanuel Medical Center
2801 N Gantenbein Ave Portland, 97227

---
FEB 12
11:30 AM
Advocacy for Senior Programs & Services
KOIN Tower 2nd floor Conference Room
222 SW Columbia St, Portland, 97201

---
FEB 12
6 PM
The Living Well Talk Series
Lake Oswego Adult Community Center
505 G Ave, Lake Oswego, 97034

---
FEB 26
2:30 PM
HOPE Educational Presentation: Qualifying for Medicaid
PeaceHealth Southwest Education Center
400 NE Mother Joseph Pl, Vancouver, 98664

Do you know someone that has recently changed positions? Send us an update to share in the monthly newsletter, helping everyone stay connected and informed about community changes.
"Challenges are what make life interesting and overcoming them is what makes life meaningful." - Joshua Marine

What if adversity isn't happening TO you, but instead it's happening FOR you? Every challenge can be a lesson you needed to learn, every rejection was actually protection, and you were given THIS mountain to show others that it can be moved? I don't believe everything happens for a reason, but I DO believe we can find meaning and purpose in everything that happens.

~ Amy Schmidt
Retirement Connection
503-505-5865
amy@retirementconnection.com

---
Job Postings
The following positions have been posted in the last month. (Some position are outside the Portland/Vancouver area)
Travel Navigator
Client Services Coordinator
Medication Assistant
Marketing Director
Community Health Director
Activities Director
Senior Move Manager

Apply or submit new positions online through Retirement Connection's Job Board.
---
Need More Guides?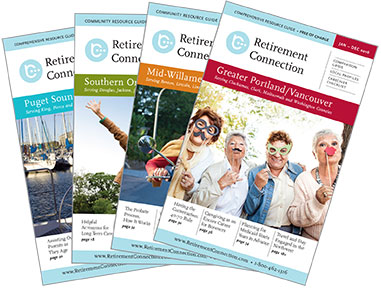 Additional copies of the Guide are available at no cost and are the perfect resource for health fairs, workshops and your marketing packets.
Guides are located at EVERY Senior Center, Hospital, Library and Meals-on-Wheels sites.
You can order as many as you need to serve the families in your community.
Add a label to the cover to highlight your business and use the guide as a giveaway.