SEPT 5
8 AM
Metropolitan Senior Network (MSN)
Valley View Evangelical Church
11501 SE Sunnyside Rd, Clackamas, 97015
Topic: Video Testimonials

---
SEPT 18
3 PM
Westside Referral Network
Marquis Tualatin
19945 SW Boones Ferry Rd, Tualatin, 97062

---
SEPT 20
3 PM
Clackamas County Senior Networking (CCSN)
Oregon City Pioneer Center
615 5th St, Oregon City, 97045

---
SEPT 24
3 PM
Senior Provider Information Network (SPIN-Portland)
Providence ElderPlace in Beaverton
18650 NW Cornell Road, S. 215, Hillsboro, 97124

---
SEPT 27
8:30 AM
Clackamas County I & R Networking
Red Soils Campus, Development Services Building
150 Beavercreek Rd, Oregon City, 97045

---
OCT 9
3 PM
Save the date!
East County Marketing Exchange (ECME)
Due to the Retirement Connection CEU event at Providence hospital from Noon-2:30 on Tuesday, September 11th, we have decided to cancel our September ECME gathering. However, we know we will see a lot of you at the event.

Prestige Summer Place
15727 NE Russell St, Portland, 97230

SEPT 6
3:30 PM
SSN – Clark County Happy Hour Meeting
Highgate Vancouver
9803 NE Hazel Dell Ave, Vancouver, 98665
Topic: #MeToo

---
SEPT 21
9 AM
Senior Service Network (SSN-Clark)
Peace Health Medical Center – Health Education Center
400 NE Mother Joseph Pl – Vancouver WA (92nd & Mill Plain Ave)
Topic: Crisis Leadership – Leading in the Midst of the Storm

SEPT 7
ALL DAY
Long Term Care Training for Professionals
Parkinson's Resources of Oregon
8800 SW Nimbus Ave Beaverton, 97008

---
SEPT 7
8:30 AM
Portland/Vancouver Retirement Connection Sponsor Breakfast
Providence St. Vincent Medical Ctr (Souther Classroom)
9205 SW Barnes Rd Portland, 97225
RSVP
---
SEPT 7
7:30 PM
Thorns KICK OFF Sole Support
Providence Park
1844 SW Morrison St, Portland, 97205

---
SEPT 15
10 AM
Senior Connections Wellness Expo presented by Vancouver Clinic and Volunteer Connections
Cowlitz Ballroom at Ilani
1 Cowlitz Way, Ridgefield, 98642

---
SEPT 25
6 PM
Understanding Your Personality-The Enneagram's 9 Points of View in Work, Relationships & Personal Development
Lake Oswego Adult Community Center
505 G Ave Lake Oswego, 97034

Do you know someone that has recently changed positions? Send us an update to share in the monthly newsletter, helping everyone stay connected and informed about community changes.

Courtney Garibaldi, is now Executive Director,
The Hampton at Salmon Creek

"The strength of the team is each individual member. The strength of each member is the team." - Phil Jackson

I am very grateful to be surround by awesome team members- personally and professionally. But it doesn't happen without effort. Make sure you learn from your all stars, compensate for injured players, and work to strengthen your new players. You will only be as strong as your weakest link and sometimes realize that link may be you.

~ Amy Schmidt
Retirement Connection
503-505-5865
amy@retirementconnection.com

---
Job Postings
The following positions have been posted in the last month. (Some position are outside the Portland/ Vancouver area)
Travel Trainer-Wilsonville
Instructor
Fiscal Specialist
Fitness Coordinator
Home Care Liaison
Manager of Market Development
Resident Experience Coordinator
Marketing Specialist

Apply or submit new positions online through Retirement Connection's Job Board.
---
Need More Guides?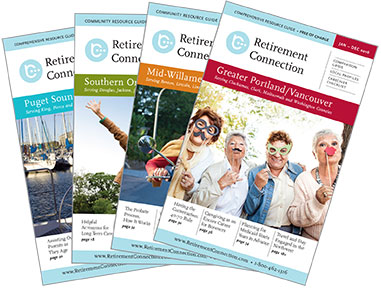 Additional copies of the Guide are available at no cost and are the perfect resource for health fairs, workshops and your marketing packets.
Guides are located at EVERY Senior Center, Hospital, Library and Meals-on-Wheels sites.
You can order as many as you need to serve the families in your community.
Add a label to the cover to highlight your business and use the guide as a giveaway.