In the past month we have welcomed Erin Greeno to our team, which we are extremely excited to have on board; but it was hard to see Brittany leave our work family. I don't think anyone enjoys managing staffing changes, but it is always a great time to reflect, adapt, and refresh. Every time I sit with a new team member and see our systems through their eyes, I get to learn something new about myself and our company. Sometimes the truths I see, are not always weighted the same in their eyes. In contrast, they sometimes find excitement in daily encounters I can take for granted. The revisiting of systems during training has given us an opportunity to become better and for that I am thankful.

Sponsors (aka Advertisers) can take advantage of a 10% discount for planning ahead and reserving their 2020 ad space.  If you know someone that would benefit from working with us, please help us with an introduction.
JUN 4
8:30 AM
Senior Care Coalition Seattle Meeting
Edmonds Center for the Arts
410 4th Ave N, Edmonds, 98020

---
JUN 18
8:30 AM
Senior Care Coalition Eastside Meeting
Brookdale Bellevue
15241 NE 20th St, Bellevue, 98007

---
JUN 19
8:15 AM
South End Coalition
Farrington Court Retirement Community
516 Kenosia Ave S, Kent, 98030

---
JUN 28
9 AM
NW LGBT Senior Care Providers Network Meeting
Location: TBA

---
JUL 17
11:30 AM
Save the date!
Coordinators of Patient Services (COPS)
Maggiano's Bellevue
10455 Northeast 8th St, Bellevue, 98004

JUN 6
8 AM
Aging and LTC Providers Network
Mid-County Community Center
10205 44th Ave E, Tacoma, 98446

---
JUN 13
4 PM
Health Care Providers Council (HCPC)
Mountain View Funeral Home
4100 Steilacoom Blvd SW, Lakewood, 98499

---
JUN 20
7:30 AM
Health Care Providers Council (HCPC) After Hours
Franke Tobey Jones
5340 N Bristol St, Tacoma,98407

JUN 13
11:30 AM
ElderNet
Warm Beach Post Acute Care & Rehab
20420 Marine Dr, Stanwood, 98292

JUN 19
11:30 AM
Valley Medical Center
Medical Arts Center (MAC)
400 South 43rd St, Renton, 98055
---
OCT 2
12 PM
Providence Regional Medical Center Everett
Medical Office Building
1700 13th St, Everett, 98201
JUN 4
12 PM
Training of Caregivers: Older Adult Management
Meridian Center for Health
10521 Meridian Ave N, Seattle, 98133

---
JUN 4
4:30 PM
Aging Smart Educational Workshop – Health Care Panel
Harbor Place in Theater
1016 29th St NW, Gig Harbor, 98335

---
JUN 6
2 PM
Boomer Plus Meeting – Ballard
Ballard Landmark
5433 Leary Ave NW, Seattle, 98107

---
JUN 6
2 PM
Boomer Plus Meeting – Northgate
Aegis Ravenna
8511 15th Ave NE, Seattle, 98115

---
JUN 13
4 PM
Sunrise Northgate Tour of Homes
Sunrise Northgate
11039 17th Ave NE, Seattle, 98125

---
JUN 13
4 PM
Sunrise of Mercer Island Tour of Homes Garden Party
Sunrise of Mercer Island
2959 76th Ave SE, Mercer Island, 98040

---
JUN 13
4:30 PM
Garden Party at Sunrise of Bothell
Sunrise of Bothell
10605 185th St NE, Bothell, 98011

---
JUN 14
9 AM
Sash – Coffee Time Kent
Arbor Village
24121 116th Ave SE, Kent, 98030

---
JUN 18
10:30 AM
Boomer Plus Meeting – Edmonds
Cedar Creek Memory Care
21006 72nd Ave W, Edmonds, 98026

---
JUN 19
2 PM
Boomer Plus Meeting – Kenmore
Sunrise Senior Living
7221 NE 182nd St, Kenmore, 98028

---
JUN 20
10:30 AM
Boomer Plus Meeting – Bellevue
Sunrise Senior Living
7221 NE 182nd St, Kenmore, 98028

---
JUN 25
2 PM
Boomer Plus – West Seattle
Aegis of West Seattle
4700 SW Admiral Wy, Seattle,98116

Do you know someone that has recently changed positions? Send us an update to share in the monthly newsletter, helping everyone stay connected and informed about community changes.
"Happiness isn't about getting what you want all the time. It's about loving what you have and being grateful for it."

When I am most grateful for what I have, I don't have the same deep need for more. When a friend of mine was on hospice and I finally chose to be grateful for the time we had together, I was better able to stop mourning the loss of time I would not have. Sometimes I feel like I always want MORE. More time, more value, more purpose. Instead I need to appreciate what I have- in work and in personal life.

~ Amy Schmidt
Retirement Connection
503-505-5865
amy@retirementconnection.com

---
Job Postings
The following positions have been posted in the last month. (Some position are outside the Puget Sound area)
Activities Coordinator
Executive Director
Training Manager
Community Relations Representative
Service Planner

Apply or submit new positions online through Retirement Connection's Job Board.
---
Need More Guides?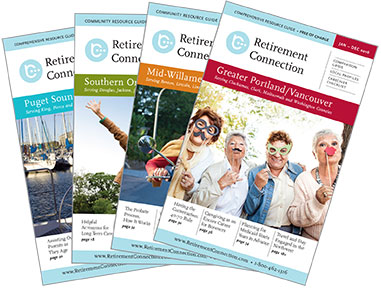 Additional copies of the Guide are available at no cost and are the perfect resource for health fairs, workshops and your marketing packets.
Guides are located at EVERY Senior Center, Hospital, Library and Meals-on-Wheels sites.
You can order as many as you need to serve the families in your community.
Add a label to the cover to highlight your business and use the guide as a giveaway.