There are several events occurring in the next few months, so make sure to check out the professional events listed on our website for registration dates and deadlines.

The next ANNUAL Retirement Connection Guide for Puget Sound is wrapping up and there are only a couple of weeks before printing. Please let me know of any corrections needed, additions you would like included, or changes to be noted. The next edition hits the streets in April and will not be updated for a full year. If you know of an office that is moving we really want to know ASAP. We have sent emails to each housing and home care agency to update their grid information and we have received a huge response already. We have also begun calling those that have not yet replied to ensure the accuracy of information. Additionally, this is also a great time to refer others into the guide as a sponsor; I would greatly appreciate any referrals you feel I should connect with for inclusion in the guide.
Retirement Connection Guide lists EVERY housing, home care, hospice, senior center, meals on wheels site, and so much more. We are honored to be a valuable resource for Hospitals, Physicians, along with Area Agencies on Aging, and excited to see the increased use at each office as they become more and more familiar with our guide. Thank you for sharing the guide with the families you serve.
FEB 6
8:30 AM
Senior Care Coalition Seattle Meeting
MBK Northgate
11030 5th Ave NE, Seattle, 98125

---
FEB 20
8:30 AM
Senior Care Coalition Eastside Meeting
Aegis Gardens Newcastle
13056 SE 76th St, Newcastle, 98056

---
FEB 21
8:15 AM
South End Coalition
Auburn Merrill Gardens
18 1st St SE, Auburn, 98002

---
FEB 28
3 PM
Coordinators of Patient Services (COPS) 45th Anniversary Celebration
Bake's Place
155 108th Ave NE #110, Bellevue, 98004

FEB 1
9:00 AM
Aging and LTC Providers Network
Mid-County Community Center
10205 44th Ave E, Tacoma, 98446


 
---
FEB 8
7:30 AM
Health Care Providers Council (HCPC)
Mountain View Funeral Home
4100 Steilacom Blvd SW, Lakewood, 98499

FEB 8
11:30 AM
ElderNet
Location: TBA
---
FEB 23
9 AM
NW LGBT Senior Care Providers Network Meeting
Burien Nursing and Rehabilitation Center
1021 SW 130th St, Burien, 98146

FEB 2
9 AM
SASH – Snohomish County
Best Western Cascadia Inn
2800 Pacific Ave Everett, 98201

---
FEB 7
9 AM
SASH Coffee and Networking – Tacoma
La Quinta Inn Tacoma - Ports of Call Restaurant
1425 E 27th St Tacoma, 98421

---
FEB 8
9 AM
SASH Coffee and Networking – Eastside Bellevue
Crossroads Shopping Ctr ( Community Rm)
600 E Smith St, Kent, 98030

---
FEB 8
11:30 AM
WMCMA Monthly Meeting: "Medicare Reform 2018"
Lynnwood Convention Center
3711 196th St SW, Lynnwood, 98036

---
FEB 9
9 AM
SASH Coffee and Networking – Kent
Kent Senior Activity Center
600 E Smith St Kent, 98030

---
FEB 13
2 PM
Brookdale Transitional Dinner
Brookdale Puyallup
123 4th Ave NW Puyallup, 98371

---
FEB 15
8 AM
Callahan Networking Breakfast
Aegis at Callahan House
15100 1st Ave NE, Shoreline, 98155

---
FEB 16
9 AM
SASH Coffee and Networking – North King
Shoreline City Hall - 3rd Fl Conference Rm
17500 Midvale Ave N Shoreline, 98133

---
FEB 21
11 AM
Providence Regional Medical Center Everett Case Management Vendor Fair
Providence Regional Medical Center Everett - Colby Campus
Cascade Conference Room (Medical Office Building)
1700 13th St, Everett, 98201

---
FEB 23
9 AM
SASH Coffee and Networking – Federal Way
Marlene's Market & Deli
2565 S Gateway Center Plaza Federal Way, 98003

---
FEB 28
9 AM
SASH Coffee and Networking – Puyallup
Willow Gardens
4502 6th St SE Puyallup, 98374

---
APR 24
3:30 PM
Save the date!
Puget Sound Retirement Connection Guide Release Party
Mercer Island Community and Event Center
8236 SE 24th St, Mercer Island, 98040

---
APR 26
3:30 PM
Save the date!
HCPC After Hours and Tacoma Retirement Connection Guide "After Party"
3017 Ruston Wy, Tacoma, 984029

Do you know someone that has recently changed positions? Send us an update to share in the monthly newsletter, helping everyone stay connected and informed about community changes.
"If you want to walk fast, walk alone. If you want to walk far, walk together."

A team or network is more than just the group you surround yourself with. It is those that you rely on and trust to carry the load and encourage you when you are too exhausted to even ask for help. The tribe or family of people you surround yourself with will help you go further than you ever imagined traveling on your own.

~ Amy Schmidt
Retirement Connection
503-505-5865
amy@retirementconnection.com

---
Job Postings
The following positions have been posted in the last month. (Some position are outside the Puget Sound area)
Activities Manager
Senior Serviced Manager
Marketing Director
Inside Sales Representative
Healthcare Sales Senior Care Consultant

Apply or submit new positions online through Retirement Connection's Job Board.
---
Need More Guides?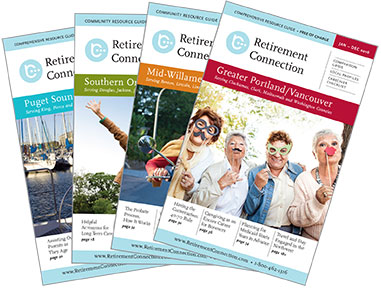 Additional copies of the Guide are available at no cost and are the perfect resource for health fairs, workshops and your marketing packets.
Guides are located at EVERY Senior Center, Hospital, Library and Meals-on-Wheels sites.
You can order as many as you need to serve the families in your community.
Add a label to the cover to highlight your business and use the guide as a giveaway.