I am starting my day with a box of Kleenex in anticipation for the moments when I realize Barret has moved to Los Angeles, and is no longer part of our work family. We have put hiring a new person "on hold" for the immediate time being- to ensure we don't continue an unfair comparison of personalities. However, as I stare at this box, I remember how I felt  when I was going through the interview process with him two years ago (and I was NOT excited then either). Honestly, I hate hiring, but I love the way our team engulfs new members and indoctrinates them into our culture… so I am going to remain optimistic. On that note, our team has been working for several months on our "Creed" and we are very proud of what we have created and I wanted to share it with you. Our Creed is how we live out our values and mission. I feel the best way to make sure you live up to something is to put it in writing and share it with others. Our "Creed" is now posted near the bottom of our

About Us

page of the website. I welcome your feedback.

I am excited about several hospital case manager events:
1) We are expecting a great turnout this week at the Providence Everett Case Management event with our sponsors
2) Several sponsors are attending the WMCMA event next week and took advantage of the complementary "add on" to create a CEU poster with us
3) Making the Link in Tacoma is sold out and we expect a huge turnout of social workers case managers to join

Last but not least- please make sure Retirement Connection is part of your 2020 marketing budget and plans!
OCT 1
8:30 AM
Senior Care Coalition Westside Meeting
Northgate Retirement Community
11501 15th Ave NE, Seattle, 98125

---
OCT 15
8:30 AM
Senior Care Coalition Eastside Meeting
Madison House – Kirkland
12215 NE 128th St, Kirkland, 980345

---
OCT 23
8:15 AM
South End Coalition
Date Changed Due to Making the Link
Wesley Bradley Park
707 39th Ave SE, Puyallup, 98373

---
OCT 25
9 AM
NW LGBT Senior Care Providers Network Meeting
Aegis Living Madison
220 E Madison St, Seattle, 98112

---
NOV 20
11:30 AM
Save the date!
Coordinators of Patient Services (COPS)
Maggiano's Bellevue
10455 Northeast 8th St, Bellevue, 98004

OCT 3
8 AM
Aging and LTC Providers Network
Mid-County Community Center
10205 44th Ave E, Tacoma, 98446

---
OCT 10
7:30 AM
Health Care Providers Council (HCPC)
Mountain View Funeral Home
4100 Steilacoom Blvd SW, Lakewood, 98499

OCT 10
11:30 AM
ElderNet
GenCare Lynnwood at Scriber Gardens
6024 200th St SW Lynnwood, 98036

OCT 2
12 PM
Providence Regional Medical Center Everett
Medical Office Building
1700 13th St, Everett, 98201
OCT 3
2pm
Boomer Plus Meeting – Northgate
Aegis Ravenna
8511 15th Ave NE, Seattle, 98115

---
OCT 10
8 AM
WMCMA Annual Fall Conference & Expo 2019
Embassy Suites by Hilton Seattle North Lynnwood
20610 44th Ave West Lynnwood, 98036

---
OCT 11
9 AM
Sash – Coffee Time Kent
Arbor Village
24121 116th Ave SE, Kent, 98030

---
OCT 17
10:30 AM
Boomer Plus Meeting – Bellevue
Mission Health Care
2424 156th Ave NE, Bellevue, 98007

---
OCT 17
12 PM
Aging Partnership Panel
Camano Center
606 Arrowhead Rd, Camano Island, 98282

---
OCT 22
2 PM
Boomer Plus – West Seattle
Aegis of West Seattle
4700 SW Admiral Wy, Seattle, 98116

---
OCT 24
10 AM
2nd Annual Health & Wellness Fair
Warm Beach Post Acute Care & Rehab
20420 Marine Dr, Stanwood, 98292

Do you know someone that has recently changed positions? Send us an update to share in the monthly newsletter, helping everyone stay connected and informed about community changes.
"A player who makes a team great is more valuable than a great player. Losing yourself in the group, for the good of the group - that's teamwork. " – John Wooden

As our team make up changes with those that move on and new hires- this quote resonates with me. It is always more important (and often more challenging) to find a person that elevates the entire team more than an individual.

~ Amy Schmidt
Retirement Connection
503-505-5865
amy@retirementconnection.com

---
Job Postings
The following positions have been posted in the last month. (Some position are outside the Puget Sound area)
Chief Operating Officer
Human Resource Specialist

Apply or submit new positions online through Retirement Connection's Job Board.
---
Need More Guides?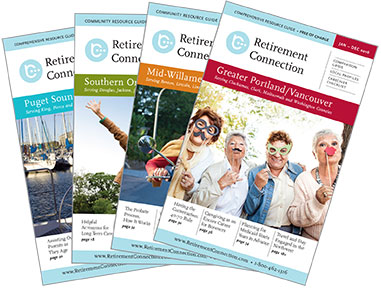 Additional copies of the Guide are available at no cost and are the perfect resource for health fairs, workshops and your marketing packets.
Guides are located at EVERY Senior Center, Hospital, Library and Meals-on-Wheels sites.
You can order as many as you need to serve the families in your community.
Add a label to the cover to highlight your business and use the guide as a giveaway.