In a recent radio interview I was asked about our friend, Krista, that passed away and what qualities I most admired and learned from her. She was sensitive and thoughtful, but what came to mind was how "present" she always was. She never seemed rushed, hurried, or made you feel less important than her next task. Please note- she was ALWAYS late to EVERYTHING. In the months since she passed away, her lack of timelines has never been mentioned, but how she made everyone around her feel comes up daily. Ideally- I would like to be both on time and present- but I will need to schedule less to make that happen- starting now. My goal is to "Do Less- but Better"!

Ironically this is NOT a month I can do less, we have scheduled the hell out of October, but in a good way. Moving forward, I will try to remember the advice I used to give her- "when you say yes to something, you inevitably say no to something else." It can be a struggle to support all the events we want to be a part of, and still continue with our real job of producing the most comprehensive print and online resource for the community. Thanks for including us in your events and outreach.
OCT 18
9 AM
Southern Oregon Networking Association Resource (S.O.N.A.R.)
Brookdale Medford
3033 E Barnett Rd, Medford, 97504
Topic: Dementia Communication
---
OCT 25
9:30 AM
Douglas County Senior Resource Coalition
Linus Oakes
2665 Van Pelt BlvdRoseburg, 97471

OCT 26
4:30 PM
Oktoberfest at Barnett Woods
Barnett Woods Independent Living
2979 E Barnett Rd, Medford, 97504

---
OCT 26
5 PM
Community Wide Halloween Bash
Eagle Point
261 Loto St, Eagle Point, 97524

---
OCT 31
3 PM
Monster Bash!
Pioneer Village
805 N 5th St, Jacksonville, 97530

Registration is now open for Southern Oregon Sponsors to reserve their CEU space. Space is limited and the event registration will close automatically once filled. At this time the registration is only open to Retirement Connection sponsors, and priority will be given to those presenting CEU poster content. Please register today.



DEC 19
12 PM
Asante Three Rivers Medical Center
ACOH (Asante Center for Outpatient Health)
Rooms 5 & 6
537 Union Ave, Grants Pass, 97527

Do you know someone that has recently changed positions? Send us an update to share in the monthly newsletter, helping everyone stay connected and informed about community changes.

"The key is not to prioritize your schedule, but to schedule your priorities." – Stephen Covey

Do you manage your schedule or does it manage you? I started my business 10 years ago with 2 toddlers because I wanted more time with family. But 3 years into the work, my 4 year old told me I was a bad mommy- and he was right. I was a good person, but not the most available parent. If someone looked only at your calendar and made a judgement based only on that- what appears to be your priorities? It is never too late to make a change. Good luck!

~ Amy Schmidt
Retirement Connection
503-505-5865
amy@retirementconnection.com

---
Job Postings
The following positions have been posted in the last month. (Some position are outside the Southern Oregon area)
Care Services Manger
Food Service Director
Memory Care Activities Director
Health Services Director
Community Relations
Memory Care Administrator
Scheduler
Service Center Supervisor

Apply or submit new positions online through Retirement Connection's Job Board.
---
Need More Guides?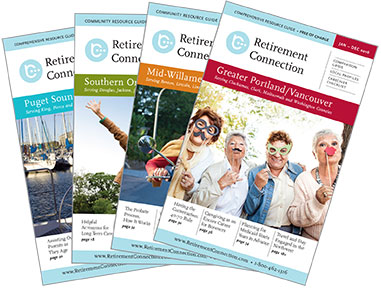 Additional copies of the Guide are available at no cost and are the perfect resource for health fairs, workshops and your marketing packets.
Guides are located at EVERY Senior Center, Hospital, Library and Meals-on-Wheels sites.
You can order as many as you need to serve the families in your community.
Add a label to the cover to highlight your business and use the guide as a giveaway.