Happy New Year! This past month, I have loved watching all the holiday movies. It is the only time of the year that I watch and truly love the Hallmark channel. Some of the movies are sentimental, some nostalgic, some with life lessons, and others are just silly. My biggest
takeaway- it doesn't need to be a holiday to be special. And if someone matters to you- tell them; it is a much better gift than any present you wrapped last month. That being said, thank you for being a part of my sentimental, nostalgic, silly, life-lesson filled year!


The newest Portland/Vancouver edition just arrived and the cover of this edition is very special for many of us, as we took the opportunity to remember and celebrate Krista Davis Tonn, our constant cheerleader who passed away last year.
The new guide is being distributed to EVERY physician office, library, senior center, meals on wheels site and hundreds of other locations over the next few weeks.
We will have several boxes available at the Release party, feel free to
order additional copies
and we will get those delivered quickly. I encourage you to add your label "compliments of…" to the cover of the guide and share it with the families you serve. Families really appreciate having a comprehensive guide of resources.
Please join us for the celebration and largest networking event of the year- The Release Party is Thursday, January 24th. The Release Party and is open to everyone, so invite your colleagues and referral sources. T

ake a look at

last year's photos

and see for yourself.

RSVP today.
JAN 2
8 AM
Metropolitan Senior Network
Sunnyside Little Chapel of the Chimes
11667 SE Stevens Rd, Happy Valley, 97086
Topic: MSN Core Values, Embodied
Speaker: Amy Schmidt & Heidi Rowell

---
JAN 8
3 PM
East County Marketing Exchange
Miramont Point
11520 SE Sunnyside Rd, Clackamas, 97015
Topic: Senior Industry, what is an elder law attorney and why do we need them?

---
JAN 15
3 PM
Westside Referral Network (WRN)
Robison Health & Rehab at Cedar Sinai
6125 SW Boundary St, Portland, 97221
---
JAN 17
3 PM
Clackamas County Senior Networking (CCSN)
Location: TBA
---
JAN 24
8 AM
Clackamas County I & R Networking
Red Soils Campus, Development Services Building
150 Beavercreek Rd, Oregon City, 97045

---
JAN 28
3 PM
SPIN – Portland
The Ackerly at Timberland
11795 NW Cedar Falls Dr, Portland, 97229

JAN 3
3:30 PM
SSN – Clark County Happy Hour Meeting
ManorCare Salmon Creek
2811 NE 139th St Vancouver, 98686
Topic: Goals- what goals or resolutions have you set (work and professional), how are these different from last year and why. What will contribute to success or failure?
---
JAN 18
9 AM
Senior Service Network (SSN-Clark)
Peace Health Medical Center – Health Education Center
400 NE Mother Joseph Pl – Vancouver WA (92nd & Mill Plain Ave)
Topic: Banishing Burnout & Re-igniting your Flame
Registration is now open for Retirement Connection Sponsors.


FEB 13
12 PM
Legacy Salmon Creek Medical Center Resource Fair
Legacy Salmon Creek Medical Center
2211 NE 139th St Main Lobby Vancouver, 98686

---
APR 11
11 AM
Legacy Meridian Park Resource Fair
Legacy Meridian Park Medical Center-CHEC (Community Health Education Center)
19300 SW 65th Ave Tualatin, OR 97062

JAN 9
1 PM
New Year New You Health Expo
Assisted Living at Summerplace
15727 NE Russell St Portland, 97230

---
JAN 22
1 PM
Availability reporting on RetirementConnection.com
Providence St Vincent Medical Center- Souther Room
9205 SW Barnes Rd, Portland, 97225


---
JAN 24
3:30 PM
Retirement Connection Release Party
The Armory
128 Northwest 11th Avenue Portland, 97209
RSVP

Do you know someone that has recently changed positions? Send us an update to share in the monthly newsletter, helping everyone stay connected and informed about community changes.
"Character is the ability to carry out a good resolution long after the excitement of the moment has passed." - Cavett Robert

I cannot even count the times I start a new year, planning "to be healthier, blah blah blah", Recently someone told me to really think about WHY I set a specific goal, and that will help me achieve it. Sitting on the couch watching HGTV wasn't helping, so I changed my habits- and now the rest is starting to change as well. I realized that what I wanted most, is more important than what I may want at the moment.

~ Amy Schmidt
Retirement Connection
503-505-5865
amy@retirementconnection.com

---
Job Postings
The following positions have been posted in the last month. (Some position are outside the Portland/Vancouver area)
Lead Service Planner
Senior Housing Care Advisor
Recruitment Coordinator
Move in Coordinator
Director of Health Services
Business Development Strategist
Sales Manager

Apply or submit new positions online through Retirement Connection's Job Board.
---
Need More Guides?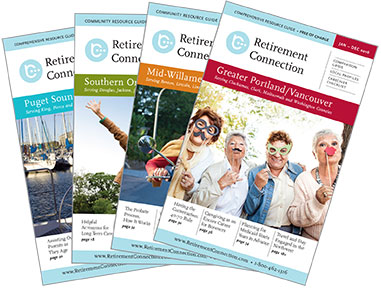 Additional copies of the Guide are available at no cost and are the perfect resource for health fairs, workshops and your marketing packets.
Guides are located at EVERY Senior Center, Hospital, Library and Meals-on-Wheels sites.
You can order as many as you need to serve the families in your community.
Add a label to the cover to highlight your business and use the guide as a giveaway.