This week I am feeling very nostalgic. We are having a big celebration Friday to celebrate 10 years in business. WOW- a decade!!! In reality it is 11 years, but this is the year we decided to have the party. Last year, my team member and friend passed away and it did not seem appropriate to celebrate anything related to work. But this is the year to celebrate- I feel it, and I am putting that into the universe. So many of our sponsors and community partners have been part of our "story" as we have now grown into 4 guides serving Oregon and Washington. Thank you to everyone who has shared a guide with a family, provided a testimonial about of services, and to all our sponsors that make it possible for us to provide a comprehensive resource in the local community.


Our new big news- we are now reporting Senior Housing Availability on our website. Initially we were working with a different company to do this, but it seemed better for us to mange this internally, and strip it down to just the basics and what we heard you wanted. This is going live this week and we expect a few disruptions, but please work through these with me. Our goal is for every community to be able to report their availability at no cost. Sponsors will be able to add pictures and more details, but EVERYONE is able to report their availability at no cost. Visit
RetirementConnection.com/availability
now to claim your listing and start reporting. We would love to have tons of examples to talk about at the party on Friday.
NOV 6
8 AM
Metropolitan Senior Network
Sunset Presbyterian Church
14986 NW Cornell Rd, Portland, 97229
Topic: Speed Networking Speaker: Amy Schmidt
---
NOV 11
3 PM
SPIN – Portland
Touchmark West Hills
840 SW Touchmark Way, Portland, 97225
Topic: Silent No More: Safe Conversations About GLBTIQ Issues
---
NOV 12
3 PM
East County Marketing Exchange
Pioneer Community Center
615 5th Street, Oregon City,97045
Topic: Fighting Senior Hunger
---
NOV 19
3 PM
Westside Referral Network (WRN)
Edgewood Downs
7799 SW Scholls Ferry Rd, Beaverton, 97008

---
NOV 21
3 PM
Clackamas County Senior Networking (CCSN)
Location: TBA
NOV 7
3:30 PM
SSN Clark Happy Hour
Koelsch Cascade Inn
11613 SE 7th St, Vancouver, 98683
Topic: Managing and communication transition of staff and hiring

---
NOV 15
9 AM
Senior Service Network (SSN-Clark)
Peace Health Medical Center – Health Education Center
400 NE Mother Joseph Pl – Vancouver WA
(92nd & Mill Plain Ave)
Topic: 10 Reasons Salespeople Blow the Sale
Registration is now open for Retirement Connection Sponsors.


JAN 8
11:30 AM
Legacy Emanuel Medical Center Resource Fair
Legacy Emanuel Medical Center - Atrium
2801 N Gantenbein, Portland, 97227

NOV 8
6 PM
Speakeasy Party- Retirement Connection's Sponsor Appreciation & 10 Year Anniversary Celebration
This is a special event for sponsors only and our key community partners
The Keep PDX
615 SE Alder St #B, Portland, 97214
RSVP

---
NOV 12
8:30 AM
21st Annual McGinty Conference on Alzheimer's
Oregon Convention Center
777 NE Martin Luther King Jr Blvd, Portland, 97232

---
NOV 14
ALL DAY
2019 OGA Annual Conference
Portland Yacht Club
1241 NE Marine Dr, Portland, 97211


---
Do you know someone that has recently changed positions? Send us an update to share in the monthly newsletter, helping everyone stay connected and informed about community changes.
"When something bad happens, you have three choices: You can either let it define you, let it destroy you or let it strengthen you. " – Dr. Seuss

As I write this newsletter, we are awaiting results from my husband, Lyman's scans last week following six months of chemo; hoping that his cancer has not spread. No matter the result- this will not define or destroy anyone in my circle- including him. And more than anything it has showed us what he is made of, what I am made of, and what my team is made of... for that I remain grateful.

~ Amy Schmidt
Retirement Connection
503-505-5865
amy@retirementconnection.com

---
Job Postings
The following positions have been posted in the last month. (Some position are outside the Portland/ Vancouver area)
Chief Operating Officer
Human Resource Specialist

Apply or submit new positions online through Retirement Connection's Job Board.
---
Need More Guides?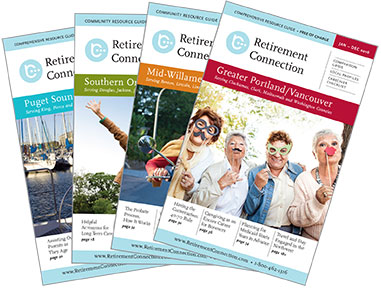 Additional copies of the Guide are available at no cost and are the perfect resource for health fairs, workshops and your marketing packets.
Guides are located at EVERY Senior Center, Hospital, Library and Meals-on-Wheels sites.
You can order as many as you need to serve the families in your community.
Add a label to the cover to highlight your business and use the guide as a giveaway.