SEPT 4
8 AM
Metropolitan Senior Network
Sunnyside Little Chapel of the Chimes
11667 SE Stevens Rd, Happy Valley, 97086
Topic: Are You Trying to Grow a Tree in a Flower Pot?
---
SEPT 10
3 PM
East County Marketing Exchange
Oatfield Estates
4444 SE Oatfield Hill Rd, Milwaukie, 97267

---
SEPT 17
3 PM
Westside Referral Network (WRN)
The Ackerly at Sherwood
16872 SW Edy Rd, Sherwood, 97140

---
SEPT 19
3 PM
Clackamas County Senior Networking (CCSN)
4th Quarter Farms
1335 S Woodbine Rd, West Linn, 97068
Topic: Suicide Prevention Month
---
SEPT 23
3 PM
SPIN – Portland
Pacific University
2043 College Way, Forest Grove, 97116

---
SEPT 26
8 AM
Clackamas County I & R Networking
Red Soils Campus, Development Services Building, Room 119
150 Beavercreek Rd, Oregon City, 97045

SEPT 5
3:30 PM
SSN Clark Happy Hour
Community Home Health & Hospice
3102 NE 134th St, Vancouver, 98686
Topic: Elder Law 101 & FAQ

---
SEPT 20
9 AM
Senior Service Network (SSN-Clark)
Peace Health Medical Center – Health Education Center
400 NE Mother Joseph Pl – Vancouver WA
(92nd & Mill Plain Ave)

Registration is now open for Retirement Connection Sponsors.


SEPT 5
12 PM
Providence St. Vincent Resource Fair
Providence St. Vincent Medical Center
Located in the Souther Rooms
9205 SW Barnes Rd, Portland, 97225

---
SEPT 26
12:30 PM
Providence Portland Medical Center Resource Fair
Providence Portland Medical Center
Located in the Social Room
4805 NE Glisan St, Portland, 97213

---
OCT 30
11:30 AM
PeaceHealth Southwest Washington Medical Center Resource Fair
PeaceHealth Southwest Washington Medical Center
400 NE Mother Joseph Pl, Vancouver, 98664

SEPT 8
2 PM
Owning Our Stories & Living Our Truth
Lakeridge High School Auditorium
1235 Overlook Dr, Lake Oswego, 97034


---
SEPT 10
8:30 AM
Portland/Vancouver Retirement Connection Sponsor Breakfast September 2019
Providence St. Vincent Medical Center ( Souther Classroom)
9205 SW Barnes Rd, Portland, 97225


---
SEPT 12
3 PM
Party in the Garden at 4th Quarter Farm
4th Quarter Farm
1355 S Woodbine Rd, West Linn, 97068

---
SEPT 19
12 PM
Understanding the Value of Hospice: A Presentation by Brighton Hospice
Farmington Square - Gresham
1655 NE 18th St, Gresham, 97030

---
SEPT 27
10 AM
8th Annual Tigard Senior Expo 2019
Calvin Presbyterian Church
10445 SW Canterbury Lane, Tigard, 97224

---
SEPT 27
6 PM
Referral Appreciation Party
McMenamins Kennedy School
5736 NE 33rd Ave, Portland, 97211

Do you know someone that has recently changed positions? Send us an update to share in the monthly newsletter, helping everyone stay connected and informed about community changes.
"Good, better, best. Never let it rest. 'Til your good is better and your better is best. "
– St. Jerome

This quote is printed in the hallway of our office. Two years ago when interviewing Barret, we asked "what do you want us to remember about you after you leave and we meet with other applicants". He shared this quote and what it means to him and how it is reflected in his work ethic. He continues to live up to the expectation.

~ Amy Schmidt
Retirement Connection
503-505-5865
amy@retirementconnection.com

---
Job Postings
The following positions have been posted in the last month. (Some position are outside the Mid-Willamette Valley area)
IT Director
Senior Move Manager
Senior Care Referral, Advisory and Placement Specialist
Day Center Director
Memory Care RN

Apply or submit new positions online through Retirement Connection's Job Board.
---
Need More Guides?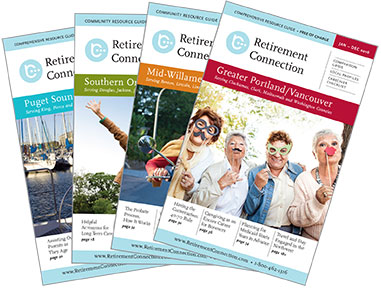 Additional copies of the Guide are available at no cost and are the perfect resource for health fairs, workshops and your marketing packets.
Guides are located at EVERY Senior Center, Hospital, Library and Meals-on-Wheels sites.
You can order as many as you need to serve the families in your community.
Add a label to the cover to highlight your business and use the guide as a giveaway.