Last week we took 2 days for our team retreat. Some of us have worked together for 10 years, and some only a few months. When you realize that we all spend more awake hours with our co-workers than we do with our families; it becomes more important to make the relationships as positive as possible. More important than setting goals, it was rewarding to learn how we can compliment and compensate for each other's skills.  Additionally, our team spent time working on our "Creed". With our Creed, we wanted to outline our priorities, and how we can best incorporate our values and vision into our work.
Due to the few days out of the office, we have not yet replied to everyone that reached out to take advantage of the early bird 10% discount that ended yesterday. We have extended the deadline through this Friday. If you know someone that may be interested in promoting their business more- please help us make that connection and help them save 10%.
JUL 16
11:30 AM
Senior Care Coalition Annual Picnic
Cedar Grove Park
22421 9th Ave SE, Bothell, 98021

---
JUL 17
8:15 AM
South End Coalition
Marlatt Funeral Home
713 Central Ave N, Kent, 98032

---
JUL 17
11:30 AM
Coordinators of Patient Services (COPS)
Maggiano's Bellevue
10455 Northeast 8th St, Bellevue, 98004

---
JUL 26
9 AM
NW LGBT Senior Care Providers Network Meeting
Brookdale West Seattle
4611 35th Avenue SW, Seattle, 98126
Topic: "PEARLS (Program to Encourage Active, Rewarding Lives) Depression Management Program: an uplifting discussion about depression"
JUL 11
7:30 AM
Health Care Providers Council (HCPC)
Mountain View Funeral Home
4100 Steilacoom Blvd SW, Lakewood, 98499

---
AUG 1
8 AM
Save the date!
Aging and LTC Providers Network
Mid-County Community Center
10205 44th Ave E, Tacoma, 98446

JUL 11
11:30 AM
ElderNet
Grandview
5800 64th St NE, Marysville,98270
OCT 2
12 PM
Providence Regional Medical Center Everett
Medical Office Building
1700 13th St, Everett, 98201
JUL 2
4:30 PM
Aging Smart Educational Workshop – Legal Essentials
Harbor Place at Cottesmore
1016 29th St NW, Gig Harbor, 98335

---
JUL 12
9 AM
Sash – Coffee Time Kent
Arbor Village
24121 116th Ave SE, Kent, 98030

---
JUL 16
10:30 AM
Boomer Plus Meeting – Edmonds
Cedar Creek Memory Care
21006 72nd Ave W, Edmonds, 98026

---
JUL 16
3:45 PM
Wesley Bradley Park Ribbon Cutting Ceremony
Wesley Bradley Park
707 39th Ave SE, Puyallup, 98374

---
JUL 18
10:30 AM
Boomer Plus Meeting – Bellevue
Mission Health Care
2424 156th Ave NE, Bellevue, 98007

---
JUL 19
9 AM
North End Coffee Time
Mountlake Terrace Plaza/MBK Senior Living
23303 58th Avenue W, Mountlake Terrace, 98043

---
JUL 23
2 PM
Boomer Plus – West Seattle
Aegis of West Seattle
4700 SW Admiral Wy, Seattle, 98116

---
JUL 24
2PM
Boomer Plus Meeting – Kenmore
Sunrise Senior Living
7221 NE 182nd St, Kenmore, 98028

---
JUL 25
3 PM
Grab and Go Dinner hosted by Solstice and BEAM
Solstice at Point Defiance
6414 N Park Wy, Tacoma, 98407

Do you know someone that has recently changed positions? Send us an update to share in the monthly newsletter, helping everyone stay connected and informed about community changes.
"Our country is not the only thing to which we owe our allegiance. It is also owed to justice and to humanity. Patriotism consists not in waving the flag, but in striving that our country shall be righteous as well as strong."
– James Bryce"

I wish you all a Happy 4th of July. Let us embrace the power we have in the land of the free to let our actions and influence better our country, communities, and lives. So many of us across our industry demonstrate the daily importance of representing and fulfilling the values we cherish and the standards we set. Excellence is not an appearance, it's a passionate lifestyle that guides us towards providing the best services possible for our communities.

~ Amy Schmidt
Retirement Connection
503-505-5865
amy@retirementconnection.com

---
Job Postings
The following positions have been posted in the last month. (Some position are outside the Puget Sound area)
Activities Coordinator
Executive Director
Training Manager
Community Relations Representative
Service Planner

Apply or submit new positions online through Retirement Connection's Job Board.
---
Need More Guides?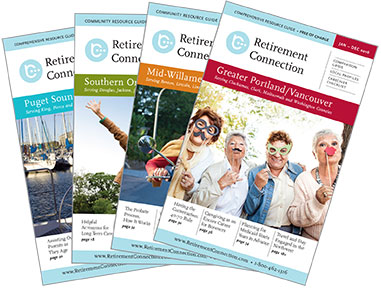 Additional copies of the Guide are available at no cost and are the perfect resource for health fairs, workshops and your marketing packets.
Guides are located at EVERY Senior Center, Hospital, Library and Meals-on-Wheels sites.
You can order as many as you need to serve the families in your community.
Add a label to the cover to highlight your business and use the guide as a giveaway.