Happy New Year! This past month, I have loved watching all the holiday movies. It is the only time of the year that I watch and truly love the Hallmark channel. Some of the movies are sentimental, some nostalgic, some with life lessons, and others are just silly. My biggest takeaway- it doesn't need to be a holiday to be special. And if someone matters to you- tell them; it is a much better gift than any present you wrapped last month. That being said, thank you for being a part of my sentimental, nostalgic, silly, life-lesson year!
I greatly appreciate the most recent

testimonials
shared with us. It is incredibly rewarding to know that we make a difference.
Please join us each month and invite your colleagues to the Senior Service Network meeting in Salem and Albany. Together we can better serve our seniors and their families.
JAN 8
9 AM
Senior Service Network (SSN-Linn/Benton)
Samaritan Albany General Hospital
1046 6th Avenue SW Albany, 97321
Topic: Medicare
---
JAN 9
9 AM
Salem Senior Lifestyles Network
The Ridge at Madrona Hills
660 Ratcliff Dr SE, Salem, 97302

---
JAN 16
9:30 AM
NWSDS Senior Network
Location: TBA
---
JAN 17
9 AM
Yamhill Networking Meeting
Vineyard Heights
345 SW Hill Rd S, McMinnville, 97128

---
JAN 23
9 AM
Senior Service Network (SSN-Salem)
Salem Hospital-Bldg D
Creekside Dining Overflow-first floor
890 Oak St SE, Salem, 97301
Topic: Understanding the Funeral Industry
JAN 17
1 PM
Understanding and Responding to Dementia-Related Behavior
Independence Public Library
175 Monmouth St, Independence, 97351

---
JAN 23
10:30 AM
Living with Alzheimer's: For Middle-Stage Caregivers, Part One
Heartwood Place Memory Care
2325 Boones Ferry Rd Woodburn, 97071

---
JAN 23
11 AM
Legal and Financial Planning for Alzheimer's Disease
Monmouth Senior Center
180 Warren St S, Monmouth, 97361

Registration is open for Retirement Connection sponsors.


FEB 7
12 PM
Good Samaritan Regional Medical Ctr Resource Fair
Good Samaritan Regional Medical Center
Conference Room B
3600 NW Samaritan Dr, Corvallis, 97330
Do you know someone that has recently changed positions? Send us an update to share in the monthly newsletter, helping everyone stay connected and informed about community changes.
"Character is the ability to carry out a good resolution long after the excitement of the moment has passed." - Cavett Robert

I cannot even count the times I start a new year, planning "to be healthier, blah blah blah", Recently someone told me to really think about WHY I set a specific goal, and that will help me achieve it. Sitting on the couch watching HGTV wasn't helping, so I changed my habits- and now the rest is starting to change as well. I realized that what I wanted most, is more important than what I may want at the moment.

~ Amy Schmidt
Retirement Connection
503-505-5865
amy@retirementconnection.com

---
Job Postings
The following positions have been posted in the last month. (Some position are outside the Mid-Willamette Valley area)
Lead Service Planner
Senior Housing Care Advisor
Recruitment Coordinator
Move in Coordinator
Director of Health Services
Business Development Strategist
Sales Manager

Apply or submit new positions online through Retirement Connection's Job Board.
---
Need More Guides?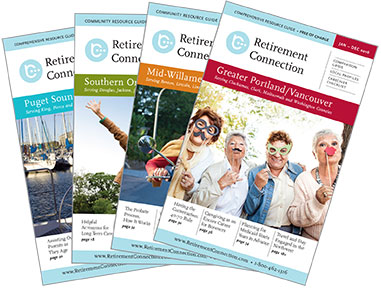 Additional copies of the Guide are available at no cost and are the perfect resource for health fairs, workshops and your marketing packets.
Guides are located at EVERY Senior Center, Hospital, Library and Meals-on-Wheels sites.
You can order as many as you need to serve the families in your community.
Add a label to the cover to highlight your business and use the guide as a giveaway.