Thank you to our sponsors who joined us for our quarterly Sponsor Breakfast. We had great attendance and enjoyed networking with all of you. You can now view pictures from the breakfast on our
Facebook page
( Please make sure to tag yourself ). Thank you so much for all you do to help connect the community!
We are starting production on our January 2018 Portland/ Vancouver guide and will be sending an email to all housing and home care to verify your grid information. Make sure to submit your changes for the upcoming guide! In addition, Meghan will be sending out ad approvals this week. The deadline to submit new artwork is November 1, 2017. Please contact us if you would like to reserve your space in the upcoming guide or update your information for the year.
As you may have heard, the 2018 Portland/ Vancouver edition of the Retirement Connection Guide will have an LGBTQ designated column within the community housing grids that will signify which communities are now accepting LGBTQ Elders. If your community is interested in becoming SAGE certified and would like more information on how to start the process of welcoming LGBTQ Elders, please follow this link to complete a
3 step process
.
Remember to use our website to
Order more Guides
,
Post an event
,
Find a Network Meeting
,
Post a management job opening
,
Let us know if you are "on the move" with a new position to include in this newsletter
, or
Share a testimonial
OCT 4
8 AM
Metropolitan Senior Network (MSN)
YWCA
3609 Main St, Vancouver, WA 98663
Topic: Social Work Panel
---
OCT 10
3 PM
East County Marketing Exchange (ECME)
Arcadia Senior Living
13013 SE Foster Rd, Portland, 97236
Topic: OSRRA "connecting ethics to community search in the senior industry"
---
OCT 17
3 PM
Westside Referral Network
West Hills Village
5711 SW Multnomah Blvd, Portland, 97219

---
OCT 19
3 PM
Clackamas County Senior Networking (CCSN)
Princeton Village
14370 SE Oregon Trail Dr, Clackamas, 97015
Topic: Event Planning

---
OCT 23
3 PM
SPIN-Portland
Mt Hood Adult Day Center
376 NE 219th Ave, Gresham, 97030

---
NOV 16
8 AM
Save the Date!
Clackamas County I & R Networking
Clackamas County Development Services Building
150 Beavercreek Rd, Oregon City
Topic: Addictions and Behavioral Health

OCT 4
8 AM
Metropolitan Senior Network (MSN)
YWCA
3609 Main St, Vancouver, WA 98663
Topic: Social Work Panel
---
OCT 5
3:30 PM
SSN Clark Happy Hour
Mallard Landing
813 SE Clark Ave, Battle Ground, 98604
Topic: Holiday marketing and themes

---
OCT 20
9 AM
Senior Service Network (SSN-Clark)
Peace Health Medical Center – Health Education Center
400 NE Mother Joseph Pl, Vancouver WA
(92nd and Mill Plain Ave)
Topic: Relationship Based Sales

OCT 4
9 AM
QuickBooks Online for Accountants and Bookkeepers
Greater Vancouver Chamber of Commerce
1101 Broadway St #100 Vancouver, 98660

---
OCT 5
11: 30 AM
Lunch & Learn – Financial Considerations As We Age
Pacifica Senior Living - Vancouver
2410 NE 112th Ave, Vancouver, 98684

---
OCT 6
2:30 PM
Pacifica Senior Living Calaroga Terrace Open House
Pacifica Senior Living Calaroga Terrace
1400 NE 2nd Ave, Portland, 97232

---
OCT 7
9 AM
Annual Elsie Stuhr Health and Wellness Fair
Elsie Stuhr Community Center
5050 SW Hall Blvd, Beaverton, 97005

---
OCT 10
ALL DAY
NASW Aging Network Event "You Can Afford Long Term Care!" With Tom Pixton J.D. and Michael Rose J.D., Pixton Law Group
The Ackerly at Timberland
11795 NW Cedar Falls Dr Portland, 97229

---
OCT 10
2 PM
QB Payments Credit Card Processing
Greater Vancouver Chamber of Commerce
1101 Broadway St #100 Vancouver, 98660y

---
OCT 19
11:30 AM
QBO Mobile App In the Field
Greater Vancouver Chamber of Commerce
1101 Broadway St #100 Vancouver, 98660

---
OCT 26
3:30 PM
Dessert Tasting
Kent Place
2647 NW Kent St Camas, 98607

---
NOV 2
9 AM
Save the Date!
OSRAA 2017 Fall Conference
Rose Schnitzer Manor
6140 SW Boundary St Portland, 97221

OCT 26

PeaceHealth Medical Center Vendor Fair
Peace Health Medical Center- Community Education
400 NE Mother Joseph Place, Vancouver, 98664
Register Online
"Be thankful for what you have; you'll end up having more. If you concentrate on what you don't have, you will never, ever have enough" ~ Oprah Winfrey

This summer I took 30 days to focus on gratitude. I found that verbalizing at least one thing that I was thankful for each day made me realize how abundant my life really is. Even as my best friend went onto hospice, I have been grateful for every extra day we have together. These past few months have changed me forever- for the better. Be grateful for at least one thing every day!

~ Amy Schmidt
Retirement Connection
503-505-5865
amy@retirementconnection.com

---
Job Postings
The following positions have been posted in the last month. (Some position are outside the Portland/ Vancouver area)
Recruiting and Retention Coordinator
Sales Manager
Outside Marketing Director
Care Coordinator
Health Services Director
Community Relations Director/ Sales

Apply or submit new positions online through Retirement Connection's Job Board.
---
Need More Guides?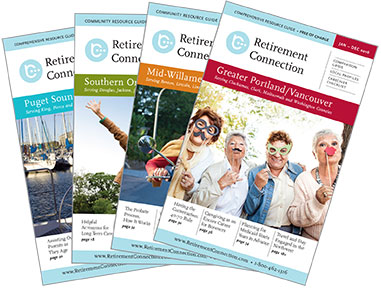 Additional copies of the Guide are available at no cost and are the perfect resource for health fairs, workshops and your marketing packets.
Guides are located at EVERY Senior Center, Hospital, Library and Meals-on-Wheels sites.
You can order as many as you need to serve the families in your community.
Add a label to the cover to highlight your business and use the guide as a giveaway.