We have just TWO weeks remaining before the next edition of the Retirement Connection Guide of Puget Sound goes into production. We are in the process of confirming all ad placement and listing information for new and renewing sponsors. The next guide will hit the streets March 31st, in time for our Virginia Mason Resource Fair event.
I am hoping we can get together in the next week or so to learn a bit more about your services and to tell you a bit more about ours. We are adding new services every day, such as reporting real-time availability online for housing and SNF communities, scheduling more hospital case manager events throughout the year, and

adding community photos for our sponsors

. I

would love to connect in person or on the phone and see if we are a good fit to help compliment your marketing efforts.
I also need to give a shout out to the communities that have logged onto  
https://retirementconnection.com/availability
. We are beta testing the new features and filters and hope to see more communities reporting their availability- it is free after all.
FEB 4
8:30 AM
Senior Care Coalition Westside Meeting
GenCare Ballard Landmark
5433 Leary Ave NW, Seattle, 98107
---
FEB 18
8:30 AM
Senior Care Coalition Eastside Meeting
Evergreen Court Bellevue
900 124th Ave NE, Bellevue, 98005
---
FEB 19
8 AM
South End Coalition
Village Green
35419 1st Ave S, Federal Way, 98003

---
FEB 19
11:30 AM
Coordinators of Patient Services (COPS)
Maggiano's Bellevue
10455 NE 8th St, Bellevue, 98004

FEB 6
8 AM
Aging and LTC Providers Network
Mid-County Community Center
10205 44th Ave E, Tacoma, 98446

---
FEB 13
7:30 AM
Health Care Providers Council (HCPC)
Mountain View Funeral Home
4100 Steilacoom Blvd SW, Lakewood, 98499

---
FEB 13
4 PM
Health Care Providers Council (HCPC) After Hours
Alaska Gardens Health and Rehabilitation Center
6220 South Alaska St, Tacoma, 98408

---
FEB 20
4 PM
Millennial Provider's Network (MPN)
The Office Bar & Grill On Pacific Avenue
813 Pacific Ave, Tacoma, 98402

FEB 13
11:30 AM
ElderNet
Mukilteo Memory Care
4686 Pointes Dr, Mukilteo, WA 98275
MAR 31
12 PM
Virginia Mason Medical Center Resource Fair
Virginia Mason Medical Center
1100 9th Ave, Seattle, WA 98101

FEB 6
2pm
Boomer Plus Meeting – Northgate
Aegis Ravenna
8511 15th Ave NE, Seattle, 98115

---
FEB 12
11:30 AM
Observation & Reporting for Caregivers
Visiting Angels Tacoma
1401 S Union Ave, Tacoma, 98405

---
FEB 12
2 PM
CVA/Stroke Continuing Education Class
Visiting Angels Tacoma
1401 S Union Ave, Tacoma, 98405

---
FEB 15
9 AM
CPR/First Aid, AED Training
Visiting Angels Tacoma
1401 S Union Ave, Tacoma, 98405

---
FEB 20
10:30 AM
Boomer Plus Meeting – Bellevue
Mission Health Care
2424 156th Ave NE, Bellevue, 98007

---
FEB 25
2 PM
Boomer Plus – West Seattle
Aegis of West Seattle
4700 SW Admiral Way, Seattle, 98116

---
FEB 26
2 PM
Transfers & Assistive Devices for Varying Abilities
Visiting Angels Tacoma
1401 S Union Ave, Tacoma, 98405

---
FEB 27
12:30 PM
Grand Opening Celebration – LARC at Burien 55+ community!
LARC at Burien
11670 Des Moines Memorial Dr S, Burien, 98168

Do you know someone that has recently changed positions? Send us an update to share in the monthly newsletter, helping everyone stay connected and informed about community changes.
"There are two ways of spreading light: to be the candle or the mirror that reflects it."
– Edith Wharton

I have been fortunate to receive praise at times simply for the proximity of excellence. I did not always directly accomplish myself but was part of a group. I try very hard to surround myself with people that are focused, motivated, and kind. It is much easier to be a mirror for that behavior. Of all the things that are in my "job description," I feel the most important is being the mirror to my team, so they shine.

~ Amy Schmidt
Retirement Connection
503-505-5865
amy@retirementconnection.com

---
Job Postings
The following positions have been posted in the last month. (Some position are outside the Puget Sound area)

Registered Nurse RN Senior Move Manager
Apply or submit new positions online through Retirement Connection's Job Board.
---
Need More Guides?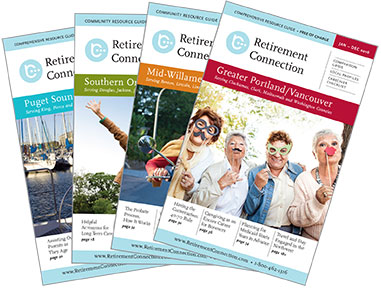 Additional copies of the Guide are available at no cost and are the perfect resource for health fairs, workshops and your marketing packets.
Guides are located at EVERY Senior Center, Hospital, Library and Meals-on-Wheels sites.
You can order as many as you need to serve the families in your community.
Add a label to the cover to highlight your business and use the guide as a giveaway.