2 weeks ago I had my second knee surgery in 4 months. This one was for my ACL. I am very appreciative that my husband, mom, kiddos, friends, and my staff have been so very helpful. They have brought me ice packs and meals; become my taxi drivers; helped me get dressed (FYI, only family on the dressing assist). I do NOT like asking for help, and I do NOT like this feeling of dependence. Right now, I am dependent on the schedules, availability, and willingness of others. I am thankful for them, but it has made me mindful of the seniors we serve. Remember to truly see the heart of those we serve and those we work with. See the vibrancy, independence, and resourcefulness in others. See their strengths and skills instead of their frailty and impairments. This will be all of us one day, should we be so lucky to have those golden years.

Sponsors, don't forget to register for the upcoming case management resource fairs in September at Providence Medical Center.  This will be open to non-sponsors to register 3 weeks prior once we have CEU approvals confirmed. (see dates below for registration links)

AUG 16
9 AM
Southern Oregon Networking Association Resource (S.O.N.A.R.)
Brookdale Ashland
548 N Main St, Ashland, 97520
Speaker: Amy Schmidt | Retirement Connection
Topic: Do tough circumstances build you or break you?
---
AUG 23
9:30 AM
Douglas County Senior Resource Coalition
Riverview Terrace | 3rd floor
1970 West Harvard, Roseburg, 97471
Topic: Activities around Umpqua for Retirees & Festival of Trees Planning
AUG 14
5:30 PM
Luau Party at Eagle Point
Asante Center for Outpatient Health (ACOH) Room # 6
537 Union Ave Grants Pass, 97527

---
AUG 21
10 AM
National Senior Day
Roseburg Senior Center
1614 SE Stephens St, Roseburg, 97470

---
AUG 24
3 PM
Spaghetti Dinner Fundraiser
Eagle Point
261 Loto St, Eagle Point, 97524

---
AUG 24
4 PM
Old Fashioned Fair at Pioneer Village
Pioneer Village
805 N 5th St, Jacksonville, 97530

Registration is now open for Southern Oregon Sponsors to reserve their CEU space. Sponsors, please select your preferred date, not both.



SEPT 18
11:30 AM
Providence Medford Medical Center Resource Fair
Providence Medford Medical Center
1111 Crater Lake Ave, Medford, 97504 Medford, OR 97504

---
SEPT 26
11:30 AM
Providence Medford Medical Center Resource Fair
Providence Medford Medical Center
1111 Crater Lake Ave, Medford, 97504 Medford, OR 97504

Do you know someone that has recently changed positions? Send us an update to share in the monthly newsletter, helping everyone stay connected and informed about community changes.

Matt Tartaglio is now Campus Administrator,
Pear Valley Senior Living
"Just because people don't work traditional hours; Doesn't mean they don't work hard hours." — Amy Schmidt

Sometimes our work schedules are dictated to us by the type of work, coordination with co-workers, or customer needs. Today's workplace is different than 20 years ago before smartphones, when television went off the air at midnight, and most stores were closed by 8pm. We live in a 24/7 world. With 4 generations in the workplace today, be mindful of the changing times- If the job is getting done well and on deadline- then good job. Thank your team!

~ Amy Schmidt
Retirement Connection
503-505-5865
amy@retirementconnection.com

---
Job Postings
The following positions have been posted in the last month. (Some position are outside the Southern Oregon area)
Care Staff Coordinator
Home Health Occupational Therapist
Transportation Coordinator
Senior Housing & Care Coordinator
Client Care Coordinator
Travel Trainer
Care Manager
Nurse Case Manager

Apply or submit new positions online through Retirement Connection's Job Board.
---
Need More Guides?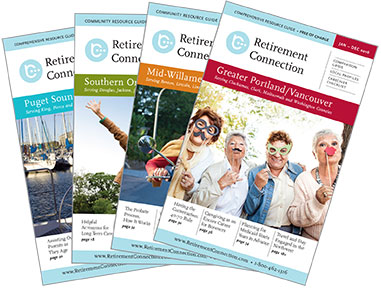 Additional copies of the Guide are available at no cost and are the perfect resource for health fairs, workshops and your marketing packets.
Guides are located at EVERY Senior Center, Hospital, Library and Meals-on-Wheels sites.
You can order as many as you need to serve the families in your community.
Add a label to the cover to highlight your business and use the guide as a giveaway.