This week I am feeling very nostalgic. We are having a big celebration Friday to celebrate 10 years in business. WOW- a decade!!! In reality it is 11 years, but this is the year we decided to have the party. Last year, my team member and friend passed away and it did not seem appropriate to celebrate anything related to work. But this is the year to celebrate- I feel it, and I am putting that into the universe. So many of our sponsors and community partners have been part of our "story" as we have now grown into 4 guides serving Oregon and Washington. Thank you to everyone who has shared a guide with a family, provided a testimonial about of services, and to all our sponsors that make it possible for us to provide a comprehensive resource in the local community.

We are excited to schedule a new CEU event for the case managers of Virginia Mason in the Spring. Early Registration is now open for our 2020 sponsors. Sponsors are encouraged to create an education poster for the event, this allows case managers to receive CEU credit for attending. All funds from the event will support patients in need.
NOV 5
8:30 AM
Senior Care Coalition Westside Meeting
Garden Court Retirement (Everett)
520 112th St SW #4828, Everett, 98204
Topic: Stroke: A System of Care
---
NOV 8
6 PM
Speakeasy Party- Retirement Connection's Sponsor Appreciation & 10 Year Anniversary Celebration
This is a special event for sponsors only and our key community partners

The Keep PDX
615 SE Alder St #B, Portland, 97214
RSVP

*FYI - For those traveling some distance, or looking for a little Staycation, I have secured a Room Block at a nearby hotel at a discounted rate...
Location: Embassy Suites by Hilton Portland Downtown
Address: 319 SW Pine Street, Portland, OR 97204
Make Your Reservation
- The Discount Code for your Reservation is: "RTC"
---
NOV 13
8:15 AM
South End Coalition
Chateau Valley Center in Renton
4450 Davis Ave S, Renton, WA 98055

---
NOV TBA
9 AM
NW LGBT Senior Care Providers Network Meeting
(Meeting details pending. Please check our website for updates)

---
NOV 19
8:30 AM
Senior Care Coalition Eastside Meeting
University House Issaquah
22975 SE Black Nugget Rd, Issaquah, 98029

---
NOV 20
11:30 AM
Coordinators of Patient Services (COPS)
Maggiano's Bellevue
10455 Northeast 8th St, Bellevue, 98004

NOV 7
8 AM
Aging and LTC Providers Network
Mid-County Community Center
10205 44th Ave E, Tacoma, 98446

---
NOV 14
7:30 AM
Health Care Providers Council (HCPC)
Mountain View Funeral Home
4100 Steilacoom Blvd SW, Lakewood, 98499

---
NOV 21
4 PM
Millennial Provider's Network (MPN)
Harmon Brewing Co.
1938 Pacific Avem Tacoma, 98402

NOV 14
11:30 AM
ElderNet
Arlington Health and Rehab
20 Hazel St, Arlington, 98223
MAR 31
12 PM
Virginia Mason Medical Center Resource Fair
Virginia Mason Medical Center
1100 9th Ave, Seattle, WA 98101

NOV 7
2pm
Boomer Plus Meeting – Northgate
Aegis Ravenna
8511 15th Ave NE, Seattle, 98115

---
NOV 8
9 AM
Sash – Coffee Time Kent
Arbor Village
24121 116th Ave SE, Kent, 98030

---
NOV 12
6 PM
New Tools for Dementia: Using Advance Directives to know what your patient would have wanted
Aegis of West Seattle
4700 SW Admiral Wy, Seattle, 98116

---
NOV 15
9 AM
North End Coffee Time
Mountlake Terrace Plaza/MBK Senior Living
23303 58th Ave W, Mountlake Terrace, 98043

---
NOV 19
6 PM
Dementia and End of Life: When is it Time for Hospice?
Aegis of West Seattle
4700 SW Admiral Wy, Seattle, 98116

---
NOV 21
10:30 AM
Boomer Plus – Bellevue
Mission Health Care
2424 156th Ave NE, Bellevue, 98007

---
NOV 26
2 PM
Boomer Plus – West Seattle
Aegis of West Seattle
4700 SW Admiral Wy, Seattle, 98116

Do you know someone that has recently changed positions? Send us an update to share in the monthly newsletter, helping everyone stay connected and informed about community changes.
"When something bad happens, you have three choices: You can either let it define you, let it destroy you or let it strengthen you. " – Dr. Seuss

As I write this newsletter, we are awaiting results from my husband, Lyman's scans last week following six months of chemo; hoping that his cancer has not spread. No matter the result- this will not define or destroy anyone in my circle- including him. And more than anything it has showed us what he is made of, what I am made of, and what my team is made of... for that I remain grateful.

~ Amy Schmidt
Retirement Connection
503-505-5865
amy@retirementconnection.com

---
Job Postings
The following positions have been posted in the last month. (Some position are outside the Puget Sound area)
Health Services Manager
Food Service Director
HR Generalist
Manager, Walk to End Alzheimer's Regional
Apply or submit new positions online through Retirement Connection's Job Board.
---
Need More Guides?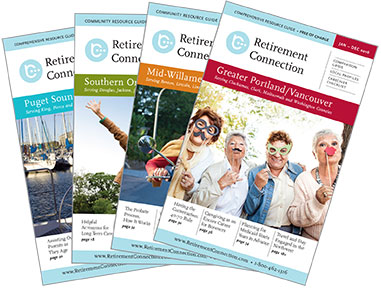 Additional copies of the Guide are available at no cost and are the perfect resource for health fairs, workshops and your marketing packets.
Guides are located at EVERY Senior Center, Hospital, Library and Meals-on-Wheels sites.
You can order as many as you need to serve the families in your community.
Add a label to the cover to highlight your business and use the guide as a giveaway.